Tens of thousands of Dallas residents woke up to no power on Monday after a tornado plowed a long path through the north of the city, leaving power outages and scenes of destruction in its wake.
By 10:30 a.m. CT on Monday, there were 55,000 homes and business without power and 100 traffic signals were down across the city, said Dallas Office of Emergency Management director Rocky Vaz.
Dallas Mayor Eric Johnson and other city officials said Monday they're grateful there don't appear to be any deaths or serious injuries caused by this storm.
"Considering the path that the storm took, it went across a pretty densely populated part of our city, I think we should consider ourselves very fortunate that we did not lose any lives, no fatalities, and no serious injuries," Johnson told reporters.
The National Weather Service confirmed at 9:48 p.m. (10:48 p.m. ET) Sunday that a tornado had touched down in north and northeast Dallas.
Download the NBC News app for breaking news
NBC Dallas-Fort Worth reported that a tornado touched down near Love Field and that its radar indicated that the twister could have tracked for 17 miles.
The station and other news organizations published images and video of downed power lines, debris and scores of emergency personnel on the streets in northwestern parts of the city. Social media photos showed numerous homes with their roofs ripped off and cars damaged on Interstate 35 highway.
"Property damage, we're not unconcerned about that," Mayor Johnson said. "But our top priority has been making sure that everyone in our city is safe."
The Dallas Police Department and Dallas Fire Rescue said they were assessing damaged structures throughout the night. Officers were also going door-to-door in some areas to check on residents, but won't know the full extent of the damage until the sun rises.
Dallas Fire-Rescue tweeted that one of their stations was badly damaged, but no one inside was hurt.
Vaz told "Today" there was "extensive damage" to one small sector of the city, including many rooftops blown away. Only three people were brought to area hospitals, Vaz said, and his department is confident nobody is currently trapped in rubble.
The City of Dallas tweeted that an emergency operations center has been activated as it assesses the damage.
Tina Devlin of Dallas said her home was a "total loss."
"I heard all the snapping of the trees and the wind blowing, and so I climbed into this bedroom closet, and just as I got in there, the roof blew off," Devlin told NBC Dallas-Fort Worth.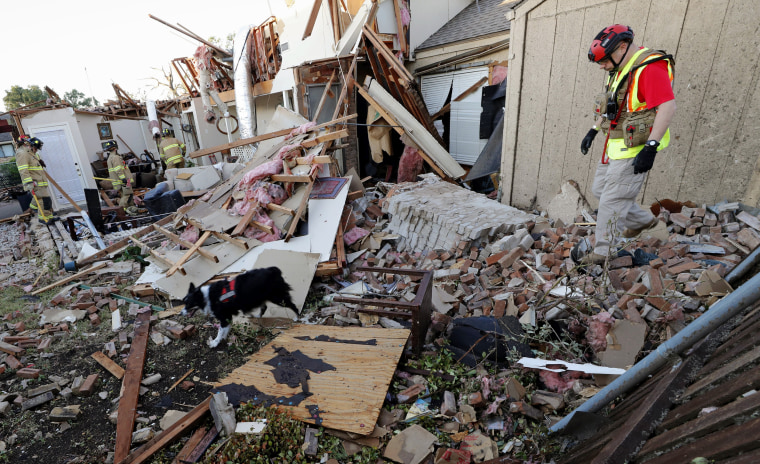 Devlin said a fire crew was able to help her and her family get out safely.
"I just thank God we're alive," she said. "I haven't cried any — I've just been panicked."
Former President George W. Bush and his wife, Laura, live in the area. A representative of the family told NBC News that the Bushes were safe and that they were praying for their neighbors.
Texas Gov. Greg Abbott tweeted his support for those affected, saying: "We are sending prayers. We are also sending the Texas Division of Emergency Management to provide assistance. Stay safe Texans."
Dallas Stars player Tyler Seguin tweeted Monday morning he was safe after a local reporter shared images of a house badly damaged in the tornado.
"Luckily this is my house for sale and I have moved into a new one," Seguin said. "I just left the area and it is an extremely sad sight to see. Prayers to everyone affected by the tornado."
Dallas fire officials told NBC News that an unspecified structure collapsed near the area where the tornado touched down. They said as many seven people were able to make it out of the structure safely but that a search and rescue team was on the scene to look for other people.
Authorities didn't identify the structure, but NBC Dallas-Fort Worth showed a flooring company building in the immediate area with its front half crumpled in a heap.
Fire officials said they were also responding to multiple calls for people who had been injured by broken glass.
Police officers in Garland, a community northeast of Dallas, where a tornado warning was also issued, reported major structural damage in a residential area, but said there were no substantial injuries.
Several schools sustained "significant damage" and will be closed Monday, the Dallas Independent School District said.
Oncor Corp., the main electric provider for the Dallas area, reported that more than 70,000 customers still remained without power in Dallas county at 5:30 a.m. (6:30 a.m. ET).
The company said it has experienced significant damage to power lines and it was working to restore power as quickly as possible.
The tornado didn't affect the Dallas Cowboys' game on Sunday night against the Philadelphia Eagles in Arlington, west of Dallas.
Meanwhile, in far southwest Tennessee, a twister forced temporary evacuation of at least one terminal at Memphis International Airport on Monday morning.
The airport retweeted a photo posted by a traveler of an empty gate area and ticketing area. The airport said "minor damage was sustained" but that "normal operations have resumed."
CORRECTION (Oct. 21, 2019, 9 a.m. ET): An earlier version of this article misspelled the last name of a Dallas Stars player. He is Tyler Seguin, not Seduin.