Dangerously hot temperatures were again forecast for California and the desert Southwest on Tuesday, where records could fall in a heat wave that the National Weather Service described as "extreme even by desert standards."
Excessive heat warnings were in effect for Tuesday — just in time for the official start of summer — for the entire length of California, all of Arizona and parts of Nevada, Utah and New Mexico.
"It takes a lot for the weather service to put out excessive heat warnings for that part of the country, so you know it's going to be pretty darned hot," said Ari Sarsalari, a meteorologist for The Weather Channel.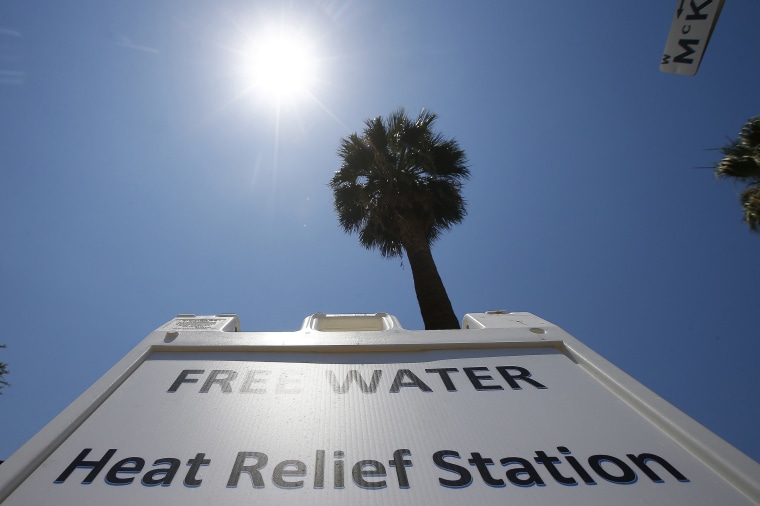 Phoenix, which recorded a June 19 record of 118 degrees on Monday, could threaten its all-time high for any day in recorded history on Tuesday, with forecaster predicting a high of 122 degrees.
The heat was so bad at Phoenix Sky Harbor International on Monday that American Airlines pre-emptively canceled 45 flights on Tuesday for heat-related issues.
Related: Heat Waves Are Getting Worse and Affecting More People
Heat waves are "coming off the concrete," Kevin McCarthy, American's manager of tower operations at Sky Harbor, told NBC station KPNX. "It's coming off the equipment."
At 115 degrees, things got so hot in Tucson, Arizona, Monday that NBC station KVOA said a camera it had set up to record beef cooking to perfection in the broiling sun simply quit working.
Las Vegas, meanwhile, reached 107 degrees, on its way to as hot as a June 20 record 117 degrees on Tuesday, the weather service said.
The culprit is a dome of high pressure that will keep building over the Southwest through midweek, according to the weather service.
June is historically the region's hottest time of the year anyway, and "this year, there's an especially strong ridge in place where it's making it extremely hot — hot for even this part of the country," Sarsalari said.
The National Weather Service said simply: "Temperatures will be extreme even by desert standards."
Pacific Gas and Electric Co. told NBC station KCRA of Sacramento that California was expected to threaten electricity use records by Thursday. That could have impacts as far north as Washington and as far east as Colorado, said Steven Greenlee, a spokesman for California's network of independent power operators.
"The grid is all interconnected between all of these regions," Greenlee told KCRA. "We're not just an island here in California."
Alex Yanez, a field supervisor for Southern California Edison in Ontario — where the temperature is expected to reach 104 on Tuesday and was still 92 degrees at 11 p.m. ET on Monday — said he'd warned his crew to expect a long day, "especially Tuesday and Wednesday."
It's a far different story in the Gulf of Mexico, where the National Weather Service said it was monitoring a potential tropical cyclone that was already packing winds of 40 mph.
The storm was moving northwest at about 8 mph late Monday and was expected to reach the Louisiana coast by Wednesday, the weather service said. As much as 10 inches of rain could fall on southeastern Louisiana, southern Mississippi, southern Alabama and the Florida Panhandle through Wednesday evening, it said.