Tornadoes, blizzards and heavy rain have assaulted much of the country's middle section in recent days, killing dozens of people.
At least 19 people were killed from Wednesday to Saturday in Mississippi, Arkansas, Tennessee and Alabama in wicked weather that made the Christmas holiday hellish for many, according to The Associated Press.
Over the weekend, tornadoes in Texas claimed 11 more lives, and floods that washed over roadways and into homes led to 15 deaths in Missouri and Illinois.
At least 43 people have been killed in five days. And the dangerous weather is not over yet.
By Monday afternoon, the storm that battered Texas was bringing snow, ice and freezing rain to Illinois, Indiana and Iowa, the Weather Channel reported. More than 2,600 arrivals and departures had been canceled across the country and more than 4,000 others were delayed as of 8:00 p.m. ET Monday. Nearly 60 percent of those canceled — 1,587 — were to have flown into or out of the two main airports in Chicago, where freezing rain was being whipped by heavy winds.
In southern Illinois, a tractor trailer and a school bus carrying as many as 20 students were rescued after their vehicles were swept up by flood waters on Monday, state police said, and in Oklahoma, 56 people suffered storm-related injuries, including falls and traffic accidents, according to the state Health Department.
The state was still bracing for as much as a foot of snow in the western part of the state Monday, 2 to 4 inches of sleet in the middle and as much as 10 inches of rain in the east, where state emergency officials said they were anticipating the possibility of "major" flooding.
The Illinois River in the northeast part of the state was at record flood stage and was expected to crest at 29 feet, according to the state Department of Emergency Management. The previous record was 27.9 feet.
More than 147,000 customers across the state remained without power late Monday afternoon, the state Corporation Commission reported.
Related: Texas Reeling From Deadly Tornadoes Over Holiday Weekend
Multiple highways in the western and central regions of the state were closed because of flooding, black ice and downed power lines, according to the state Transportation Department.
And state officials were warning of what was to follow the snow and rain: "bitterly" cold temperatures beginning Tuesday.
In Missouri, a state of emergency was declared Sunday and flooding, freezing rain and snow were forecast across the state Monday. Gov. Jay Nixon said there had been 10 storm-related deaths, including those of four international soldiers who were temporarily stationed at Fort Leonard Wood. The soldiers' vehicle was swept into a creek Sunday, causing them to drown, according to an Army spokesman. A fifth person who was in the car was still missing.
In the days to come, Nixon said, he expected more flooding and more deaths. "We're a long way from the finish of this," he said.
In the Dallas area of north Texas, where 11 people were killed after nine confirmed twisters ravaged the area Saturday, rain hampered emergency crews late into Sunday night.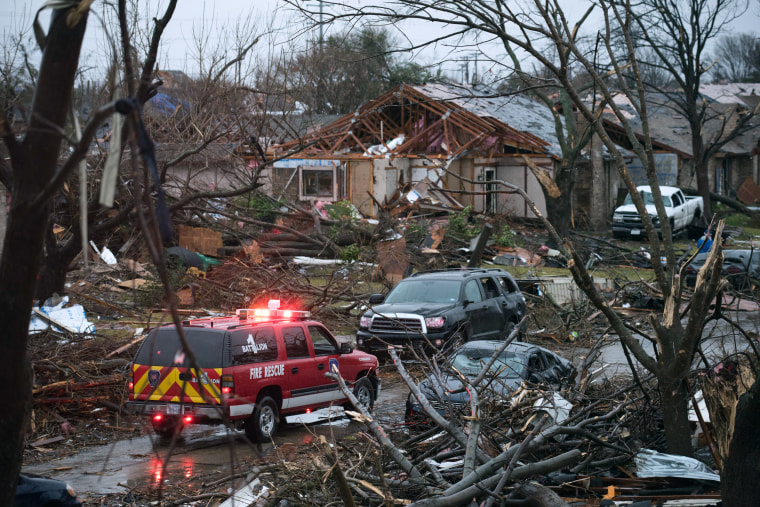 In the western and northern sections of the state, blizzard warnings were in effect until Monday afternoon, and whiteout conditions were expected from heavy snow blown by winds gusting to 65 mph, forecasters said. The combination of rain-filled clouds and plummeting temperatures meant a "life-threatening and crippling blizzard" was headed toward the Texas panhandle, the National Weather Service said.
Snow accumulations of 5 to 13 inches — with drifts to 10 feet — were likely in some areas of west and north Texas, southeast New Mexico and the Oklahoma panhandle. In Lubbock, Texas, the mayor declared a state of disaster as the town recorded more snow on Sunday — 11 inches — than it typically does for an entire season (8.2 inches), according to the Weather Channel.
In New Mexico, Gov. Susana Martinez also declared a state of emergency Sunday. "This is a dire situation," especially in the eastern half of the state where the storm has hit hardest and continues to dump snow, Martinez said. By Monday afternoon, more than three feet of snow was recorded at Bonito Lake, east of Roswell, the Weather Channel reported, and 390 miles of one of the state's busiest highways — Interstate 40 — was closed east of Albuquerque.
Later in the week, as the system moves northeast, it will also likely spread snow and ice through the Midwest and into New England. Snow will develop Monday night across much of New England and parts of northern and eastern New York, forecasters said.