Sure, "March winds" is a cliché, but clichés usually become clichés because they're true — as millions of Americans are discovering this week while they bundle up against fierce gusts across the country.
From New York to California, strong early spring winds caused havoc for motorists, firefighters and power crews Monday and Tuesday, and in some areas, the dangerous conditions are expected to last at least through Wednesday.
Investigators said high winds may have been a factor in the death Tuesday morning of Clifford M. Lemay, 57, who fell off the roof of a seven-story office complex in Teaneck, New Jersey.
The company that owns the complex, Alfred Sanzari Enterprises, told NBC New York that Lemay had gone to the roof to check for damage by winds up to 50 mph that swept through the region overnight.
Gusty winds were also delaying arrivals at La Guardia Airport by more than an hour Tuesday afternoon, the airport reported.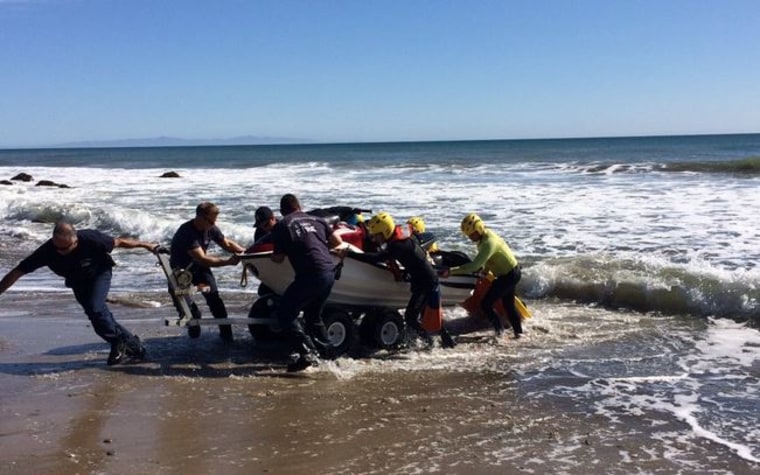 Across the country, strong winds fueled high waves that stranded a kite surfer who had to be rescued Tuesday afternoon off California's El Capitan State Beach.
NBC station KSBY of Santa Barbara reported that the 41-year-old woman was pushed a quarter-mile off shore and had to be retrieved by a rescue crew on paddle boards and jet skis. She wasn't injured.
Gusts approached 70 mph Tuesday morning in parts of northern Arizona, where possible damage was still being assessed, NBC station KPNX of Phoenix reported. Wind advisories were in effect through Wednesday morning for the area, the National Weather Service said.
High winds in Kansas and Oklahoma threatened to reignite a wildfire that was already listed as the biggest in Kansas history, authorities said Tuesday.
State officials had declared the Anderson Creek fire — which started last week and has burned almost 600 square miles in a large rural area spanning the border of the two states — to be nearly contained Monday afternoon. But the harsh conditions sent crews back out Tuesday to monitor the fire line look for new hot spots, NBC station KNSW of Wichita reported.
In Springfield, Massachusetts, gusty winds complicated things for fire crews battling a blaze at a vacant three-story house Tuesday afternoon, NBC station WWLP reported.
More than 1,300 customers remained without power late Tuesday afternoon thanks to strong winds in northeastern Pennsylvania, electric utilities reported, while almost 1,600 customers had no electricity in Maine.
It was the second straight day that fierce winds rocked much of the country.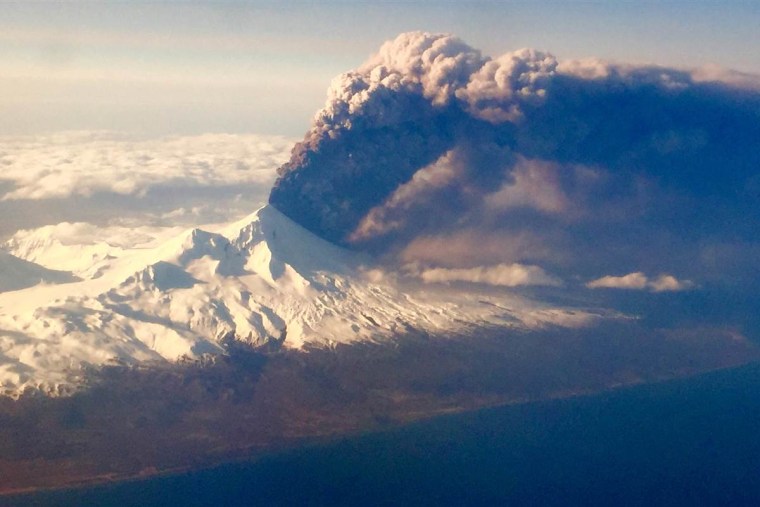 Most notably, authorities in Alaska warned pilots to be careful as the Pavlof Volcano again spewed out ash Tuesday, a day after strong winds pushed a large ash cloud over western and northern parts of the state Monday. Alaska Airlines canceled more than 40 flights Monday because of the ash cloud.
And a dust storm in Lucerne Valley, California, caused a 12-vehicle crash Monday on Highway 18 in San Bernardino County, authorities said. The National Weather Service said a severe wind advisory remained in effect for the area through 3 a.m. (6 a.m. ET) Wednesday.
Similar advisories were in place through Tuesday evening and Wednesday in parts of the Plains, the Midwest and the South starting Wednesday, where "it's about to get a lot more interesting and active over the next few days," said Ari Sarsalari, a meteorologist for The Weather Channel.
Forecasters warned that heavy rain could cause flash flooding Wednesday from the lower Mississippi Valley into the Southeast. Residents could even see "a couple of tornadoes" and hail in addition to damaging winds, Sarsalari said.