An ice storm crawling across America's midsection this weekend — threatening about 44 million people from Texas to the Mid-Atlantic — is freezing roadways and creating treacherous driving conditions.
The storm is already being blamed for three deaths. One person died Saturday morning in Missouri after a van carrying 12 people rolled over on a highway north of Kansas City, ejecting the driver. Meanwhile, near Weatherford, Oklahoma, a truck driver died after losing control of his semi on Interstate 40, where icy surfaces caused at least a dozen accidents.
On Friday, a person was killed in a crash on Interstate 55, north of Crystal City, Missouri, amid the poor conditions.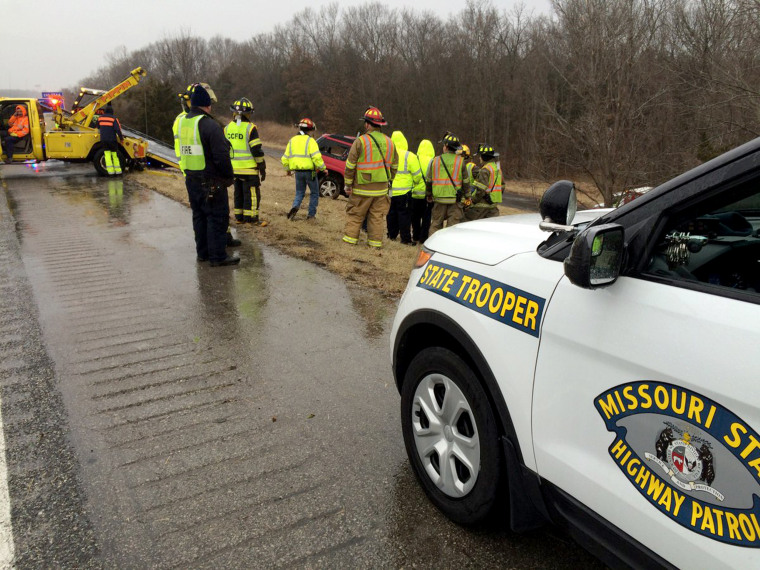 Police in Wichita, Kansas, said two people suffered minor injuries in a 20-car pileup Friday night, one of several accidents caused by the icy roads.
The Kansas Army National Guard had already mobilized in advance of Saturday's storm, designating roughly 200 guardsmen to patrol key roads and help motorists stranded by the weather. The teams of soldiers are providing emergency transportation for law enforcers and other emergency responders, and prepared to make warming stations available at local armories.
Related: Midwest Faces Mayhem As Ice Storm Marches Through
Forecasters say as much as an inch of ice is expected to build up on roads throughout Kansas as well as Oklahoma, where a state of emergency remains in place. Ice storm warnings stretch from the Texas panhandle across Missouri and Iowa to Illinois.
Scattered outages have also been reported, including about 2,500 in Springfield, Missouri.
Meanwhile, winter storm watches are in effect in parts of eastern Colorado, Nebraska and Iowa, while freezing rain advisories have been called for the Ohio Valley and the Appalachians, The Weather Channel reported.
"The good news is as we head toward ... (Sunday) night and into Monday, some warmer air tries to move northward, so some places that start off as freezing rain in the weekend should transition back over to rain," said Weather Channel storm specialist Greg Postel.
As a precaution, the NFL has already moved back the noon Sunday playoff game in Kansas City between the Kansas City Chiefs and the Pittsburgh Steelers to after 7 p.m. CT to give enough time for the storm to pass and to clear roads.
Forecasters warn that even as the weather warms up through the holiday weekend, another wave of cold air is right behind.
Outside of the United States, bitterly cold temperatures in Europe this week have been alarming human rights advocates who say refugees and migrants living in destitute conditions are at risk of death, frostbite and illness.
The U.N. refugee agency on Friday urged Greek authorities to speed up the relocation of families during the cold snap. "We are worried," spokesman Adrian Edwards said.