A sixth person died in flooding brought on by heavy rains that pounded the Texas town of Palestine, officials said Saturday.
Giovanni Olivas, 30, was found at around 5:30 p.m, Anderson County Sheriff Greg Taylor said. He was swept under by floodwaters after more than 7 inches of rain fell in an hour, officials said.
Earlier Saturday, a grandmother and her four grandchildren died in flooding.
Great-grandmother Lenda Asberry, 64, and her great-grandchildren Jamonicka Johnson, 6; Von Anthony Johnson Jr., 7; Devonte Asberry, 8, and Venetia Asberry, 9 were discovered dead at around 3:45 a.m. after floodwaters in receded.
The storm was marching into Louisiana Saturday evening. The remaining Saturday shows at the New Orleans Jazz Festival were canceled due to the heavy rain, according to event organizers. Stevie Wonder, Snoop Dogg and Beck had been scheduled to play.
The flooding in Palestine, a town of around 18,700 a little over 100 miles southeast of Dallas, was the worst seen in decades, the mayor said.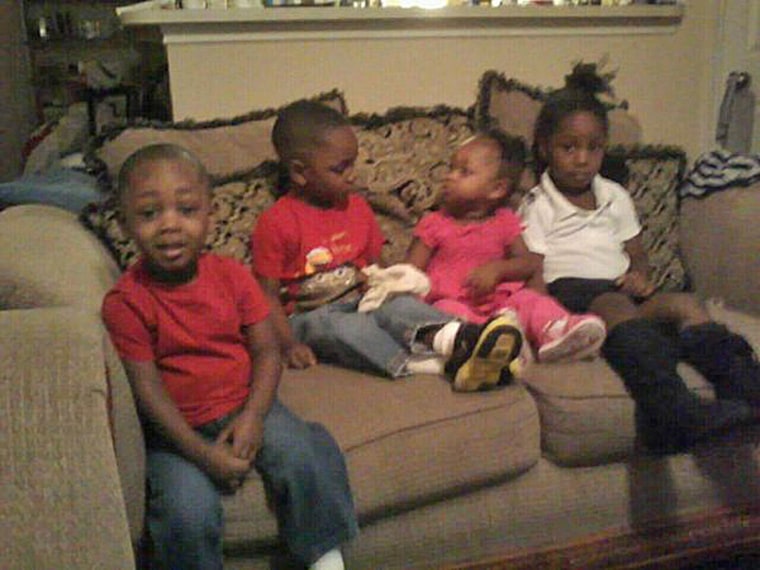 "The City of Palestine has suffered the worst flooding event in my 59 years of living here," said Palestine Mayor Bob Herrington. "I don't recall ever seeing this much water rise so fast and in such a short period of time."
Palestine police said an additional six to eight families had been displaced by the fast-moving floodwaters, but everyone was accounted for.
Up to 7.78 inches of rain fell on the town, about 100 miles southeast, according to Weather.com — 7.5 inches of rain was reported within one hour during Friday's storm, Smith said in the statement.
Eastern Texas, southeastern Oklahoma, Louisiana, Arkansas, Mississippi and west Tennessee remained under flash flood watches on Saturday, according to the National Weather Service.
As the storms headed east Saturday evening, Louisiana governor's office spokesman Mike Steele said officials were monitoring the storms, but had not deployed additional assets. Nearly the entire state was covered in flash flood warnings, flood warnings and severe thunderstorm watches at 5 p.m. (6 p.m. ET).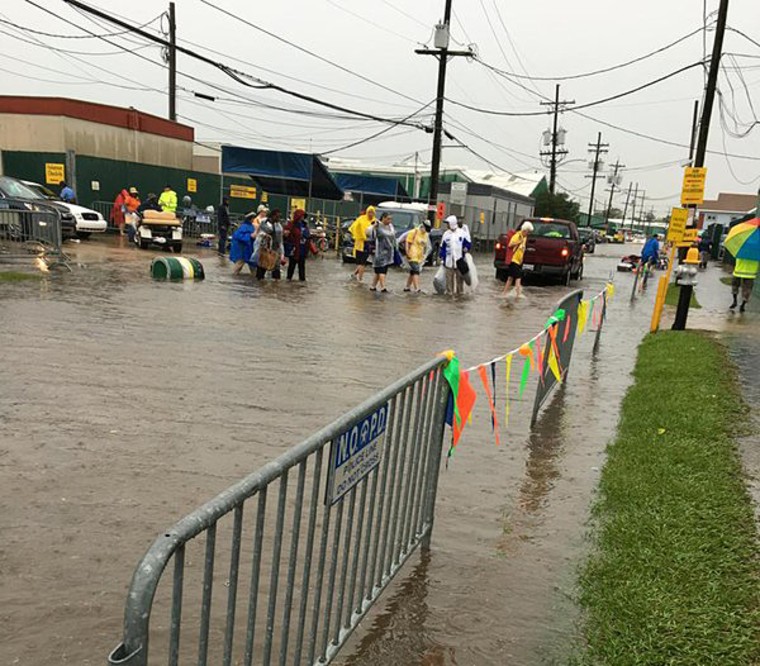 Just over 2 inches of rain fell at New Orleans International Airport Saturday, Baton Rouge recorded 1.62 inches, and New Orleans Lakefront Airport had 2.72 inches of rain, the National Weather Service said.
The dangerous storms had also tore through parts of the Plains and South on Friday and early Saturday.
Officials issued a disaster declaration in Texas' Lindale and Smith Counties — which are between 80 and 100 miles east of Dallas — due to the dangerous weather. Lindale's fire department reported three minor injuries in the town.
Lindale Fire Chief Jerry Garner said between 70 and 80 homes in the county were damaged.
"We were just extremely fortunate with the three injuries we did have that we didn't have any loss of life," he said.