At least 25 people have died in the devastating rainfall that deluged eastern Kentucky, Gov. Andy Beshear said Saturday.
That death toll will likely continue to rise as search efforts continue in upcoming weeks, he added.
In an update Friday, the governor said six children are among the dead in the flooding. The number of children who died rose to six after the bodies of four young siblings, swept away from their parents' grip by the floodwaters, had been located, Beshear said.
"It's hard, it's even harder for those families and those communities," he said. "Keep praying, there's still a lot of people out there, still a lot of people unaccounted for. We're going to do our best to find them all."
Four additional deaths were reported Friday night in eastern Kentucky's Breathitt County, including three due to flooding. One person could not be reached by EMS and a lack of medical attention contributed to their death, according to county Coroner Hargis Epperson.
Also Friday, President Joe Biden issued a major disaster declaration in the state and ordered federal aid to be sent to "areas affected by severe storms, flooding, landslides, and mudslides," according to a news release from the White House.
It was not clear how many people were still unaccounted for Friday evening. In Breathitt County, 12 people remained unaccounted for, Epperson said Friday night.
Beshear said the state made around 50 air rescues and hundreds of boat rescues Thursday. So far, 294 people have been rescued and 337 are in shelters, he added.
"This situation is ongoing," he said. "We are still in the search and rescue mode and at least in some areas, the water is not going to crest until tomorrow."
Rescue teams, assisted by the National Guard, were searching Friday for more missing people, according to The Associated Press.
"We've got volunteers coming in to help," Jerry Stacy, the emergency management director in Perry County, told MSNBC. "That's going to be our focus, and, you know, we do still have people missing, and we're doing everything that we can do in our power to find them."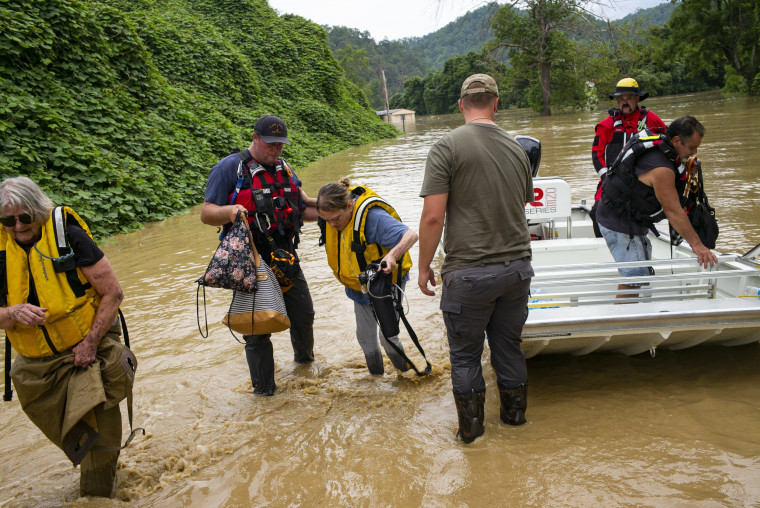 On Thursday, the state ordered the evacuation of the Panbowl Lake area in Breathitt County, where officials are worried the dam will breach.
"We have already gone door to door and around to try to evacuate as many people who are willing to go," Beshear said. "If you're still there, why don't you go find a friend, a relative, somebody to stay with, go to a hotel — just get somewhere safe. We don't want to lose any more people than we have to."
In an update on Friday, Beshear said after doing more than three flight tours over flooded areas, Perry and Breathitt Counties are the most devastated.
More than 23,000 people in the state are without power and "many counties without water," he added.
At least 28 state roads are blocked as a result of damage from flooding and crews from the Kentucky Transportation Cabinet are working to clear them, according to Beshear.
"We have bridge inspectors and engineers in the field, but we're unable to even get to some of these roadways," he said. "It is so bad."
Through the weekend, 2 to 4 inches of rain is possible in eastern Kentucky.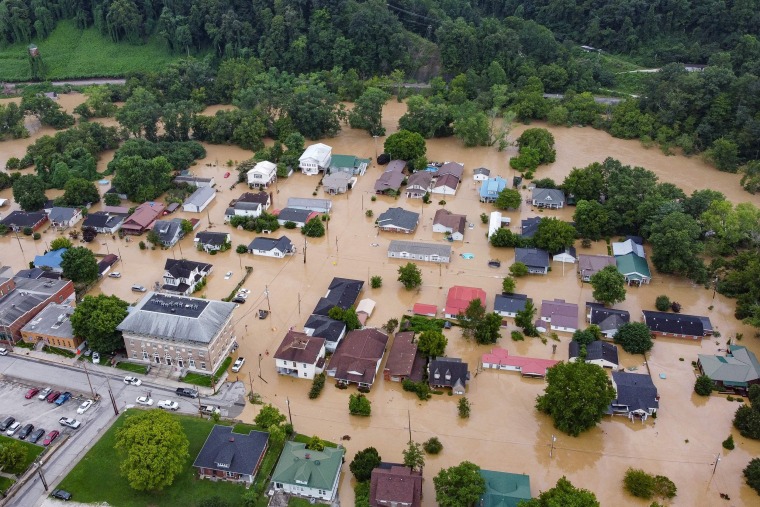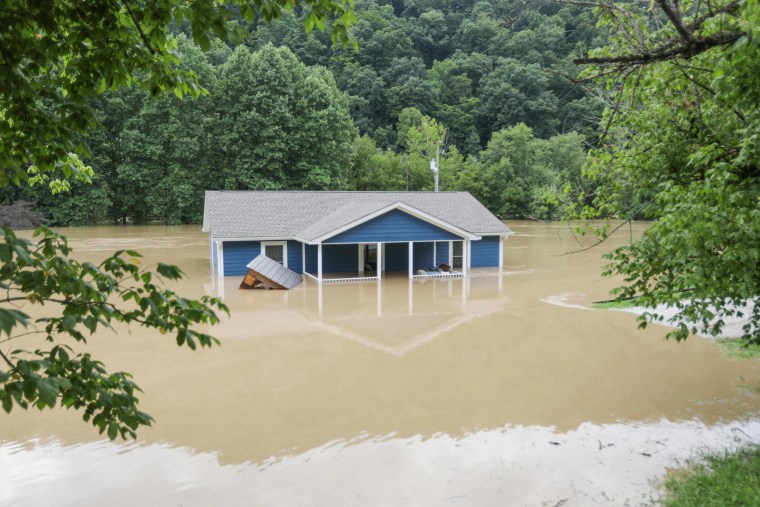 As many as 3 million people remain under flood alerts across Kentucky, West Virginia, parts of northeastern Tennessee, southwestern Virginia and a few counties in southern Ohio.
Beshear told "NBC Nightly News" host Lester Holt on Thursday that the ongoing floods are "by far the worst flooding disaster" of his lifetime in the state.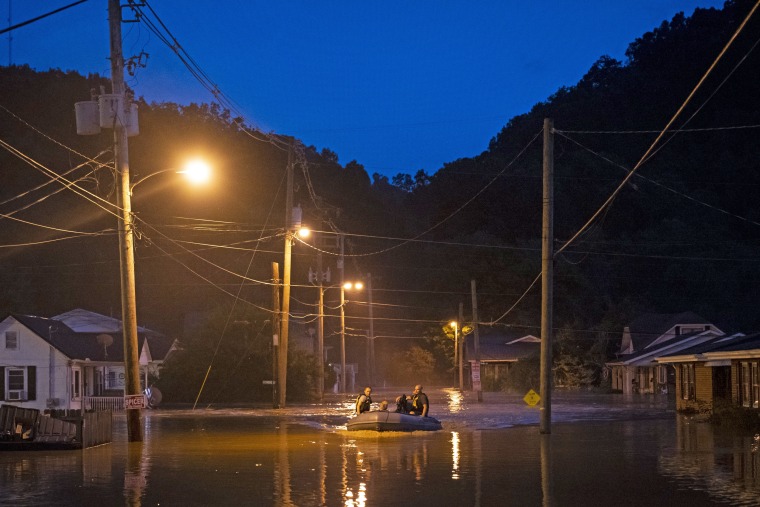 "It has wiped out what we believe are hundreds of homes," he said. "We have half of some of our counties under water."
More than 9 inches of rain that fell over St. Louis earlier this week and eastern Kentucky on Thursday were both 1-in-1,000-year flood events, meaning they had a 0.1% chance of happening in a given year, and there were two in one week.
Heavy precipitation events like this are increasing everywhere, especially east of the Mississippi River.
In December, tornadoes ripped through Kentucky, leaving more than 70 people dead.
A candle factory in Mayfield collapsed — one of many structures that were lost due to the tornadoes. Nearly the entire town of Mayfield was flattened.