Authorities raised the death toll Thursday night to 14 people, including a young boy, after a spring-like storm system swept across the Southeast.
The storms mixed with unseasonably warm weather, spawning tornadoes that killed people in Mississippi, Tennessee, and Arkansas. Dozens more people were injured.
The Tennessee Health Department said Thursday night that it had confirmed three additional deaths in Maury County, where the storm system created heavy rain and dangerous wind gusts Wednesday night. It said no further details were available.
The storms — which the National Weather Service called a "particularly dangerous situation" for an area that spanned eastern Arkansas, northwest Mississippi, northeast Louisiana and western Tennessee — destroyed homes and caused power failures Wednesday.
Three other people were killed in Tennessee, where heavy rain continued to soak the eastern border but was expected to move out of the state late Thursday. A 22-year-old man who wasn't identified died in Rhea County. In Perry County, Annie Yzaguirre, 69, and Antonio Gomez Yzaguirre, 70, died, interim Sheriff Nick Weems told NBC News.
The youngest of the victims was a 7-year-old boy in Holly Springs, Mississippi, who was killed in a van on Highway 7 as storms swept through the town, according to Marshall County Coroner James Anderson. Tree limbs and debris covered the highway Thursday, and emergency crews worked to restore downed power lines.
At least six other people died in Mississippi. Four of the deaths were in Benton County, where another person was unaccounted for, officials said. Two were in Marshall County, and the other was in Tippah County.
"It is difficult, particularly this time of year, to see such damage and know that heartbreaks go along with that damage, that families have lost loved ones," Mississippi Gov. Phil Bryant said at a news conference Thursday afternoon. "There's no good side to this, but at least the storm was not in highly populated areas, like a downtown."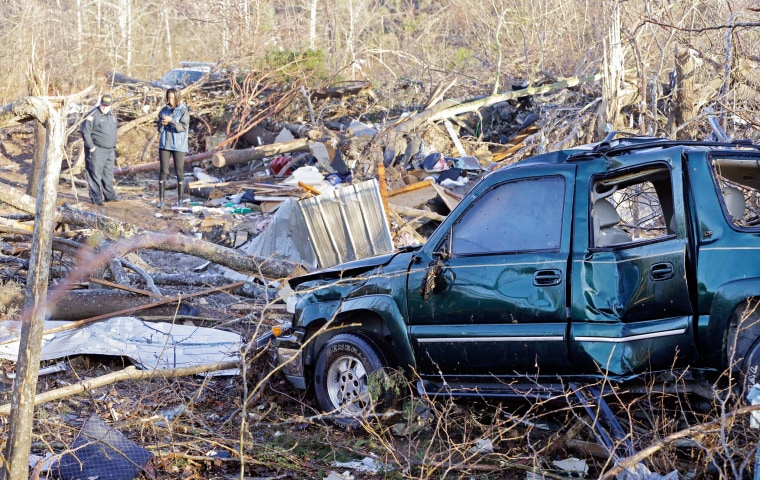 In Atkins, Arkansas, 18-year-old Michaela Remus was killed when a tree crashed into the bedroom she was sharing with her 18-month-old sister. The toddler was taken to a hospital after being safely pulled out of the home by rescuers.
Rusty Russell, 34, a friend of Remus', told NBC News that "she is one of those people that you would never hear a bad word about her. Just a true joy to be around."
Remus died protecting her sister, he said.
"She was laying in bed with her 18-month-old sister. The way that she was laying actually shielded her sister," he said.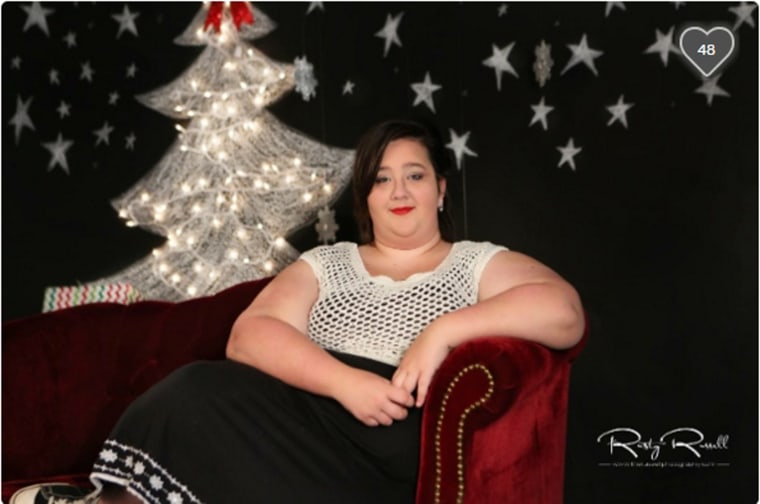 More than a dozen tornadoes were reported in Mississippi, and in the town of Clarkdale, hundreds woke up Thursday without homes for the holidays. Planes at a small airport were overturned by wind gusts. There were an unknown number of injuries, Clarksdale Mayor Bill Luckett told the Associated Press, but he said the only reported casualty in his town was a dog killed by storm debris.
"I'm looking at some horrific damage right now," Luckett said. "Sheet metal is wrapped around trees; there are overturned airplanes; a building is just destroyed."
Related: 'Spring' Storms Spawn Twisters, Kill 7 in Southeast, Snarl Holiday Travel
Mulestor Johnson, 67, told the AP that a brutal storm tore his Holly Springs house from its foundation Wednesday. His belongings were strewn everywhere, and trees had crashed through trucks on his property, but no one was hurt.
"This right here is a mess, but I can't complain because we're blessed," he said.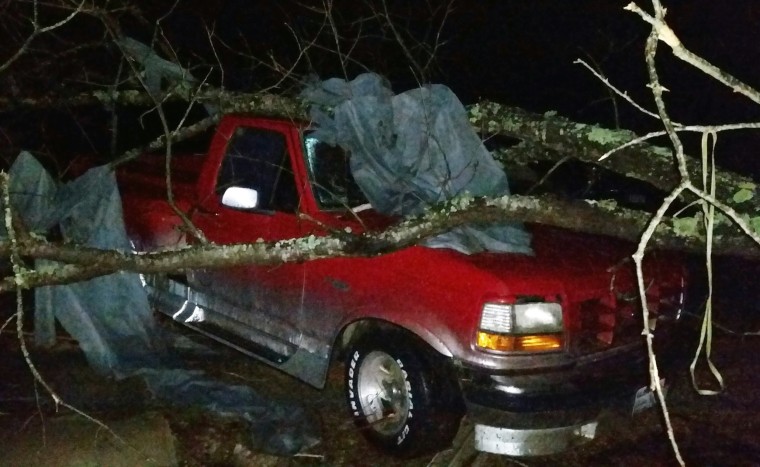 The Mississippi Emergency Management Agency said at least 40 people were injured as the storms moved swiftly across the state. Agency spokesman Greg Flynn said some of the injuries included amputations.
"It's terrible that this happened, especially at Christmas," Pope County Sheriff Shane Jones told the AP.
The storm system was just one of many examples of unseasonable weather happening across the country. Along the Eastern Seaboard, many states were experiencing a balmy Christmas Eve, with temperatures in the 70s.
Meanwhile, in parts of Georgia, including Atlanta, a flood watch was posted through Friday evening. Portions of southeast Alabama received rainfall that totaled 10 inches or more.
The rainy, gusty conditions — more reminiscent of June than December — spread north into the Midwest. Indiana emergency officials warned that outdoor Christmas decorations could turn into dangerous missiles and advised residents not to bother putting up inflatable decorations.
The strange weather is yet another manifestation of the unusually strong El Niño setting up shop off the West Coast, meteorologists told NBC News. Much of the eastern half of the country will spend a Christmas Day with temperatures in the 70s.
And it couldn't come at a worse time, with nearly 1 in 3 of all Americans traveling this week for Christmas.
"We are seeing more than 100 million people will be traveling overall," Robert Sinclair, a spokesman for AAA, told NBC News. "That's the first time we've ever hit that record."
According to airline tracker FlightAware.com, more than 2,700 U.S. flights were delayed as of Thursday afternoon, and nearly 750 had been canceled.