/ Source: Associated Press
ATLANTA — The South awoke on Wednesday to a two-part Arctic mess. First came a thin blanket of snow and ice, and then came the below-zero wind chills.
The snowfall sabotaged morning rush hour even before it began, sending cars crashing into each other on major thoroughfares throughout the region. Officials urged people to stay off the slick roads if possible, and to bundle up and wear layers of clothing if they ventured outside.
Ryan Willis, a meteorologist for the National Water Service based in Peachtree City, south of Atlanta, said the forecast called for 1 to 1.5 inches of snow to fall in metropolitan Atlanta through Wednesday morning, with localized higher amounts.
Gov. Nathan Deal issued a state of emergency for 83 counties, spanning much of central and north Georgia. This line extends from Columbus to Macon to Augusta and northward. State government will be closed Wednesday in the impacted areas for non-essential personnel.
Forecasters said travel could be difficult in north Georgia because of below-zero wind chills. Many Georgia school districts already had announced early dismissal times and cancellations.
The same slippery conditions and dangerous wind chills swept across several southern states Tuesday, shutting down interstates, triggering highway crashes, closing airport runways and prompting widespread school closings. Snow fell in a wide band that stretched from southeastern Texas all the way to western Massachusetts.
Forecasters said up to 4 inches could fall in central North Carolina as the system pushed northward, with a couple of inches expected farther east. Northwestern South Carolina could get up to 2 inches of snow, the weather service said.
Snow also was forecast Wednesday for parts of Alabama, where Gov. Kay Ivey shut down government offices as a precaution.
Many schools districts in Louisiana will remain closed for a second straight day Wednesday, as the precipitation gives way to single-digit wind chills that keep icy roads from thawing.
The Louisiana Department of Transportation and Development announced the closing of Interstate 10 in both directions between Baton Rouge and Lafayette. Steep on and off-ramps as well as elevated roadways are concerns to public safety in icy conditions, it said in a news release Wednesday night.
Alek Kroutmann, a National Weather Service meteorologist based in Slidell, Louisiana, said the Baton Rouge forecast calling for a low of 19 degrees Wednesday would fall just shy of the record for that date in Louisiana's capital city: 18 degrees on Jan. 17, 1977.
"It's very close to record low temperatures," he said.
Potentially hazardous wind chills prompted schools to close Tuesday across Texas, Arkansas, Louisiana, Alabama, Georgia, Mississippi, Tennessee, Kentucky, Kansas and Missouri.
In Kentucky, multiple crashes Tuesday closed a 10-mile section of Interstate 24 in the western part of the state and blocked southbound lanes of Interstate 65 in the south, including a five-vehicle pileup involving a Greyhound bus that injured multiple people, authorities said.
Hundreds of flights were canceled at Texas airports, where frigid temperatures left runways dangerously icy. Forecasters warned mariners along the Texas coast to be on guard for gale-force winds.
"We've got numerous crashes on the interstates and surface roads," Louisiana State Trooper Glenn Younger said Tuesday morning from Bossier City, Louisiana, just across the Red River from Shreveport.
"You can't see the black ice; it's invisible," said Younger, who had been driving roads since 5 a.m. Tuesday and could feel the back end of his patrol car begin to slide at times.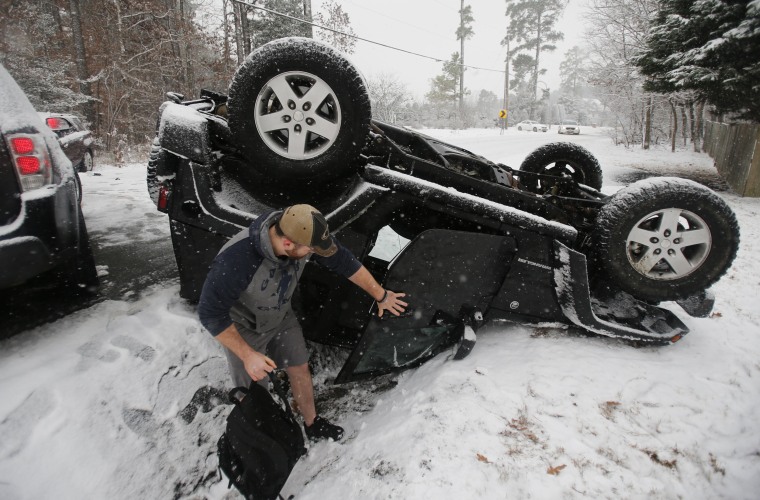 "You want to just barely touch the brakes in that situation," he said. "A lot of people get scared and they want to jam on the brakes, and that makes it worse."
Ice had coated roads and bridges in 36 of Mississippi's 82 counties, mostly in the northern and central parts of the state, the Mississippi Department of Transportation said in a statement Tuesday morning. Some of the heaviest snow in Mississippi was expected in the state's Delta region, where up to 3 inches was possible.
In Alabama, Gov. Kay Ivey declared a state of emergency meaning schools won't have to make up lost class days. Numerous businesses and government offices closed because of the threat.
Alabama officials were trying to avoid a repeat of four years ago, when a winter storm blanketed central Alabama and left motorists stranded on roads in metro Birmingham for hours. Teachers and students camped out in schools.
Drivers had a hard time navigating hills around the north Alabama city of Haleyville, where roads quickly turned white Tuesday morning, but there was still plenty of traffic because manufacturing plants that didn't close in advance began dismissing workers, store clerk Rose Payne said.
"It's coming down as snow, but with these cars driving over it looks ice on the ground," said Payne, who planned to walk home from her job at Friendly Shop if roads got too bad. "The driveways of businesses are white."