Nearly 600,000 homes and businesses in Texas, Louisiana and Mississippi are in the dark after losing power due to Delta, which hit the U.S. Gulf Coast as a hurricane and has since been downgraded to a tropical depression.
According to the data aggregator PowerOutage.us, 583,190 utility customers were without power across the three states as of Saturday afternoon.
That was down from the nearly 750,000 households and businesses that had power outages earlier Saturday. The highest number of outages is in Louisiana with more than 546,000.
Delta made landfall on Friday evening as a Category 2 near Creole, Louisiana, with maximum sustained winds of 100 mph. Just six weeks earlier, the Louisiana coastal area was battered by Hurricane Laura.
The storm then moved directly over Lake Charles, a waterfront city about 30 miles inland where homes and buildings were already damaged by Laura.
The storm is expected to track northeastward across the Lower Mississippi and Tennessee valleys, bringing "destructive winds and dangerous flooding," according to the National Weather Service.
The front could produce 3 to 6 inches of rain, federal forecasters said. Multiple tornado warnings were in effect for the Atlanta area.
It was 80 miles west-southwest of Tupelo, Mississippi, on Saturday night, the National Hurricane Center said, and was moving northeast at 12 mph with maximum sustained winds of 30 mph.
New England was advised to prepare for strong to severe thunderstorms as the post-tropical cyclone moved north.
Lake Charles Mayor Nic Hunter, who rode out Delta's arrival downtown, said tarps were flying off homes across the city and piles of wreckage were being blown around, some of it floating in the surge of ocean water.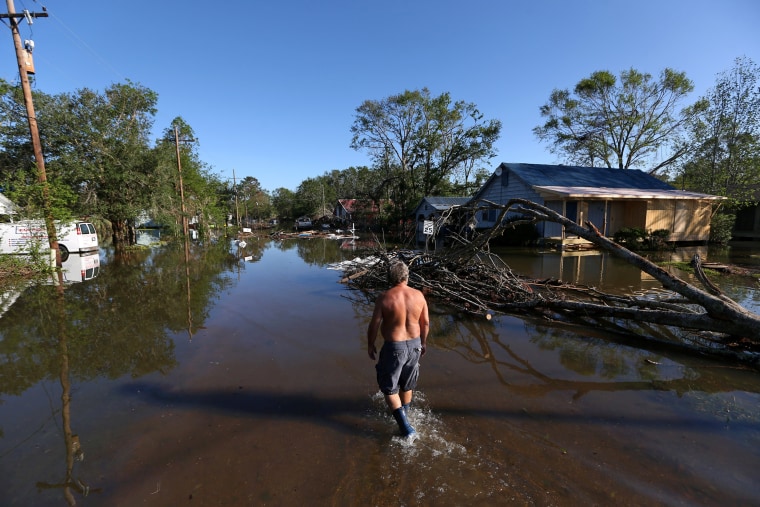 "I'm in a building right now with a tarp on it and just the sound of the tarp flapping on the building sounds like someone pounding with a sledgehammer on top of the building," Hunter said. "It's pretty intense."
In Lake Arthur, Delta's winds peeled shingles off the roof of L'Banca Albergo, an eight-room boutique hotel in what used to be a bank.
"I probably don't have a shingle left on the top of this hotel," owner Roberta Palermo said as the winds gusted outside.
Delta dumped record amounts of rain in some parts of Louisiana, according to The Weather Channel, causing flash flooding that stranded cars in the street and sent water flowing into homes. More than a foot of rain was reported in Lake Charles.
The city of Rocky Mount's Energy Resources Department in North Carolina said in a tweet Friday that it was sending a crew of 12 line workers and a safety supervisor to Louisiana to help restore power.
"#Delta has left hazards like flooded roads, downed power lines and displaced wildlife in our communities that no one should take lightly. Everyone needs to remain vigilant, continue to listen to local officials and be safe," Gov. John Bel Edwards tweeted Saturday.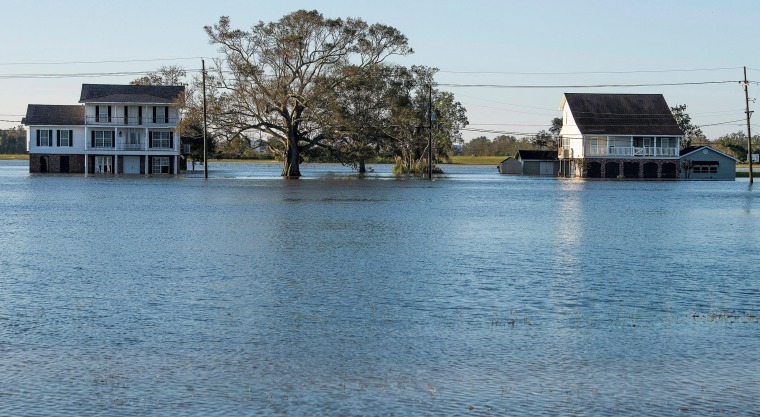 In Mississippi, Franklin County officials told the Clarion-Ledger that a possible tornado touched down Friday night. Snapped trees were seen throughout parts of the county and in Natchez in neighboring Adams County homes were damaged by fallen trees.
Download the NBC News app for breaking news
Southeast Texas saw higher winds Friday night than it did when Hurricane Laura battered the state, according to KBMT, an NBC/ABC affiliate in Beaumont.
The Coast Guard began conducting critical incident search-and-rescue overflights on Saturday along the western Gulf coast "to assess damage and identify hazards," a news release stated.
"As of 1 p.m. Saturday, there have been no reports of Coast Guard post-storm emergency distress calls, or search and rescue incidents," it read.
Delta is the 10th named storm to hit the mainland U.S. this year, breaking a century-old record set in 1916. Before making landfall in the U.S., it battered the Yucatan Peninsula in Mexico, leaving tourists stranded.