Hurricane Odile made landfall as the strongest storm on record to hit Mexico's southern Baja California peninsula late Sunday. Residents and vacationers took cover in shelters and hotel conference rooms as the powerful Category 3 hurricane struck near the resort city of Cabo San Lucas with wind speeds of 125 mph at roughly 9:45 p.m. local time (12:45 a.m. ET on Monday). By early Monday, The Weather Channel reported "ferocious winds" in Cabo San Lucas as the storm's southern eyewall battered the resort. Earlier, Weather Channel meteorologist Guy Walton told NBC News that Odile was likely to bring winds that could be "pretty devastating."
The area is home to gleaming megaresorts, tiny fishing communities and low-lying neighborhoods of flimsy homes. Forecasters predicted a dangerous storm surge with large waves as well as drenching rains capable of causing landslides and flash floods. Mexican authorities evacuated coastal areas and readied shelters for up to 30,000 people. Odile was expected to move northwest to the southern and central Baja peninsula from Sunday night through Tuesday with damaging hurricane-force winds. Odile should begin to weaken later Monday as it picks up more stable air and cooler water, according to the National Hurricane Center.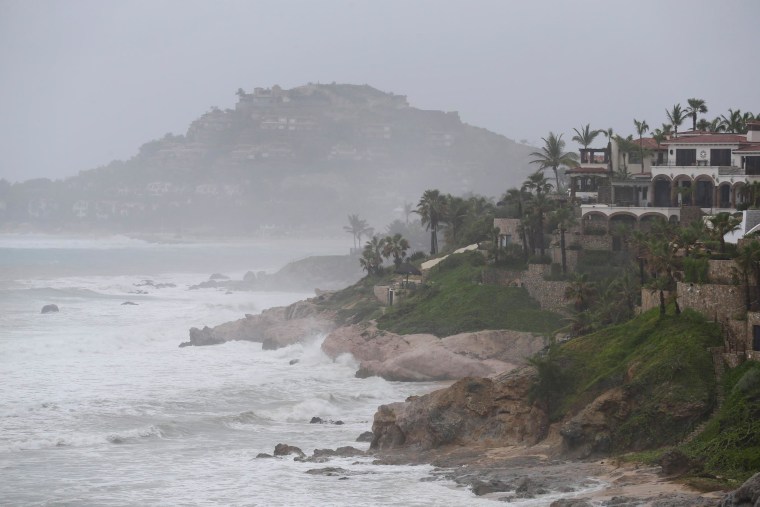 SOCIAL
— Mel Bailey and Tim Stelloh
The Associated Press contributed to this report.