The prime minister of the Caribbean island of Dominica said Friday that at least 20 people have died in the aftermath of Tropical Storm Erika, and the "the extent of the devastation is monumental."
In an address to the nation, Prime Minister Roosevelt Skerrit said some others are still missing. More than a foot of rain fell in less than 12 hours as the storm hit Wednesday. Torrents of water flowed through streets and swept away cars.
"This is a period of national tragedy," Skeritt said. He said the storm inflicted "heavy damage" on infrastructure like roads and Douglas-Charles Airport.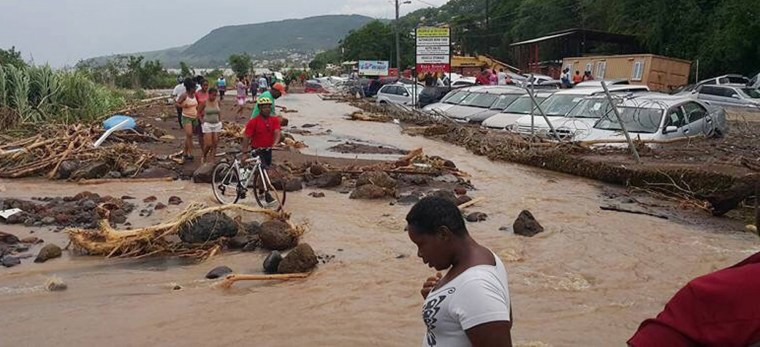 "The visual damage I saw today, I fear, may have set our development process back by 20 years," Skerrit said.
He said hundreds of homes are believed to have been destroyed or rendered unsafe and bridges have been washed away, limiting access to some regions. "Some communities are no longer recognizable," he said.
Skerrit said Petite Savanne, Delices and Coulibistrie and other areas have been cut off, but "nearly every community has been hit."
Skeritt called a special meeting of the Cabinet of Ministers Saturday, and vowed that the nation would rebuild. He urged neighbors to help one another and also called on Dominicans around the world to raise money to send to relatives back home.
Erika was about 40 miles west of Port-au-Prince, Haiti, as of 11 p.m. Friday. The storm had maximum sustained winds of 45 mph and was moving west-northwest at 20 mph, the National Hurricane Center said.
The storm is expected to sweep up the western coast of Florida by Sunday and make landfall Monday.
It is expected to weaken and could become a tropical depression by Saturday, the hurricane center said.
Florida declared a state of emergency Friday ahead of the storm. "Prepare for the worst and hope for the best, and hopefully that's what will happen here," Florida Gov. Rick Scott said Friday.
Tropical storm warnings were in place Friday for the Dominican Republic, Haiti, southeastern and central Bahamas, and Turks and Calicos Islands.
The storm is expected to bring 3 to 6 inches of rain to those areas, which could result in flash floods and mud slides, the hurricane center said.