Some 22 million East Coast residents braced for more deadly flooding on Sunday as a "once in 500 years" rainfall event threatened South Carolina.
Charleston and Berkeley counties in South Carolina were warned to expect "catastrophic" flash flooding and The National Weather Service (NWS) told residents to get to higher ground.
At least five weather-related deaths have been reported since rains spread over the Eastern Seaboard.
A tree that fell on Interstate-95 near Fayetteville, North Carolina Thursday struck a car and killed a passenger, according to the North Carolina Department of Public Safety.
In South Carolina, a woman who drove around a flood barrier in Spartanburg drowned in the standing water Thursday, Sherri Iacobelli, a spokeswoman with the South Carolina Department of Public Safety, told NBC News. And three more people have died in separate weather related traffic incidents in South Carolina since Friday, according to the state's department of public safety.
The South Carolina Highway patrol has responded to 323 collisions, 140 calls for assisting motorists, 138 trees in the roadway and 106 reports of flooding, according to the department.
Columbia, South Carolina, Fire Chief Aubrey Jenkins told NBC News that the department has already been "overwhelmed" by calls for help. At one point, 100 calls were waiting on emergency response, she said. And the danger isn't over yet.
"A lot more damage is still yet to be done," NBC News meteorologist Bill Karins said on MSNBC. "The rivers are going to be a problem in this area for days to come."
The drenching in South Carolina this weekend was a "once in 500 years" rainfall event, he said. The National Weather Service bureau in Charleston called the measurements "mind-boggling."
Charleston recorded 10.7 inches of rain Saturday, the wettest day on record, according to the NWS. Charleston's airport recorded 11.5 inches of rain Saturday, breaking an all-time single-day rainfall record set in 1998, according to Weather.com. By Sunday morning, more than 24 inches had fallen near Boone Hall Plantation in Charleston County.
"Multiple reports are coming in of water entering homes and structures with numerous roads closed and cars submerged," the NWS reported.
Forecasters also warned that wind gusts would top 35 mph across the Carolinas and Virginia, likely downing trees and power lines in the early hours.
Nearly 30,000 customers in South Carolina had already lost power, according to the South Carolina Emergency Management Division, which warned people in a tweet: "Remain. Where. You. Are."
The South Carolina Department of Transportation advised the same and reported that 87 roads and 15 bridges had been closed throughout the state.
"This is an extremely dangerous and life-threatening situation," the NWS warned.
On Saturday, President Barack Obama declared a state of emergency in South Carolina and ordered federal aid to bolster state and local efforts as flood warnings remained in effect for many parts of the East Coast.
In New Jersey, storms dislodged an entire house from its pilings in a low-lying area of Middle Township, according to NBC New York. No one was in the residence.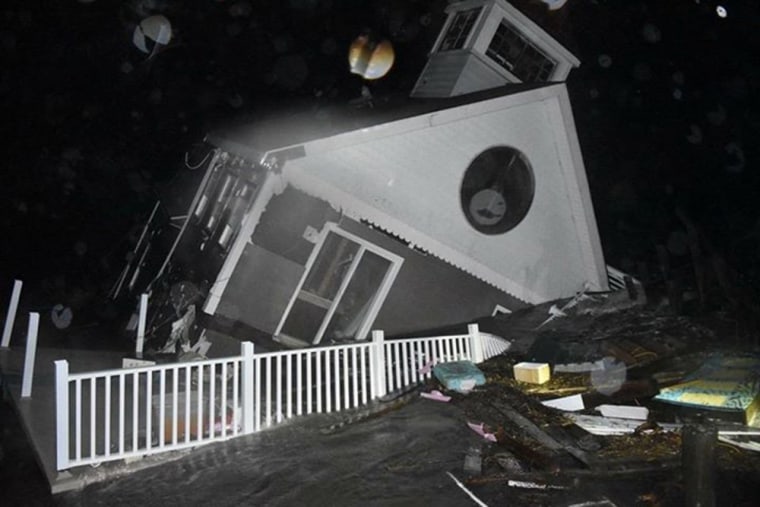 Flood watches and warnings are in effect in parts of the state, as well as Delaware, Maryland and Virginia.
The weather service issued a warning for residents living along the coast to be alert for rising water. A combination of high water and high waves could cause beach erosion and damage docks and piers.
In Ocean City, Maryland, spokeswoman Jessica Waters said moderate high tide flooding Saturday forced street closures in low-lying areas but caused no major damages or injuries.