Nearly 500,000 homes and businesses in New England were without electricity Wednesday after a powerful nor'easter battered the region, with winds that tore down trees and power lines, and officials warned that getting power restored could take several days.
In Massachusetts, around 448,000 customers were powerless at 6 p.m., and the state emergency management agency warned of a "multi-day power restoration effort." Rhode Island had around 42,000 outages, according to tracking website poweroutage.us.
Parts of the Massachusetts coast observed wind gusts of 80 mph or more, forecasters said. A Category 1 hurricane has sustained winds of 74 mph or more.
The National Weather Service in Boston warned of a "dangerous situation" near and southeast of I-95, the East Coast's main highway.
"Winds gusting over hurricane force across southeast Massachusetts. Numerous downed trees," the service warned on Twitter. "TRAVEL IS NOT RECOMMENDED early this morning in southeast MA."
Massachusetts Gov. Charlie Baker tweeted that his administration "is working with utilities to speed up recovery times, but crews are still assessing the level of damage."
"If you are in an impacted community, please be careful: check in on neighbors, stay away from downed power lines and stay off the roads," Baker warned.
The storm caused flooding in New York and New Jersey, where emergency services have carried out dozens of rescues.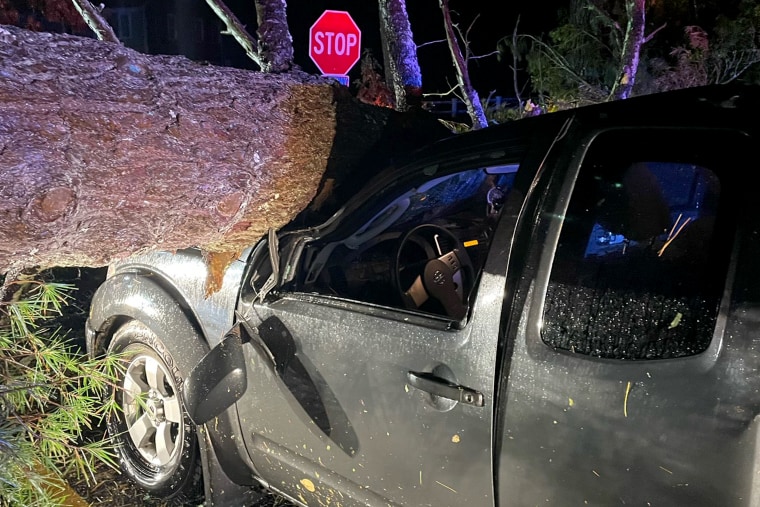 Fire officials in Duxbury, Massachusetts, said that there was major damage and around 94 percent of the coastal town of around 15,000 had lost power.
All schools on the Cape were closed, according to the Barnstable County Regional Emergency Planning Committee. Images and video posted on social media showed downed trees and other debris littering roads. 
In Boston, downed trees disrupted parts of the Red Line and Mattapan Trolley service, according to the Massachusetts Bay Transportation Authority, which deployed replacement shuttle buses.
The Massachusetts Emergency Management Agency warned people to "avoid downed power lines, check on neighbors, and use generators outside away from buildings."
The Massachusetts Steamship Authority, which runs ferries from the mainland to Martha's Vineyard and Nantucket, canceled all ferries Wednesday and said there could be disruptions into early Thursday.
The harbormaster in Plymouth said some boats had broken free from their moorings.
New York City saw more than 4 inches of rain in Midtown Manhattan and Brooklyn saw more than 5 inches over 48 hours — which is around the average rainfall for the month of October of 4.68 inches.
The Northeast won't have much time to dry out, as there's more rain in the forecast for the region on Friday.