A large tornado injured 10 people and damaged homes and businesses as it roared through western Kentucky on Tuesday, part of a severe spring storm that spun off more twisters and dropped hail across the state.
The National Weather Service confirmed that a major tornado touched down about 2:55 p.m. (3:55 p.m. ET) in Mayfield, in Graves County. Kentucky State Police Trooper Michael Robichaud told NBC News that the 10 people had sustained non-life-threatening injuries.
A National Weather Service damage assessment team was on its way to Mayfield, the agency said. First Baptist Church of Mayfield opened its fellowship hall and said displaced families were already arriving for emergency shelter.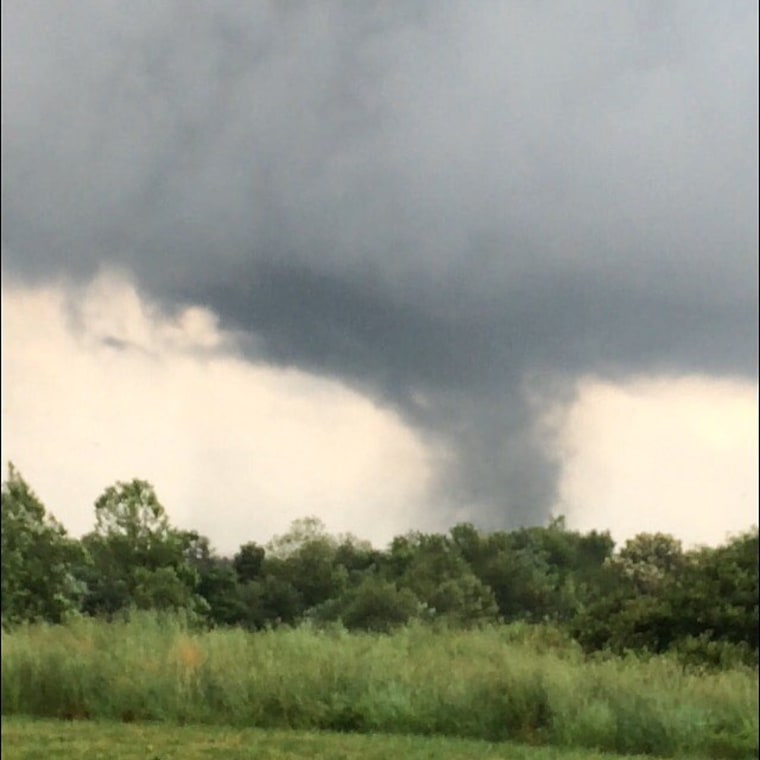 A tornado also touched down about 5:40 p.m. south of Greenville in Muhlenberg County. The National Weather Service warned that flying debris could be deadly and that the tornado would likely destroy mobile homes.
And a third tornado was confirmed about 6:10 p.m. west of Morganfield in Union County, the weather service reported. No reports of damage or injuries were immediately available.
Ari Sarsalari, a meteorologist for The Weather Channel, said potentially dangerous tornadoes were possible through the evening for a large area covering most of Kentucky, southern Indiana, Illinois and Ohio, northern Tennessee and northeast Missouri.
The storms are part of the same system that spawned at least eight confirmed tornadoes in Oklahoma, where two people were killed.
Related: Oklahoma Picks Up the Pieces After Powerful Twisters Kill Two