Elsa weakened enough Saturday morning from hurricane status to a tropical storm, even as it still counts as the first hurricane of the 2021 Atlantic season.
In fact Elsa was right on the cusp of becoming a hurricane again Saturday, with sustained winds at 70 miles per hour, just under the 74 mph Category 1 hurricane threshold, according to the National Hurricane Center.
"Reports from an Air Force Reserve Hurricane Hunter aircraft indicate that maximum sustained winds are now near 70 mph (110 km/h) with higher gusts," according to a hurricane center public advisory.
The storm was about 40 miles south of the Dominican Republican on Saturday afternoon.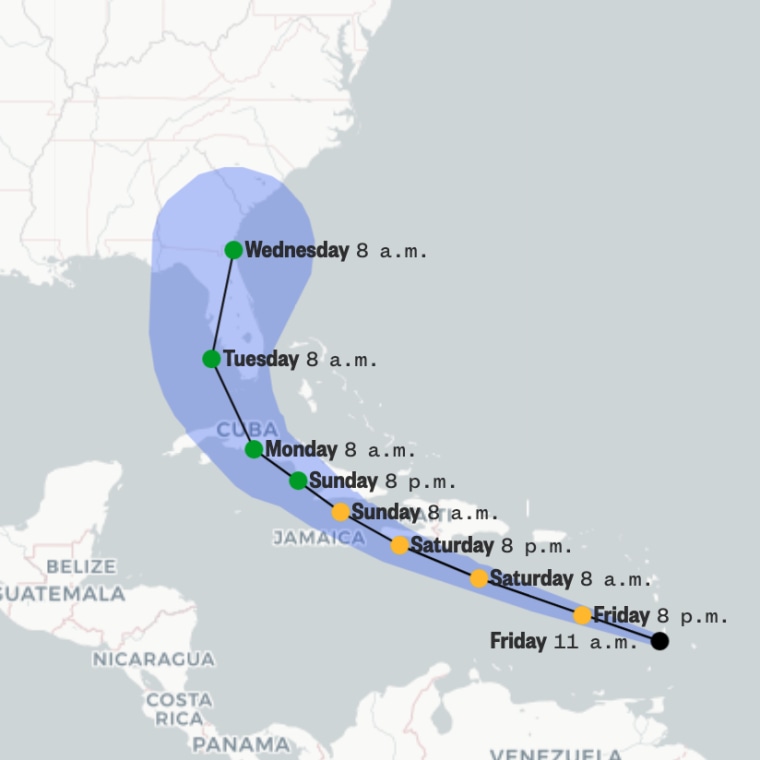 Hurricane warnings, meaning that hurricane conditions were expected, still covered the southern portion of Haiti, from Port-au-Prince to the southern border with the Dominican Republic.
Tropical storm warnings were in effect for Haiti north of Port-au-Prince, the southern coast of the Dominican Republic, from Punta Palenque to the border with Haiti, and for the Cuban provinces of Camaguey, Granma, Guantanamo, Holguin, Las Tunas, and Santiago de Cuba.
The cyclone was moving west-northwest at about 29 mph, the hurricane center said. "A decrease in forward speed is expected later today and Sunday, followed by at turn toward the northwest Sunday night or Monday," the center said in its advisory Saturday afternoon.
As it moved over Cube the storm would weaken, the hurricane cetner said.
Elsa was ultimately headed for the Florida Straits and was expected to move near or over portions of the state's west coast Tuesday, federal forecasters said.
Elsa's fringe impacts, like gusty winds and outer rain bands, could near southern Florida late Sunday and into Monday.
On Saturday, the U.S. Coast Guard said the Port of Miami would have limited access for boaters. "Mariners are reminded there aren't safe havens in these facilities," the Coast Guard said in a statement.
All barges with more than 500 gross tons weight should "make plans" to depart, it said. For Ports of Key West, the Coast Guard said, all barges with greater than 300 gross tons weight should plan to leave.
As a hurricane, Elsa entered the Caribbean Sea Friday after causing damage in Barbados, St. Lucia and St. Vincent and the Grenadines, the Caribbean Disaster Emergency Management Agency reported. Barbados officials reported that there were collapsed houses, it said.
"We are getting a lot of reports of damage," said Wilfred Abrahams, minister of home affairs, information and public affairs for Barbados, according to The Associated Press Saturday.
Across portions of Haiti, the Dominican Republic and Jamaica, rainfall of 4 to 8 inches, with isolated maximum amounts of 15 inches, is possible Saturday into Sunday.
Flash flooding, landslides and mudslides are all possible. A storm surge of 4 to 6 feet could be seen in southern Cuba, and 2 to 4 feet in parts of Haiti and the Dominican Republic, the hurricane center said.
Just how strong Elsa will be when it reaches Florida will depend on how much it interacts with the land masses of the Dominican Republic, Haiti and Cuba. Rough terrain could weaken the storm if it travels across mountainous regions.
The threat of the storm prompted officials to move forward with plans to demolish the standing portion of Champlain Towers South, the Miami Beach-area condo building that partially collapsed last week. That process could start as early as Sunday, authorities said.
Elsa broke the record Thursday for the earliest fifth-named tropical storm of the season. It rapidly intensified in 24 hours from a 40-mph tropical storm on Thursday morning to a 75-mph hurricane on Friday morning.
It is also an unusually early hurricane. The average date for the first Atlantic hurricane of the season is Aug. 14. Elsa's arrival is three weeks earlier than 2020's Hurricane Hanna, which formed on July 25.