The snow is almost over, but the cities and towns near Buffalo, New York, have something else to worry about — sagging roofs and the threat of flooding when it all finally melts.
The death toll from the epic snowstorm this week climbed by three on Friday to 13. That included two elderly residents of a nursing home in the town of Cheektowaga died during an evacuation on Thursday when the roof began buckling.
At least 30 building collapses were reported overnight, mostly farm buildings and flat-roof structures, and authorities said they expected more as they made their way around after sunrise. The storm dumped more than 7 feet of snow in some places.
"It's getting heavier," Thomas Mudd Jr. of Cheektowaga told The Associated Press as he and his wife shoveled 4 to 5 feet of snow off their roof. "It's supposed to warm up and we're supposed to get rain on the weekend, which will make it even heavier. So I didn't want my roof collapsing."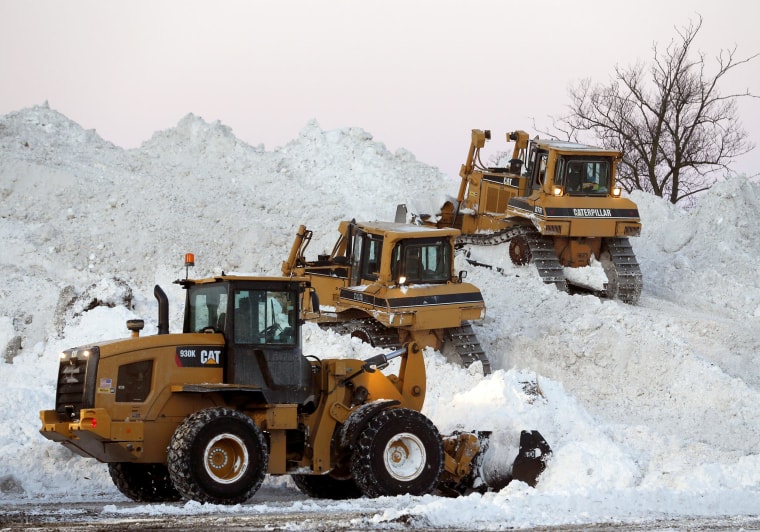 State police said that hundreds of abandoned cars and trucks had finally been cleared from Interstate 90, the New York State Thruway. Gov. Andrew Cuomo said parts of the interstate would reopen Friday afternoon, but only for essential travel.
Western New York was finally expected to climb above freezing on Saturday, and close to 60 degrees by Monday, raising worry about rapidly melting snow and the threat of flooding.
"New York is preparing for the worst-case scenario with these floods, and safety is our top priority," New York Gov. Cuomo said in a statement Friday. "Over the coming days, the warming weather will bring melting, which will bring rain, and water on top of so much snow will bring floods. I urge all New Yorkers to inform themselves and take every precaution to stay safe."
The melting was expected to create the equivalent of 6 inches of rain over two days, said Richard Tobe, the deputy Erie County executive.
It was still snowing Friday morning in some places, although not much more accumulation was expected. The totals from the week's snowfall were eye-popping: 7 feet 1 inches in Wales Center, New York, was the highest.
Almost 6 feet of snow fell in Orchard Park, where the Buffalo Bills play, forcing the NFL to move Sunday's game against the New York Jets to Detroit on Monday night.
IN-DEPTH
— Erin McClam