For the second time in as many years, some residents in parts of Houston and southeastern Texas on Friday were waiting for heavy flooding to recede and were assessing water damage to homes and property, as the death toll from Tropical Storm Imelda climbed to five.
Parts of the area hit by Imelda, which made landfall in Freeport on Tuesday and dumped massive amounts of rain, were also flooded by Hurricane Harvey in 2017 — a storm that dropped more than 60 inches of rain in southeastern Texas and was blamed for the deaths of 68 people.
Some residents suffered flooding this week from both storms. "We moved everything we could upstairs, but you can't put your whole first floor upstairs," Cynthia Watson, of Huffman northeast of Houston, told NBC affiliate KPRC of Houston.
When Harvey hit, 4 ½ feet of water flooded Watson's home, she told the station. "We lived here for 30 years with no water, and the last two years — the second time, so it's heartbreaking," she said.
Another resident, Erika Muzyka, told the station: "We really didn't think it was going to happen again. I mean, we were incredulous."
"We're going to have to stay with family, and we're just going to do everything over again," Muzyka said. "Rip out the sheetrock. Replace the floors."
As floodwaters began to recede in some areas of Texas on Friday, authorities reported two more deaths in and near the city of Beaumont.
The grim discoveries in a canal in Beaumont, a city of around 118,000 east of Houston, and on Interstate 10 in Jefferson County bring the total number of storm-related deaths to at least five. Imelda, which was a tropical storm when it made landfall on Tuesday, and its remnants, dumped feet of rain on some parts of the region and resulted in hundreds of high-water rescues.
Malcolm Foster, 47, was found dead inside a Toyota Prius in a canal after floodwaters receded in Beaumont Friday morning, the city said in a statement.
Thursday evening on I-10 around 3 miles west of the city, officers were called to a stalled vehicle and found the body of 52-year-old Mark Dukaj, 52, of Florida, the Texas Department of Public Safety said. The agency believes that the pickup truck was stalled during massive flooding in the area.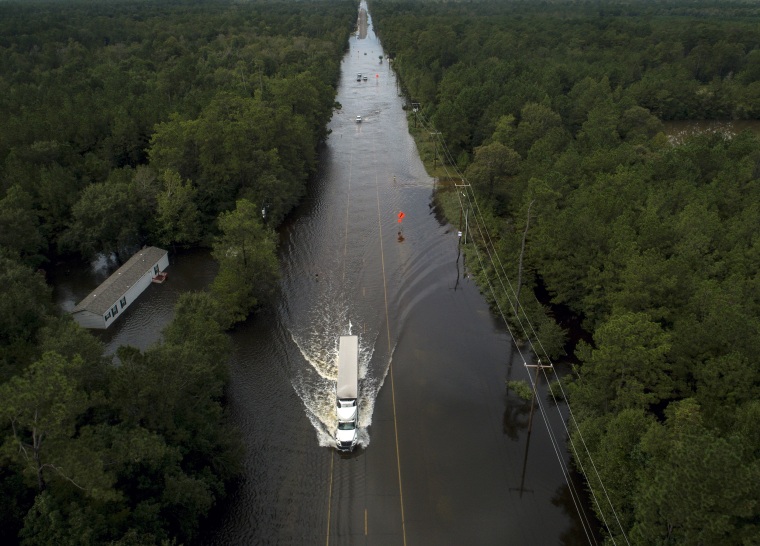 Cory Stottlemyer, spokesman for Houston's Office of Emergency Management, said floodwaters in the city Friday were receding and that fewer 911 calls were being made, the Associated Press reported. But even as the intensity of the storm weakened, Harris County officials warned that some of their 4.7 million residents might not see high waters recede in their neighborhoods until the weekend.
In addition to the two deaths reported Friday in and near Beaumont, three other deaths had been attributed to the storm.
Hunter Morrison, 19, was moving his horse from flooded waters to higher ground when an electrical storm hit, the Jefferson County Sheriff's Office has said. Morrison's family said he was electrocuted and drowned.
Harris County Sheriff Ed Gonzalez said Thursday night that rescue crews there pulled a man from a van submerged in 8 feet of water in Houston, and he was pronounced dead at a hospital; and the sheriff said Friday that another man last seen walking during the storm was found dead in a ditch, and investigators believe the he likely drowned.
In parts of Vidor, Texas, a city of around 10,500 northeast of Beaumont, floodwaters reached near the roofs of homes.
Part of a major freeway in the Houston area, Interstate 10, was closed after the bridge over the San Jacinto River was struck by loose barges, officials said. The barges are intact and there is no evidence of pollution, but Thursday afternoon the current was still too swift to remove them, officials said.
"Everybody needs help, and everybody's devastated," Linda Richardson in Huffman said. "They didn't expect this."
The storm is called one of the wettest tropical cyclones in U.S. history, and it dumped more than 40 inches of rain near the Louisiana border, the AP reported. Hundreds of people have been displaced from their homes.
The sheriff's office of Harris County, which includes Houston, tweeted Friday that there had been 425 high-water rescues and more than 360 stranded vehicles. Houston police said that as of 10 a.m. Friday more than 1,600 vehicles had been towed from city roads due to the storm.
The Chambers County Sheriff's Office said Thursday that the community of Winnie, population around 3,200 and which is between Houston and Beaumont, was "being devastated" by flooding there.
Preliminary estimates indicated around 800 homes and businesses suffered some level of damage from floodwaters, and about 400 people were rescued, county spokesman Ryan Holzaepfel said.
Texas Gov. Greg Abbott on Thursday declared a state of disaster in the counties of Brazoria, Chambers, Galveston, Hardin, Harris, Jasper, Jefferson, Liberty, Matagorda, Montgomery, Newton, Orange and San Jacinto. The declaration ensured state resources were available to local government agencies.
While floodwaters in the Houston area were reported to be receding, there were still flood warnings in place for rivers east of the city, including in the Beaumont area, Friday night, according to the National Weather Service.
The flood warning for the Beaumont area was expected to continue until 5:30 a.m. local time Saturday.