The thunderstorms that killed six people and flooded thousands more out of their homes in the South were getting in one last kick Sunday before clearing out overnight, but major river flooding is expected to continue for many days, forecasters said.
Large hail up to 3 inches in diameter and damaging winds were expected in Arkansas and parts of Oklahoma, Louisiana, Mississippi and Tennessee, the National Weather Service said Sunday. A tornado was even confirmed near Conway, Arkansas, early Sunday evening.
After five days of rain that has already set March records of as much as 2 feet in some parts of Louisiana and Mississippi, the storm is expected to aggravate flooding in major rivers, especially along the Louisiana-Texas border.
Related: Unusually Widespread Flooding Across Louisiana, Mississippi
As water kept rising near the Toledo Bend Dam on the Texas and Louisiana border, authorities began releasing large amounts of water from the Toledo Bend Reservoir — pouring more water into the Sabine River than it could handle.
The Sabine reached 29 feet Sunday morning in Deweyville, Texas, and by Tuesday, it could hit 35 feet, a good 3 feet above the record flood level set all the way back in 1884, forecasters said.
Deweyville was under a mandatory evacuation order, but "this could keep rising into Tuesday and Wednesday, which means people might not be able to get to their homes until next weekend or possibly even longer," said Danielle Banks, a meteorologist for The Weather Channel.
The town of 1,200 people in Newton County was completely isolated Sunday night — accessible only by boat or helicopter.
"No residents of the town have ever seen a flood in Deweyville like what's coming in the next few days," said Jonathan Erdman, a senior meteorologist for The Weather Channel.
On the Louisiana side of the river, officials pleaded with Calcasieu residents to evacuate, as well.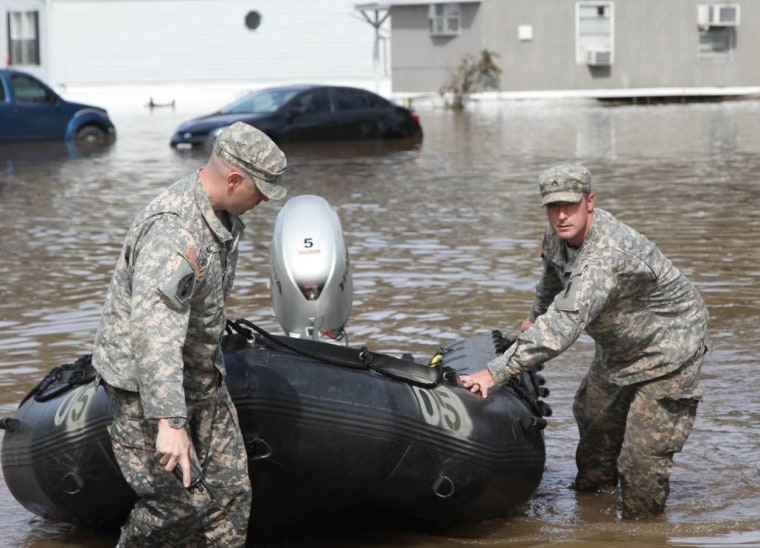 "This is going to be a terrible flood," Dick Gremillion, Calcasieu's director of emergency preparedness, told NBC station KPLC of Lake Charles.
"We've never seen anything like this, we don't have anything to compare it to," said Jonathan Brazzell, a hydrologist with the National Weather Service. "So the next best thing is the flood record of the past, which is '89 — and then you add 2 to 5 feet to that."
Other rivers that have hit record levels include several other locations along the Sabine River; the Bogue Falaya River at Covington, Louisiana, which broke its 23-year-old record by 3 feet; and the Little River near Rochelle, Louisiana, which broke a 33-year-old record by 4 feet.
A 78-year-old man drowned Saturday night near Clarence, Louisiana, while trying to get to his home in an aluminum boat to retrieve personal items, the Natchitoches Parish Sheriff's Office said.
Two other people in the boat were safely rescued, but the incident brought the death toll from the storms to at least six. Three other people were previously known to have died in Louisiana, along with one each in Texas and Oklahoma.
And "we've still got flash flood watches and warnings up from Texas to Louisiana over into Mississippi," Banks said.
Almost 5,000 homes have already been damaged by flooding in Louisiana alone — a report that doesn't include large areas of the state that haven't been able to assess their damage because they're still responding to emergencies, the state Office of Homeland Security and Emergency Preparedness said Sunday.
About 200 homes were floating in Morehouse Parish, NBC station KTVE of Monroe reported Sunday morning, displacing more than 1,000 people.
The Louisiana National Guard said Sunday that 1,405 Guard troops were on duty across the state helping with evacuations, search and rescue, supply of water and meals and security. It said it has rescued 2,415 people and 197 pets so far and has handed out almost a million sandbags in 13 hard-hit parishes.
Eric Anderson, who moved his family to St. Tammany Parish from New Orleans after Hurricane Katrina 10½ years ago, said, "It's like flashbacks of Katrina."
"We moved over here, and it's just like it's happening again," Anderson NBC station WDSU.
The St. Tammany Parish Sheriff's Office warned residents to prepare for potential record flooding along the Pearl River, which the National Weather Service said is expected to crest above flood stage some time Monday. The sheriff's office said the flood has the potential for "widespread devastation."
Meanwhile, in Mississippi, more than 800 homes — 185 of them destroyed — have been damaged, the state Emergency Operations Center said Sunday. Two fishermen remain missing in Claiborne County, it said.