Florida will not escape the arctic chill gripping the nation this week as parts of the state prepare for the possibility of snow Wednesday morning.
Some areas of the Northeast could also get snow if the storm undergoes bombogenesis, a rapid drop in atmospheric pressure, which can intensify a system.
But in the South, even a moderate amount of snow is enough to shock Floridians.
Although parts of the Florida panhandle got snow in December, sections of Northern Florida are under a winter storm watch for the first time in four years.
If Florida sees snow, it will likely hit between 9 and 10 a.m. ET Wednesday, said Weather Channel senior meteorologist Kevin Roth. The city of Tallahassee is forecast to see the most snowfall, with about 0.7 inches expected.
"It will likely stick to grassy areas rather than roadways which are still fairly mild," Roth said.
Related: Six ways to stay safe when it's dangerously cold
NBC meteorologist Sherri Pugh said "there could be some freezing rain, some sleet and a little bit of snow."
The strip of ice and snow stretching from Florida to New England is caused by a powerful low-pressure system intensifying off the East Coast, according to The Weather Channel. About 41 million people are at risk of experiencing the effects of the icy blast.
From Tallahassee to Jacksonville, Floridians will get at most half an inch of a mix of sleet and snow, Pugh said. But the moisture mixed with the cold could still create treacherous conditions.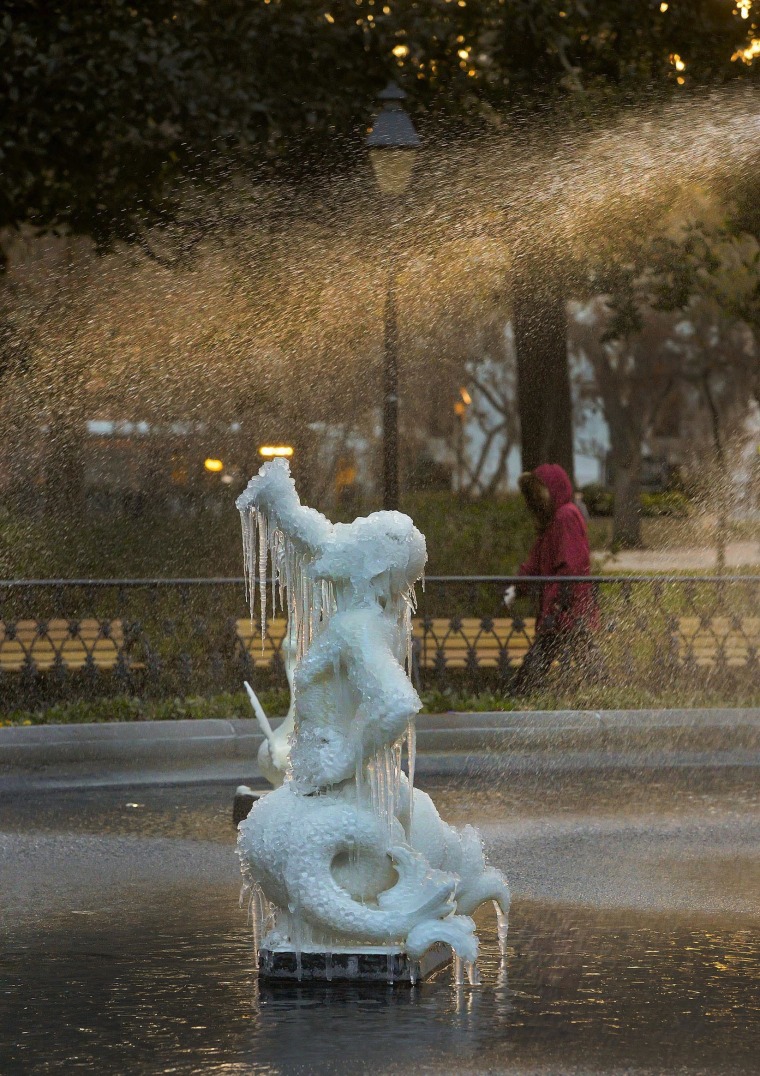 "There could certainly be some slick spots on the road that could impact travel, and in a region that doesn't see it often, they'll need to take care," Pugh said.
The winter conditions are expected to last overnight into mid-Wednesday, she added.
Moving north from Florida, parts of Georgia and the Carolinas also could get a bit of snow. The Weather Channel said it was forecasting up to five and a half inches for Savannah, Georgia, and somewhere between three to six inches for South Carolina.
Frigid temperatures continued on Tuesday and will stretch throughout the week in the Northeast. Some areas might even experience daily record lows, according to Pugh.
The storm brewing along the Eastern Seaboard could deliver snow to the Northeast, with New England at risk of the heaviest accumulations. Blizzard conditions are possible throughout all of Maine later this week, and heavy snow is likely, reported Weather.com.
Southern New Hampshire and Eastern Long Island could also experience blizzard-like conditions.
The storm could go through bombogenesis, an intensification classified by a rapid drop in atmospheric pressure of 24 millibars or more in a period of 24 hours, according to The Weather Channel. If the storm does intensify, the winds could knock out power lines.
Pugh said extreme lows coupled with the potential for a loss of power could be a dangerous combination.
The cold weather has been linked to the deaths of at least 19 people in the United States since Dec. 26.
On Tuesday, it was described as a possible "contributing factor" in a pile-up in Buffalo involving as many as 25 cars, which possibly injured two people, said Trooper Michael P. Cassella, a spokesman for the New York State Police.
"Traffic is going to be delayed for significant amount of time," Cassella said. "People should use caution and stay away from the area until situation has been rectified."