A gigantic multi-fire blaze burning in the Canadian city of Fort McMurray that has forced tens of thousands of people out of their homes was expected to continue its rapid growth, officials said Friday.
"I do expect that there's a high potential that this fire could double in size by the end of the day tomorrow," Chad Morrison, the senior manager of wildfire prevention at the Alberta Agriculture and Forestry Division said Friday afternoon.
"We have not seen rain in this area for the last two months of significance," Morrison said. "This fire will continue to burn for a very long time until we see some significant rain."
Related: Fort McMurray Wildfire in Alberta Grows, Firefighters Hope for Rain
Investigators have not figured out what sparked the wildfires that erupted in the heart of Canada's oil sands region on Sunday and have so far forced 88,000 people to flee. Some were airlifted while the Royal Canadian Mounted Police and military coordinated a mass migration on land which included about 1,500 vehicles, according to police.
The entire city of Fort McMurray was under mandatory evacuation orders and "should not expect to return home for an extended period of time," according to an Alberta government alert. The communities of Anzac, Gregoire Lake Estates and Fort McMurray First Nation were also under mandatory evacuation orders Friday.
Forty fires, five of which were considered out of control, were burning across the province of Alberta Friday, the government said.
Related: Fort McMurray Blaze: Syrian Refugees Step Up to Help Canadian Fire Escapees
The Alberta provincial government, which declared a state of emergency, said more than 1,200 firefighters, approximately 110 helicopters, 295 pieces of heavy equipment and more than 27 air tankers are fighting the fires.
More than 1,600 homes and other buildings have been burned, but officials say no deaths or injuries related to the fire have been reported, according to The Associated Press.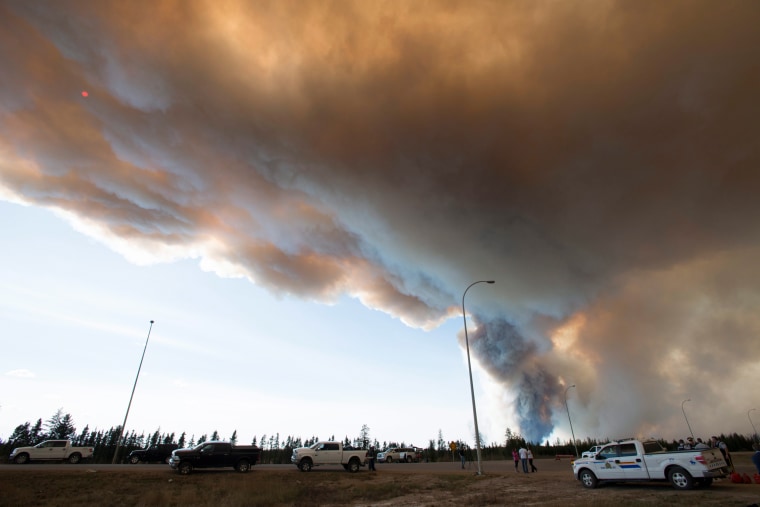 Fanned by high winds, scorching heat and low humidity, the fire grew from 29 square miles Tuesday to 39 square miles on Wednesday, but by Thursday it was almost nine times that — at 330 square miles. On Friday, the fire covered 390 square miles, said Alberta Premier Rachel Notley.
Environment Canada forecast only a 40 percent chance of showers in the area on Saturday.
Photos: Entire City Flees Raging Wildfire in Canada
Notley said her cabinet has approved a payment of $1,250 Canadian ($967) per adult and $500 Canadian ($387) per dependent at a cost to the province of $100 million Canadian ($77 million). She told a briefing in Edmonton that she wants people who were forced from their homes to know that the government "has their back."
The Canadian Red Cross has raised millions for those affected, and Prime Minister Justin Trudeau's government has pledged to match individual donations made until May 31 "without a cap."
Regional Fire Chief Darby Allen expressed his thanks to crews working to control the fire in a Twitter message Friday night:
Meanwhile, officials were trying to do anything possible to minimize the risk of more fires sparking. The province of Alberta announced a fire ban and a ban on off-highway vehicles.
"Our fire crews are working around the clock to battle wildfires in Fort McMurray and around the province. All Albertans can do their part to help ensure firefighters can focus their resources on the areas of greatest need," said Oneil Carlier, the Alberta minister of agriculture of and forestry.