A swath of the country from the Texas panhandle to Oklahoma, Kansas and parts of Missouri was battered with another round of freezing rain Sunday as a winter storm — which has already coated roads in ice and contributed to accidents that killed five people — churned through the Midwest and the Plains.
Three people died in three crashes in Missouri thought to be weather-related on Friday and Saturday, the state highway patrol said.
In Oklahoma, a truck driver was killed in a crash on an ice-covered highway just before 3:30 a.m. Saturday. The stretch of road was the scene of nearly a dozen other crashes, the state highway patrol said.
In Kansas, one person was killed in Saturday night when a vehicles slid on an ice-covered road and into a ditch. (Authorities later determined that a previously reported second death, initially reported as having been connected to the storm, wadsn't weather-related.)
More than 20 vehicles were involved in a pileup near downtown Wichita, Kansas, on Saturday. Two people suffered minor injuries, authorities said.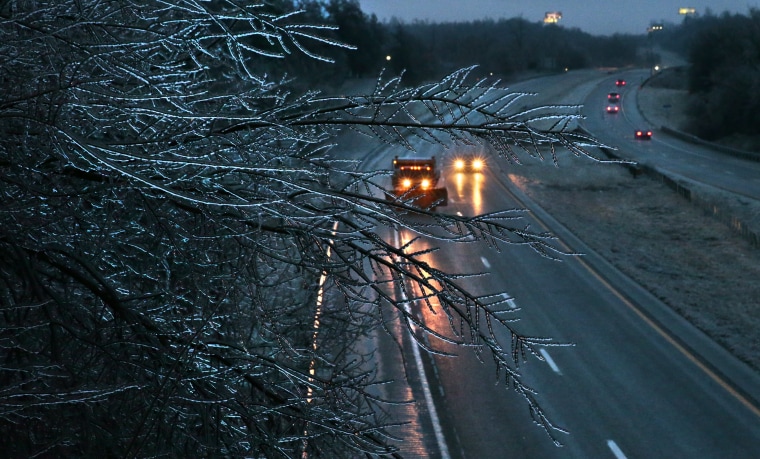 Parts of Iowa could see ice Sunday afternoon into Monday, forecasters said.
Widespread freezing rain was expected to continue over much of Oklahoma, Kansas and Missouri through Sunday as a result of a winter storm, according to a National Weather Service report issued at 2:55 a.m. ET. Expansive ice storm warnings, freezing rain advisories and winter weather advisories were in effect from northeast New Mexico to central Illinois.
Forecasters predicted that a quarter to half an inch of ice would be common in the affected area Sunday, especially from southeast Nebraska to northwest Oklahoma. This was expected to result in downed trees, power lines and power failures in the affected areas.
By Sunday morning, as much as an inch of ice had reportedly already accumulated in Beaver, Oklahoma, while Woodward, Oklahoma, and Dodge City, Kansas, got up to half an inch of ice, according to The Weather Channel.
Just more over 19,000 customers in Missouri, almost 11,000 in Oklahoma and just more than 600 in Kansas were without power Sunday morning.
More than 2,800 arrivals and departures were expected to be delayed at airports Sunday, and more than 200 were expected to be cancelled, according to The Weather Channel. Airports in the affected region appeared to be operating largely normally early Sunday.
The Kansas National Guard was mobilized Friday to assist stranded motorists and provide emergency transportation. Oklahoma's governor declared a state of emergency for the entire state ahead of the storm.
Ice storm warnings were in place from northwestern Oklahoma, through Kansas and into much of Missouri, and in northeastern Nebraska and southwestern Iowa on Saturday night. Parts of southern Kansas got a quarter-inch of ice.
St. Louis forecasters said a last bout of freezing rain could come overnight, but the weather could persist in Nebraska and Iowa through Monday. The Omaha area could get a quarter-inch to a half-inch of ice by Monday, the National Weather Service said.
"I would recommend that if you don't need to go anywhere or if it's not an emergency to just stay at home," Iowa State Trooper Jeff Huffman said.
Reports said residents of the affected areas appeared to be taking the warnings seriously, with grocery stores selling out of basic necessities like bread and milk and hardware stores selling out of generators.
In some parts of Missouri, the ice wasn't as bad as had been feared. Missouri electricity company Ameren said Saturday afternoon that only about 1,400 people were without power, down from about 30,000 earlier in the storm.
"There's only been a few places where we found that half-inch of ice that was predicted," said Kevin Anders, assistant vice president of operations and technical services for Ameren.
But the threat of icy weather caused Sunday's NFL playoff game in Kansas City, Missouri, between the Chiefs and the Pittsburgh Steelers to be postponed from 1:05 p.m. to 8:20 p.m. ET to give road crews a chance to clear streets.
The storm was expected to move northeast, but there was some good news: A freezing rain advisory for central Indiana, which had been in place until 1 p.m., was canceled Saturday night.