Winter isn't going quietly.
The Interstate 95 corridor got pummeled Wednesday with another major nor'easter — the fourth to strike the region in three weeks — on the first full day of spring.
More than 4,400 departures and arrivals were canceled at airports in the region as snow totals of more than a foot were recorded in several areas: 19 inches in Windber, Pennsylvania; 15 inches near Sabillasville, Maryland; and 14 inches in Sweet Spring, West Virginia. The Gashouse District of New York City had 8½ inches by Wednesday night, while 5 inches had fallen on Central Park.
Plows were out in force Wednesday across the region.
"Hit the ATM, get lots of coffee, know which rest stop you're going to, pack a lot of sandwiches, extra pair of socks and we're off," Mike Stevens, a snowplow driver, told NBC New York.
At least one fatal car crash in New York and two in New Jersey were blamed on poor visibility and slippery conditions caused by the storm. The governors of New York and New Jersey declared states of emergency as the storm picked up.
"Travel will be impacted because of the heavy, wet nature of the snow, so anyone trying to shovel out a driveway will feel like they're shoveling cement," said Sherri Pugh, a meteorologist for NBC News. "Some people may have arrived to work this morning but may have trouble leaving."
New York State Police reported that the storm caused a death after a van carrying five people rolled over on the Wantagh State Parkway. The other passengers were in critical condition, NBC New York reported.
New Jersey Gov. Phil Murphy told reporters in a conference call that a bus and another vehicle collided on Interstate 78 in Hunterdon County, killing one person.
A motorist was also killed Wednesday in a crash involving a snow plow in Newark, New Jersey.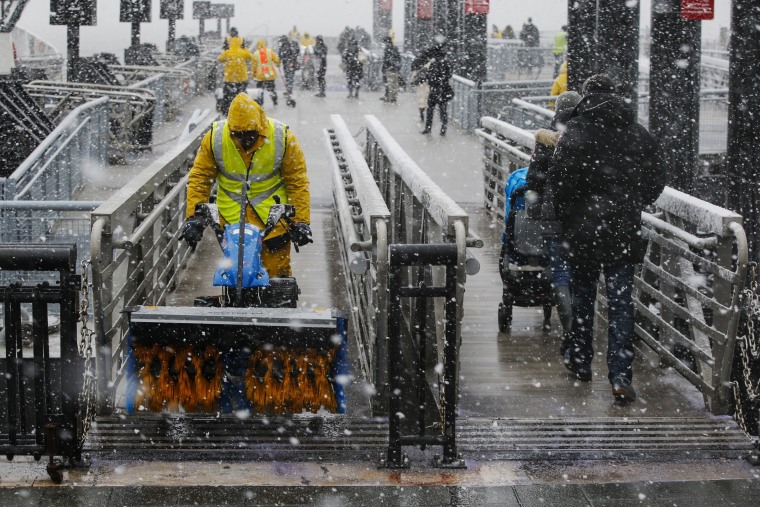 New Jersey Transit pulled all its buses off the roads statewide at 3 p.m. as the storm picked up and visibility dropped.
The storm is the product of a weather system that previously vexed the South: hail in Texas on Sunday, tornadoes in Alabama on Monday and severe storms in Florida on Tuesday, later developing into the nor'easter blanketing the Atlantic coast from North Carolina to New England in snow. This time around, the heaviest snowfall was expected between southeast Pennsylvania and Connecticut.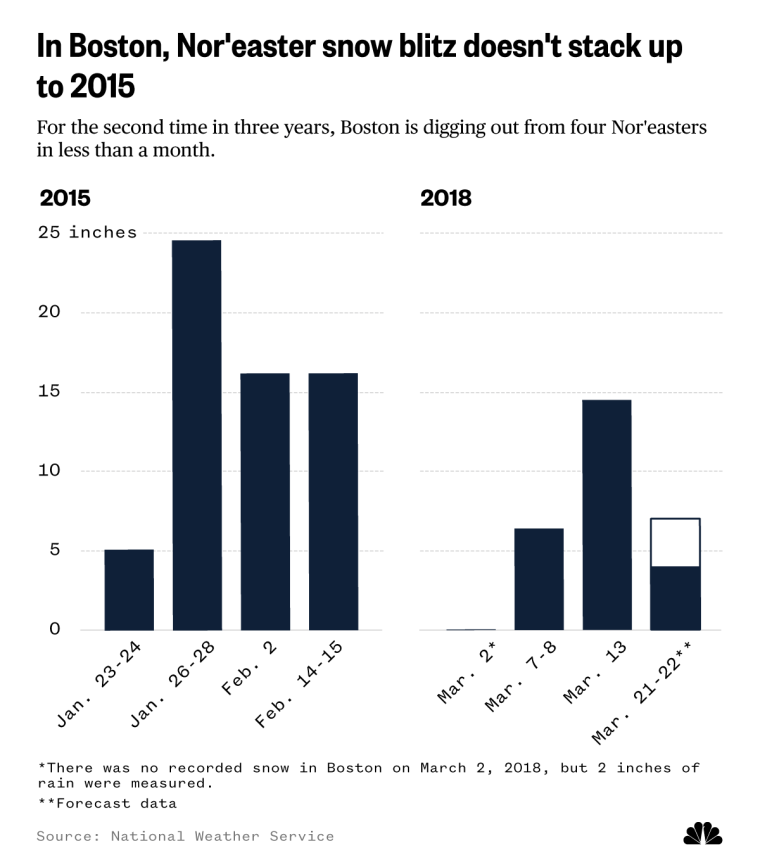 Utility companies reported that more than 88,000 customers remained without power in the mid-Atlantic states and New England after midnight Wednesday — 73,000 of them in New Jersey alone.
During a news conference Wednesday, New York Mayor Bill De Blasio encouraged workers: "If you don't need to be out, don't be out. And if you are at work, try to leave work early."
Pop star Justin Timberlake took that advice and postponed a concert scheduled for Wednesday night at Madison Square Garden. The "Can't Stop This Feeling" singer said a replacement date was forthcoming.
Timberlake was still planning to perform Thursday, and New York City schools were also reopening the day after the storm. Boston schools will be closed on Thursday, however.
And by midnight, Washington was likely to double the 4 inches of snow it accumulated over the entire winter.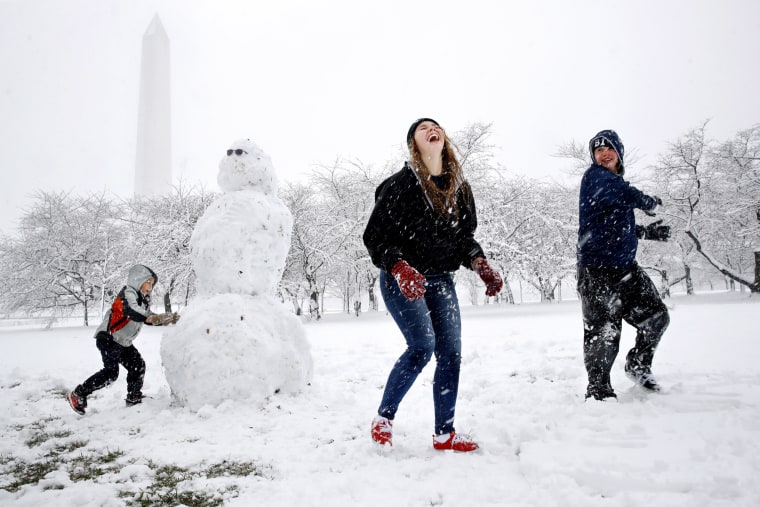 "It's certainly been a rough winter for the Northeast," Pugh said. "Everybody's had a good bit of snow on this side of the country."
The last time the region endured four Nor'easters in such close succession was in 2015, when four storms hit from Jan. 26 to Feb. 15.
Meanwhile, central and southern California were getting drenched in torrential rains, with forecasts predicting 3 to 5 inches through Friday.