The death toll from the fourth nor'easter to slam the Northeast in three weeks stood at four Thursday as millions of Americans dug out and returned to work.
More than 29,000 customers were still without power Thursday night after the Interstate 95 corridor was pummeled with as much as 19 inches of snow on Wednesday, the first full day of spring.
The fatal car crashes in New York and New Jersey were directly linked to snow, poor visibility and slippery conditions, police said.
The storm created whiteout conditions on Long Island and left parts of New York City under more than a foot of snow — the most the region has gotten at this time of year since 1964.
Central Park recorded 8.2 inches by 1 a.m. ET Thursday, according to the National Weather Service.
Gauges recorded 9.6 inches of snow at LaGuardia Airport on Thursday and 8.7 inches at John F. Kennedy International Airport, while a high of 20 inches was recorded in the village of Patchogue on Long Island.
New York City schools reopened Thursday, Mayor Bill de Blasio's office said, and the city's subway and NJ Transit were returning to normal. But federal government employees in Washington, D.C., had a two-hour delay and the option for unscheduled leave or telework.
More than 600 arrivals and departures were canceled Thursday, including 147 at Newark Liberty International Airport in New Jersey and 125 at JFK.
Of the more than 29,000 customers waiting for the lights to come back on in 13 states and Washington, D.C., more than 25,000 were in New Jersey.
In Philadelphia, the city's snow emergency was lifted in time for the morning commute, officials said.
In New York, one person was killed after a van carrying five people rolled over on the Wantagh State Parkway, state police reported. The other passengers were in critical condition, NBC New York reported.
In Newark, Nafis Majette, 32, was killed when the vehicle he was riding in was struck by a stolen Audi, officials said. Alan Aberden, 26, of East Orange, was charged with aggravated manslaughter, vehicular homicide, leaving the scene of a motor vehicle accident and receiving stolen property, according to the Essex County prosecutor's office.
Photos: Spring kicks off with snowy nor'easter
Earlier, New Jersey Gov. Phil Murphy reported that another person was killed when a bus and a vehicle collided on Interstate 78 in Hunterdon County. New Jersey State Police later said the man — Giovanni Nelson, 23, of Allentown, Pennsylvania — was actually in critical condition at a local hospital.
Police reported two other storm-related deaths. A 62-year-old woman in the Long Island town of Bellmore died of an apparent heart attack while shoveling snow. And an 87-year-old woman who suffered from dementia was found dead in the snow about a mile from her home in Toms River, New Jersey.
The latest storm was the product of a weather system that bombarded Texas with hail on Sunday, churned up tornadoes in Alabama on Monday and Tuesday and were blamed for severe storms in Florida on Tuesday.
The same system developed into the nor'easter that blanketed the Atlantic coast from North Carolina to New England in snow, meteorologists said.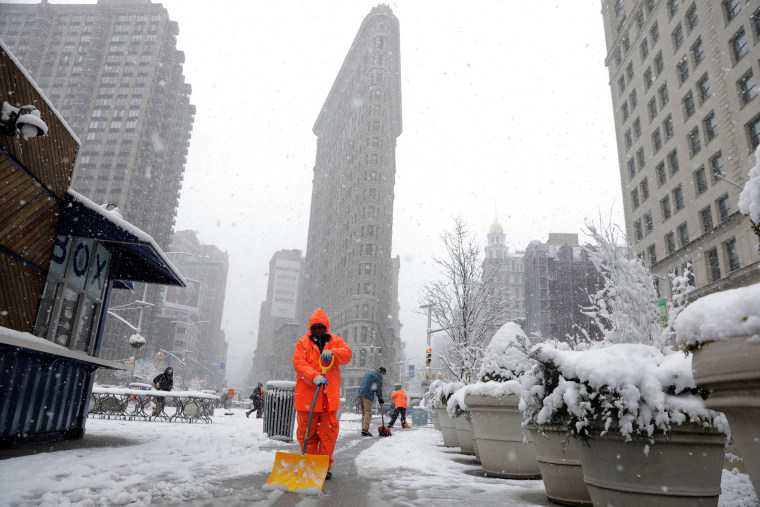 Alastair Jamieson reported from London. Corky Siemaszko reported from New York. Gemma DiCasimirro and Carolina Gonzalez contributed reporting from New York.