A freight train overturned on waterlogged tracks Saturday morning in Texas as heavy rains pounded the region for a third straight day — with remnants of Hurricane Patricia threatening to keep a large part of the state under a flash flood watch.
One person, a man walking his dog in San Antonio, was missing as a result of the floods, authorities said.
Patricia was downgraded Saturday to a tropical depression after making landfall in Mexico Friday evening. But many parts of Texas were still expecting significant rainfall.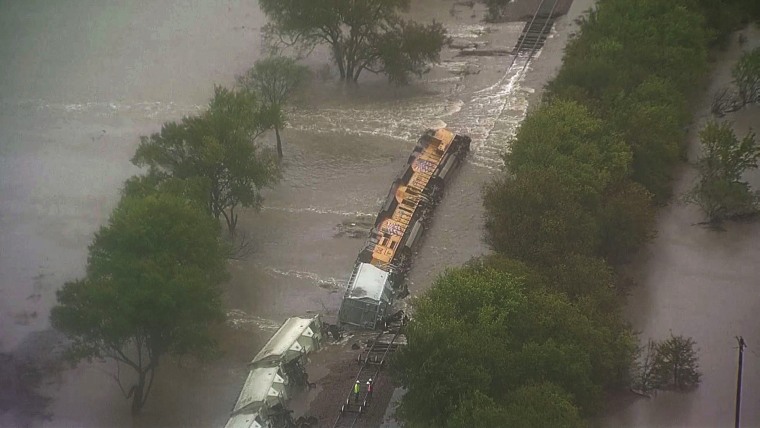 Houston Mayor Annise Parker warned that 8 to 10 inches of rain were expected overnight.
In addition, Houston, Corpus Christi, and other portions of southeast Texas were under a tornado watch until 10 p.m. CT, according to the Weather Channel.
Two train crew members were rescued after a Union Pacific train derailed around 3:30 a.m. local time in Navarro County south of Dallas, officials told NBC Dallas-Fort Worth. Union Pacific spokesman Jeff DeGraff told the station that one locomotive and several rail cars were partially submerged, but no one was injured.
Both crew members "swam to high ground" and were pulled out by a high-water rescue team, DeGraff said.
The 64-car train was en route from Midlothian to Houston when it got caught in floodwaters, which have closed major highways throughout North Texas.
Related: Hurricane Patricia to Intensify Heavy Rains in Texas, 10M Under Flood Watch
The train remained on its side on Saturday, about 4 miles north of Corsicana, as authorities waited for the water to recede before attempting to right it and remove it from the tracks.
Eric Myers, emergency management coordinator for Navarro County, told NBC News the tankers contained cement. He said that the county had received 20 to 21 inches of rainfall in the past 24 hours, and said authorities had performed 72 swift water rescues.
Interstate 45 near Corsicana was closed for several hours Friday night, creating traffic backups that were miles long.
Elsewhere in Texas, heavy rainfall was causing power outages and flight delays. In San Antonio, emergency responders were searching for a man who was swept away Saturday around 3 a.m. local times (4 a.m. ET), The Associated Press reported. The man fell into a flooded drainage ditch while trying to pull his dog back.
The dog was found, but firefighters had to suspend the search for his owner due to the weather.
Strong thunderstorms dropped more than 7 inches of rain across Dallas-Fort Worth, NBC Dallas-Fort Worth reported, with flash flood watches and warnings in effect in many places until Sunday.
The remnants of Patricia — which made landfall Friday evening in southwestern Mexico as a Category 5 storm — are expected to reach Texas by Saturday night and exacerbate the flooding, forecasters said.
"It should start to move out Sunday night, but East Texas is going to still be in the rain Sunday night, even Monday," Jon Rowe, senior meteorologist for The Weather Channel, told NBC News. "There will be some lingering rain showers even by Tuesday."
The heaviest of the rain should be done by Sunday night, he added, "but they're going to have flooding problems in South and East Texas at least through tomorrow."
Hundreds of flights were canceled or delayed on Thursday and Friday at Dallas-Fort Worth International Airport. The airport got 3.24 inches of rain on Friday alone — a daily record.