Florida got 5½ inches of snow — and so did many other cities in the Northeast (Florida is a town of about 675 people in northwestern Massachusetts) as a nor'easter that has already caused wind and flood damage threatened more chaos Thursday after it picked up fresh energy on its way to Canada.
Meanwhile, in drought-stricken California, schools were closing and residents were locking up ahead of a storm that the National Weather Service said could turn out to be one of the biggest in five years.
The nor'easter along the Atlantic coast mainly dropped buckets of rain Wednesday on Northeast cities like New York, Philadelphia and Washington, delaying about 200 takeoffs and landings at those cites' airports and canceling about 100 flights.
But farther north, places like Delanson and Lake Placid in New York and Killington, Vermont, got more than a foot of wet, heavy snow. Jamesville, New York, led the way at 20 inches. Storm winds with gusts above 60 mph are likely to cause power failures for upstate and central New York into central and eastern Pennsylvania through Wednesday night, according to The Weather Channel.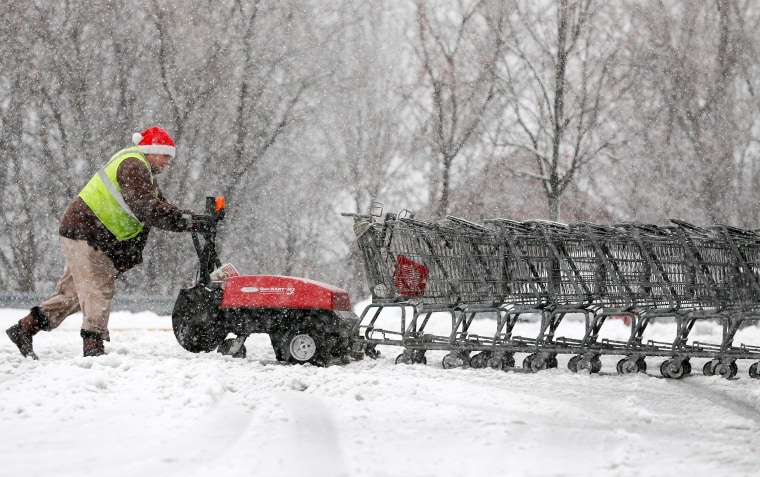 Winter storm warnings were in effect until 6 a.m. ET Thursday for Genesee, Orleans and Wyoming counties in the Buffalo area, where 3 to 5 more inches of snow is expected to bring the five-day total to more than a foot, the National Weather Service said.
Two to 5 more inches could fall through Thursday in other areas, according to the National Weather Service, and Massachusetts Turnpike officials lowered the speed limit to just 45 mph in the Berkshires as snow and rain made driving treacherous. In Agawam, Massachusetts, police blamed icy conditions for an accident in which a 35-year-old woman was seriously injured Wednesday evening when she was struck by a small car, NBC station WWLP of Springfield reported.
In the West, schools in San Francisco, Oakland and several other communities were closed for Thursday in the face of threatened floods, rock slides, mud slides and ground debris accompanying a Pacific storm that could drop the most rain on California since 2009. Three to 5 inches is expected in northern parts of the state by late Thursday, with more than an inch forecast in Southern California beginning Friday.
Full coverage on NBC Bay Area and NBC Los Angeles
The West Coast storm is colorfully called the Pineapple Express. That's "a river of moisture in the atmosphere that basically originates around Hawaii, and it's like a fully loaded Super Soaker that just unloads on California for a couple of days straight," said Ari Sarsalari, a meteorologist for The Weather Channel.
Like the Northeast storm, the Express was chugging along with heavy rain and high winds gusting over 50 mph, also with the likelihood of downed trees and power failures.
The National Weather Service warned that major flooding was possible in Humboldt County, California, where the Eel River could reach 26.1 feet by Friday at Fernbridge — more than 12 feet above flood stage.
In Atascadero on California's central coast, organizers canceled Friday's scheduled Winter Wonderland holiday festival because of expected heavy rain, NBC station KSBY of San Luis Obispo reported. In Orland in Glenn County, officials already had thousands of sandbags prepared to hand out to residents, along with newly repaired chainsaws to deal with downed trees, City Manager Pete Carr told NBC station KNVN of Chico.
The Express first came ashore Tuesday in Washington and Oregon before heading south. Two houses collapsed into high water because of soil erosion Tuesday at the appropriately named Washaway Beach on the Washington coast, and at least 24,000 customers remained without power Wednesday in western Washington, NBC station KING reported.
Meanwhile, forecasters issued high wind warnings the southern Oregon Coast for Thursday, predicting winds of 75 to 80 mph, with gusts up to 90 mph possible in some areas. "Significant property damage may occur resulting in structural damage," the National Weather Service in Portland said.