A grandfather is holding out hope Monday that his daughter-in-law and her two children will be found safe after flash floods swept away a Texas vacation home they were staying in.
Authorities in the town of Wimberley, Texas, spent Memorial Day searching for Laura McComb, her children Andrew, 7, Leighton, 4, and five members of another family, who were vacationing together when flood waters leveled at least 72 structures in the town Sunday. Four other people in the small town, 30 miles south of Austin, were also missing, according to officials.
Laura's husband, Jonathan McComb, was found 2 miles away from where the home once stood, his father, Joe McComb, told NBC News. Jonathan is hospitalized with a collapsed lung, a broken sternum and broken ribs, the father said. Jonathan told his father he thought he might die in the flood.
"He said there were several times where he was under water and he didn't think he was going to come up," said Joe McComb.
Now they waiting for word about Jonathan's wife and children.
"There's no report of any findings whatsoever, which is I guess is good in that there's still hope," said McComb. He said the family dog, Maggie, was found safe Monday by search and rescue crews, leaving the possibility that the family could also still be alive.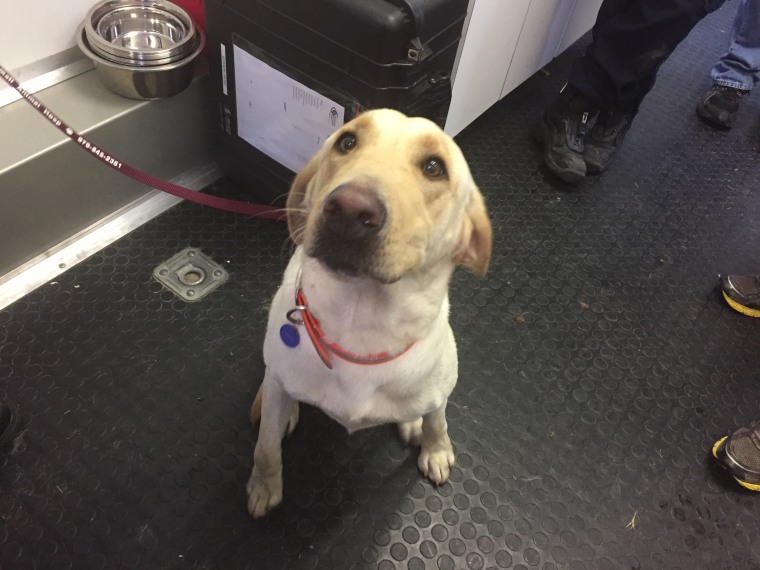 McComb said the house, which was on stilts, was swept into a river, and when it hit a bridge "the whole thing started coming apart."
"The water just took people in different directions," McComb said. "My daughter-in-law was talking to her sister on the cellphone, saying 'his house is floating down the river' — then the conversation just ended."
At least five people have been killed in the severe floods that have washed over Oklahoma and Texas over the Memorial day weekend. Monday brought more severe weather warnings across Oklahoma, central and eastern Texas, Louisiana and Arkansas, according to the National Weather Service.
IN-DEPTH
SOCIAL
— Elisha Fieldstadt and Erin Calabrese