Water-logged Louisiana was bracing for even more rain Thursday as the National Weather Service warned that hurricane conditions were possible along the Gulf Coast as a "potential tropical cyclone" moved closer to land.
The storm is expected to become a tropical depression or a tropical storm later Thursday and could become a hurricane by late Friday, the weather service said in a 1 a.m. bulletin. The storm system was forecast to approach the Louisiana coast this weekend.
The weather service had issued a hurricane watch from the mouth of the Mississippi River to the west to Cameron, Louisiana, but New Orleans itself was not under a hurricane watch early Thursday.
Storm surge watches covered other parts of the Louisiana coast, including New Orleans. The slow movement of the weather system is expected to result "in a long duration heavy rainfall threat" along the central Gulf Coast and the lower Mississippi Valley into as late as early next week.
The storm couldn't come at a worse time. Flash floods from heavy rains had already battered New Orleans, where almost 10 inches of rain had fallen on some neighborhoods by noon Wednesday.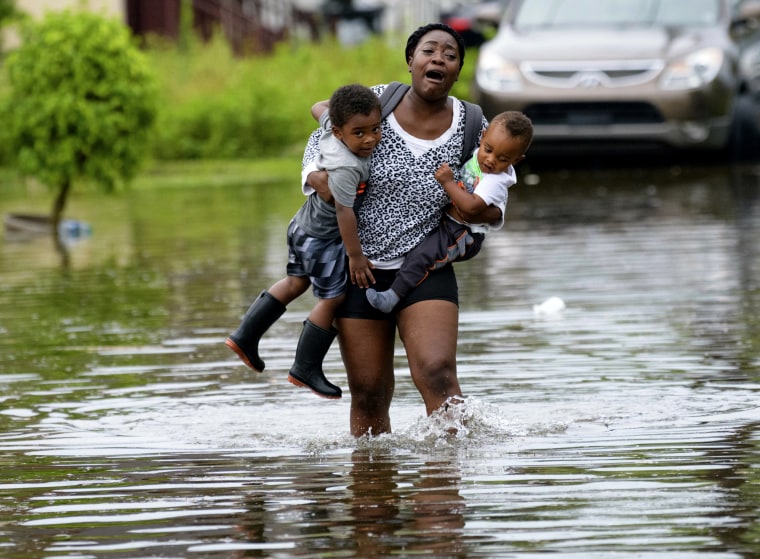 Meteorologists have said the Mississippi River could rise to 19 feet by the weekend, just a foot short of the height of the city's aging levees.
"Even though I grew up with Midwestern tornadoes and summer storms, this was next level in terms of the absolute deluge of water coming down so fast," Ellen Austin, a high school teacher from California who was in town for a convention, told NBC affiliate WDSU of New Orleans.
"The water just came up in the streets in what felt like no time at all," Austin said. "And we have been cut off, with doors blocked with towels to keep water out, since this morning. It's been a bit surreal."
A waterspout, a kind of a tornado that forms over a body of water, was spotted over Lake Pontchartrain, WDSU reported.
Louisiana Gov. John Bel Edwards on Wednesday declared a state of emergency as residents and tourists fled for cover or higher ground.
"Right now, we believe that any overtopping of the levees will be relatively short duration of about 12 hours, but that is still a very, very significant hazard," Edwards said.
"No one should take this storm lightly," he said. "As we know all too well in Louisiana, low intensity does not necessarily mean low impact."
Ricky Boyett, a spokesman for the Army Corps of Engineers, said the corps was confident that the levees, which can protect up to 25 feet in some spots and 20 feet at the lowest spots, would protect the Gulf Coast from major flooding.
"If you're at 20 feet on the levee, you're going to get a little splash," Boyett told WDSU. "You're going to get a little overtopping, and that usually dissipates. ... However, if you get natural flow over the levee, you will get flooding in the interior of this system."
Authorities from Alabama to Texas were also keeping wary eyes on the forecast.
"Severe weather is severe weather, and the potential is there, so you need to be prepared and be ready," said Mike Evans, deputy director of emergency services in Mobile County, Alabama.
However hard or lightly the Alabama coast is hit, the storm will mark the debut of Mobile County's new Emergency Operations Center, which is built to withstand a hurricane, complete with generators, a kitchen and plenty of places for people to sleep, Evans told NBC affiliate WPMI of Mobile.
"It'll be a great exercise to be prepared for the rest of the season — because we are just getting started," he said.
In east Texas, where many communities are still recovering from the damage of Hurricane Harvey in 2017, Gov. Gregg Abbott urged residents to "begin preparing your property, begin preparing your supplies, begin preparing your lines of communication to your family members, begin preparing where exactly it is where you'll be going to in the event you need to evacuate."
"We want to make sure the state of Texas is doing all we can," he said.