While what was once a powerful Category 4 hurricane has weakened to a tropical storm and started to move away from the main Hawaiian islands, forecasters warned of more rain for parts of the state that have already been battered by more than 40 inches in some areas.
Tropical Storm Lane on Saturday was located about 145 miles southwest of Honolulu, moving west at 7 mph, according to the National Weather Service.
All tropical storm warnings and watches were dropped Saturday, the Central Pacific Hurricane Center said. But "lingering moisture associated with Tropical Storm Lane will produce excessive rainfall this weekend, which could lead to additional flash flooding and landslides," it said in an 11 a.m. advisory (5 p.m. ET).
Four weather stations on the Big Island had already reported more than 40 inches of rain by Saturday. Friday the city of Hilo flooded with waist-deep water in some parts of the city, which is located on the east side of the Big Island.
In Keaau, south of Hilo, longtime resident Gary Dalton on Friday night used an excavator to build a drainage moat around his parents' home as the waters rose.
"I have never seen the flooding this bad. I wasn't expecting the water to rise," Dalton told NBC News in a phone interview. "I'm a long time local in the area and I've never seen something like this before."
More than 38 inches of rain was recorded in nearby Mountain View, which is southwest of Keaau, the National Weather Service said.
Dalton owns a construction and excavation business with his brother and, amid the rising waters, remembered that he had an excavator a block away from his parents' home at a job site.
"The situation was very scary. There was lightning going off. … I kept thinking, 'please don't strike, please don't strike,'" Dalton said.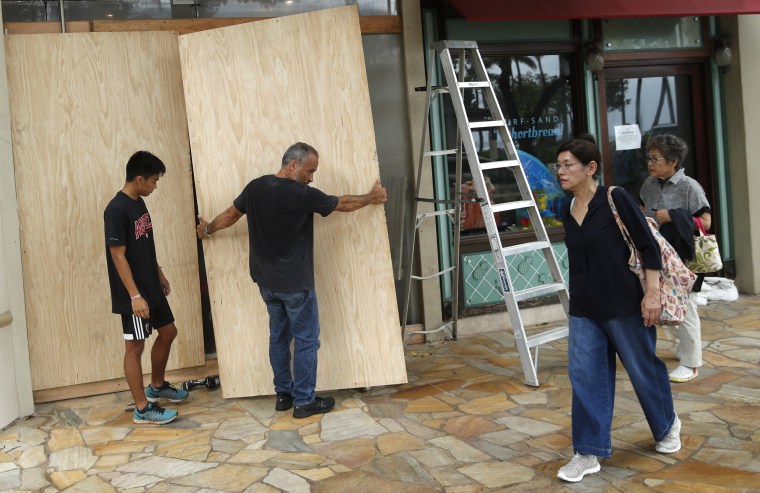 He got his wife and kids out of the house and to safety with a truck, but said "by that point we were wading through knee-deep water … we barely made it out. And it was a point where it was starting to feel like a life or death situation."
The damage to the home was minimal, he said, "there's destruction everywhere." The rain was easing on Saturday, he said, but "the main road in our area is like a waterway and it's shut down."
Margaret Collins, 69, woke up Thursday night to sounds in her Hilo backyard.
"So I got up out of bed and looked out my bedroom window and saw water 3 feet high gushing past my window," she said told the Associated Press. "And that's when I realized I was standing in water."
"My house is completely inundated with mud-water," said Collins, who was told the damage wouldn't be covered by insurance. She hopes she can get federal assistance.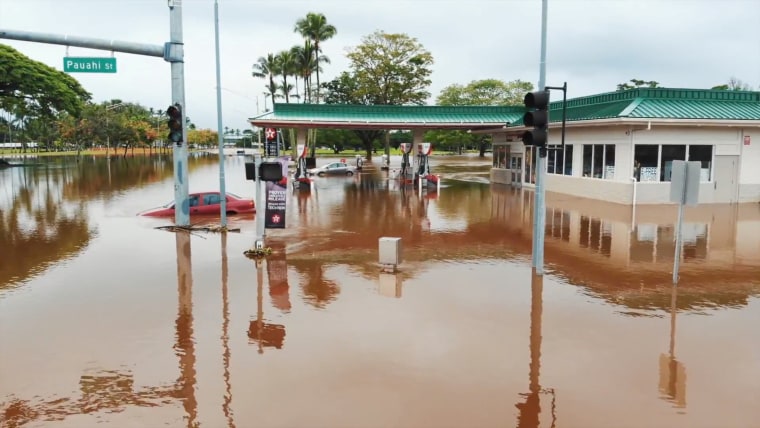 Parts of Highway 11 on the Big Island remained closed on Saturday, after flooding and landslides caused by heavy rains closed roads and led to the evacuation of around 100 residents of a neighborhood north of the city Thursday, according to officials and NBC affiliate KHNL of Honolulu. Many roads on the island sustained damage in the storm, the county of Hawaii said.
In East Hawaii more than 20 people were rescued overnight Friday into Saturday, but there were no injuries, Hawaii Fire Department Battalion Chief Kazuo Todd told the Honolulu Star-Advertiser.
In Maui, workers were trying to restore water service to customers in Haiku after part of a waterline was washed out, the county government said. A flash flood watch remained in effect until late Saturday night. The tropical storm is expected to produce heavy rain there through Saturday.
The National Weather Service said that parts of Maui got a little more than 18 inches of rain, while Haiku received a little over 8 inches during the storm event.
As Hurricane Lane approached it was a powerful Category 4 storm.
The last Category 5 storm to even come close to Hawaii occurred in 1994 when Hurricane John skirted 345 miles south of the islands. The last severely damaging hurricane was Iniki, a Category 4 storm that killed six people in September 1992.
No deaths have been reported in the current storm. One woman was burned in a brush fire on West Maui that was fueled by high winds on Friday, according to KHNL.
"We dodged a bullet," Honolulu Mayor Kirk Caldwell said Friday night after the Category 1 hurricane was downgraded to a tropical storm. "It doesn't mean it's over — we're going to have rain and wind and local flooding and we need to be vigilant."
Anna Madrid of Hilo captured video of floodwaters surging down the steps of her home. "We evacuated our kids and stayed to try and prevent further damage," but everyone is OK, she said.
The Central Pacific Hurricane Center said Saturday that Tropical Storm Lane had maximum sustained winds of 50 mph as of 11 a.m. local time Saturday.
The center of the storm is forecast to pass around 150 miles south of Kauai in the western part of the state later Saturday. An additional 5 to 10 inches of rain could fall on Maui and parts of the Big Island, and 3 to 5 inches elsewhere, it said.
"Hawaii is not in the clear from Tropical Storm Lane at this point," Federal Emergency Management Agency Administrator Brock Long said Saturday morning.
He said torrential rains will be the largest threat facing Hawaii during the next 48 hours.