Treacherous weather from coast-to-coast was complicating the commute for millions of Americans racing to their Thanksgiving gatherings on Wednesday.
Thanksgiving Eve is historically the busiest travel day of the year, and AAA said more than 55 million people were expected to pack roads, planes, trains and buses on Wednesday — the most since 2005.
In total, 19 million people on Wednesday were under winter alerts from California to Michigan, 88 million people were under wind alerts from the Midwest to the Northeast, and 16 million people were under flash flood watches across the Southwest.
In the West, a storm system called a bomb cyclone smashed into mountain areas of Oregon and Northern California overnight, with heavy snow and wind gusts as high as 100 mph accompanied by severe rain in lower-lying areas. The storm was causing blizzard conditions and closed hundreds of miles of interstate highway in the Northwest.
Meanwhile, on the East Coast, rain was forecast for New England on Wednesday and heavy wind gusts — potentially strong enough to ground balloons in the iconic Macy's Thanksgiving Day Parade — were expected in the New York area on Thursday.
Conditions were not looking much better in the middle part of the country: Heavy snow blanketed Colorado and most of the Plains, with some lingering snow forecast for Minnesota, Wisconsin and northern Michigan.
The effects of the weather were far-reaching: In Minneapolis, which had received 9.2 inches of snow by noon, the city declared a snow emergency on Wednesday. The November snowstorm is Minneapolis's biggest since 2010.
In the Detroit area, more than 33,000 customers had no electricity due to power outages. And school districts from South Dakota to Wisconsin canceled classes on Wednesday, the Associated Press reported.
The storm system started by blasting Colorado, covering many parts of the state in 20 inches or more of snow Tuesday, with some areas getting more than 30 inches. The 22.2 inches that blanketed Boulder, 25 miles northwest of Denver, was a record for Nov. 26 and the third-snowiest day ever.
Denver recorded 11 inches of snow. Almost 500 arrivals and departures, about a quarter of all scheduled traffic, were canceled at Denver International Airport, where about 9½ inches of snow was recorded.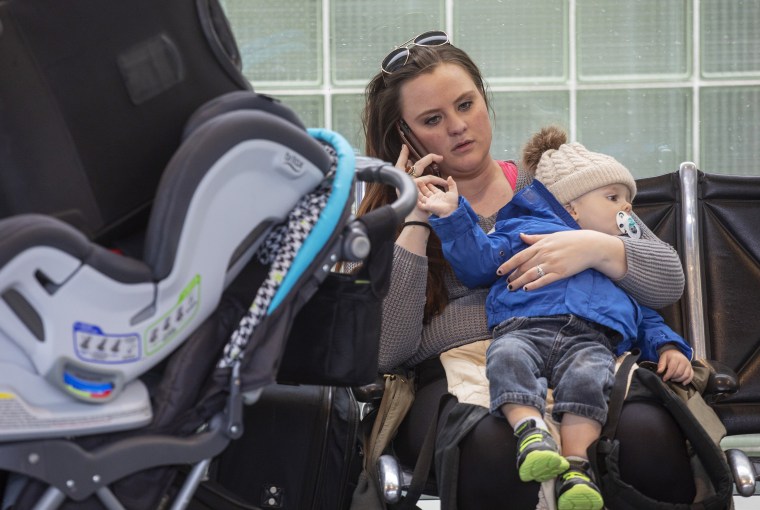 "It's a little gnarly," said Ryan Glitch of Fort Collins, who spent the day driving around the Denver area in his 1993 Ram Charger offering assistance to anyone who asked.
"I've pushed three through intersections where it wasn't plowed real good — by hand, not bumper," Glitch told NBC affiliate KUSA of Denver.
Download the NBC News app for breaking news and weather
In Wyoming, more than 200 miles of Interstate 80 were closed Tuesday, the state Transportation Department said.
In total as of Wednesday at 3 p.m. ET, more than 2,500 flight arrivals and departures in the U.S. were delayed, while 121 were canceled, according to FlightAware.com. All major airlines instituted contingency plans waiving fees for some rebookings.
While the snow was winding down for many areas, winds were picking up, with wind gusts greater than 60 mph reported in parts of Illinois. At Chicago's O'Hare airport, gusts of 53 mph were recorded. Winds were also starting to strengthen on parts of the East Coast on Wednesday, with Washington, D.C., experiencing gusts of 33 mph and forecast to get stronger into the night.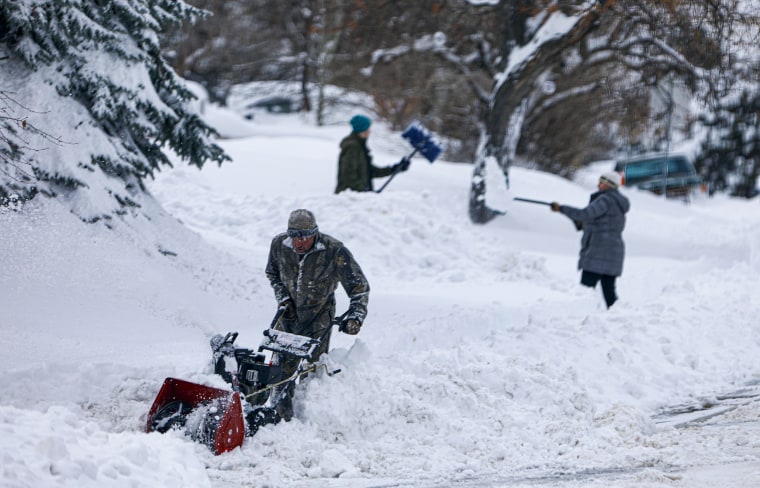 As the storm system moves east, it could also push elevated winds into the New York area. Conditions were forecast to be dry with temperatures in the 50s on Thursday, but forecasters said winds could reach 25 mph, with occasional gusts up to 40 mph.
Sustained winds of 23 mph and gusts of 34 mph would ground the Macy's Thanksgiving Day Parade balloons, said Susan Tercero, the executive producer of the parade, which will be televised by NBC.
"We refer to it as a game-day decision," Tercero said. "We get there right before the parade begins."
Meanwhile, in the West, all eyes were on the bomb cyclone — a phenomenon that is caused when cold air collides violently with warm air, often over warm ocean waters, causing the system's internal pressure to plummet.
It's called "bombogenesis," and the National Weather Service said the bombogenesis cycle washing over the northwest Pacific coast on Tuesday night and Wednesday could create historically powerful storms for the next day or so.
San Francisco, San Rafael, San Jose and Livermore in California were expected to get 1 to 1½ inches of rain by midday Wednesday, while as much as 2 feet of snow was forecast for parts of the Sierra Nevadas and the Cascades mountain range bridging Oregon and California.
The weather service forecast blizzard conditions above 3,500 feet in the region, while southwest Oregon could get wind gusts up to 90 mph — at another time of the year, that would be a Category 1 hurricane.
"This particular system has the low center very well clustered right off the southwest Oregon and the northwest California coasts," said Tom Wright, a meteorologist for the weather service's office in Medford, Oregon.
"Heavy snow and near-blizzard conditions at times will make travel very difficult to nearly impossible over the mountains," Wright said. "Travel through southwest Oregon and Northern California is strongly discouraged."