Tropical Storm Hermine lashed the Atlantic coast with ferocious winds and rain Saturday morning, while Florida attempted to clean up debris and restore power to tens of thousands of customers after an earlier thrashing.
"Anyone along the U.S. East Coast needs to be paying close attention this weekend," said Dennis Feltgen, a spokesman for the National Hurricane Center.
Hermine was a Category 1 hurricane when it made landfall on Friday morning south of Tallahassee — the first hurricane to make landfall in the state since 2005. At least one person died when a tree crashed down on his tent, Marion County officials said. Forecasters warned it could strengthen into a hurricane again by Sunday night or early Monday.
At 11 a.m. ET, the hurricane center said the tropical storm's center was about 80 miles northeast of Norfolk, Virginia. Forecasters said the storm is expected to move over the Atlantic Ocean soon and threatens a dangerous storm surge into Hampton Roads in southeast Virginia. Hermine had top sustained winds of 65 mph and was moving east-northeast at 15 mph.
Amtrak said it had canceled or altered some service on the East Coast as the storm approached.
An estimated 325,000 people were without power in Florida and more than 107,000 in neighboring Georgia, officials said. In North Carolina, officials said more than 30,000 customers were in the dark Saturday morning.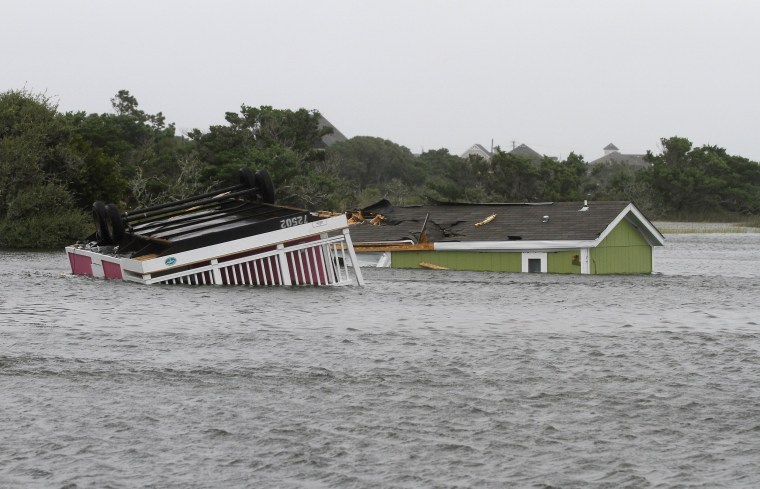 North Carolina could get 6 to 8 inches along some coastal areas, forecasters said.
North Carolina Gov. Pat McCrory declared a state of emergency in 33 eastern counties ahead of the storm. "We think it's moving out pretty quickly, utilities are ready in case of power outages," McCrory said at a news conference Friday.
PHOTOS: Florida Surveys Damage After Hermine
The weather service also warned Friday of possible "life-threatening inundation" in the Hampton Roads area of Virginia over the next 24 hours as the storm moves north and is expected to cause storm surges. Four to 8 inches of rains were expected on the shores of Virginia and Maryland and could cause flash floods, according to the weather service.
Both Maryland Gov. Larry Hogan and Virginia Gov. Terry McAuliffe declared states of emergency Friday evening. "We are strongly encouraging everyone in Virginia to prepare for the possibility of damaging winds, downed trees, power outages and flooding in much of the Commonwealth," McAuliffe said.
"Yes, the worst is over for Florida, but this storm is going to track up the East Coast and it's going to be a problem for a lot of people over the next couple of days," said Weather Channel meteorologist Ari Sarsalari.
Hermine packed heavy rains as it raked Florida, impacting a part of the state known as the Big Bend — the elbow where the state's peninsula meets the Panhandle. Lake Tarpon Canal, northwest of Tampa, saw more than 22 inches of rain, according to The Weather Channel.
While localized flooding has been reported, officials warned of downed wires and the possibility of electrocution, as well as blocked roads from trees and debris.
The storm's far-reaching punch will put a damper on Labor Day weekend plans in the Mid-Atlantic and Northeast as it potentially dumps 2 to 10 inches of rainfall through Monday morning. New York City already anticipated the storm by announcing it would shut down its beaches Sunday.
Tropical storm watches remained in effect from Delaware up through southern Connecticut.
"In areas from central New Jersey to Ocean City, Maryland, the impact of this could get close to [Hurricane] Sandy in some locations," warned Weather Channel meteorologist Michael Palmer.
"This is becoming a serious event — people need to get away from the coast" in those areas. "You should not be at the beach, especially Sunday or Monday."