LOS ANGELES — Forecasters and health officials pleaded with residents of the Pacific Northwest to get ready for a week of scorching weather, fretting that triple-digit temperatures could pose a significant risk in the usually cool region.
The National Weather Service pulled no punches, saying Monday that coastal Washington, Oregon and Northern California should expect "the hottest and longest period of very hot weather in some years."
Excessive heat warnings were in effect across the region through Friday as forecasters said high temperatures on Thursday would likely top the record for any day of 107 degrees in Portland, Ore., and could approach the record of 103 in Seattle.
Medford, Ore., was already at 102 on Monday — and is expected to climb a predicted high of 114 on Wednesday.
"It's going to be just smoldering out there. This is certainly a historic heat wave," said Danielle Banks, a meteorologist for The Weather Channel.
Making matters worse, the heat is baking a part of the country where it's unusual for the temperature to even break 90, so "a lot of homes out across the Northwest, especially older homes, do not even have AC," or air conditioning, Banks noted.
Penny Wolf-McCormick, health enforcement manager for the Oregon Occupational Safety and Health Administration, said workers and bosses alike "need to be especially aware of the dangers of working in high heat."
"That's because workers here tend to be used to working in mild weather and are frequently not acclimated to this type of heat," Wolf-McCormick told NBC affiliate KMTR of Springfield, Ore.
Sean Sitton, who owns Scoop Ice Cream in Portland, decided he will close his doors on Wednesday and Thursday, because, he said, it'll be too hot for ice cream.
Apparently, that is a thing: The magic temperature range for peak ice cream sales is 78 to 83 degrees, Sitton told NBC affiliate KGW, and "when it gets too hot, the cone starts to drip and people would rather hide inside in the shade."
Not to mention that "it would just be terrible for our folks to be out here for 10 hours in the heat" baking waffle cones, he said.
The heat is on because a ridge of high pressure is pushing the cool Pacific jet stream north into Canada, the National Weather Service said. Besides shutting off nature's air conditioner, that's allowing midsummer heat to move north from the desert Southwest — and it's clearing out any cloud cover that could block the sun's blistering rays.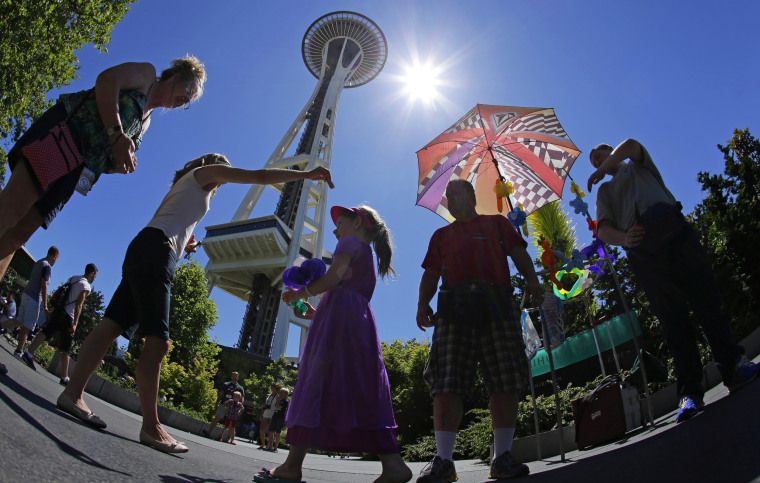 "It's not going to be warm this week. It will be hot," the weather service said, adding: "There is even a non-zero chance of reaching the all-time record high of 118 in Redding [Calif.] on Tuesday or Wednesday."
That's 21 degrees hotter than Redding's average for August, according to climate records.
In the northernmost areas, like coastal Washington, authorities are especially concerned that students home for the summer could be at special risk. That's because the heat will drive many of them to lakes and the ocean shore — where the hot weather hasn't been around long enough to heat up the water.
That can lead to what rescue workers call "cold water incapacitation," which "can happen in as little as 10 minutes, as opposed to hypothermia, [which] can take hours," said Dina Sutherland, a spokeswoman for East Pierce Fire and Rescue, north of Seattle.
"The victims we see the most are male between 14 to 24," Sutherland told NBC affiliate KING of Seattle. "The cold water makes their arms and legs not move as well, and they can't swim as well."