The swollen Mississippi River threatened to breach or weaken 19 federal levees Wednesday, forcing the evacuation of hundreds of homes as Illinois and Missouri braced for "historic" floods.
The severe weather has been blamed for dozens of deaths, has forced officials to move inmates out of a state prison, and has caused wastewater treatment plants to malfunction, resulting in the spread of untreated sewage.
River levels swelled after a massive winter storm brought tornadoes and blizzards to Texas over the weekend, soaking much of the country's midsection. The weather has killed at least 53 people since last week.
Although the rainfall had finished, flood warnings were still in effect early Wednesday across a 600-mile stretch of Illinois, Missouri and Oklahoma.
In Illinois, Gov. Bruce Rauner declared disasters in seven counties. An unknown number of inmates were transferred out of an Illinois state prison that was threatened by the flooding.
Meanwhile, in Missouri, which has been hardest hit by the floods with 13 deaths, Gov. Jay Nixon declared a state of emergency and activated the National Guard.
"It's very clear that Missouri is in the midst of a very historic and dangerous flooding event," Nixon told reporters Tuesday. "The amount of rain we've received, in some places in excess of a foot, has caused river levels to not only rise rapidly, but to go to places they've never been before."
The torrent has threatened to break records along the Mississippi River. At Cape Girardeau, Missouri, the crest was just 2.5 feet below the all-time high set during a disastrous flood in 1993. At St. Louis, the waters were forecast to reach their third-highest level in history Wednesday.
Related: Deadly Storm Threatens Northeast, Central U.S. With Snow Floods
Among the main concerns were 19 levees along the Mississippi River and its tributaries that were being monitored by federal officials, according to The Associated Press.
The river had already spilled over the top of one of those levees Tuesday, at West Alton, 20 miles north of St. Louis. Mayor William Richter ordered any of the town's approximate 520 residents who had not already evacuated to get out of harm's way, the AP reported.
"If a levee was to give way, the entire Mississippi would flood out," Kevin Roth, lead meteorologist at The Weather Channel, told NBC News. "It would flood fields, homes and anything else in its path."
The high water levels were blamed for the shutdown of a wastewater treatment plant Monday south of St. Louis that caused sewage to flow directly into nearby rivers and streams. The Fenton wastewater treatment plant, which is designed for 6.75 million gallons per day of flow, was treating nearly 24 million gallons per day at the time of the malfunction, the AP reported.
Another wastewater plant in Springfield, Missouri, also failed, allowing partially treated sewage to seep into a river.
This almost-unheard-of high water level would continue to affect towns and cities as it flowed downstream, likely reaching St. Louis on Thursday or Friday and New Orleans next week, according to Roth.
More than 60 river gauges in and around Missouri were recording major or moderate flooding early Wednesday, according to the National Weather Service.
"There just isn't much people can do about it other than try to stay out of the way," Roth said.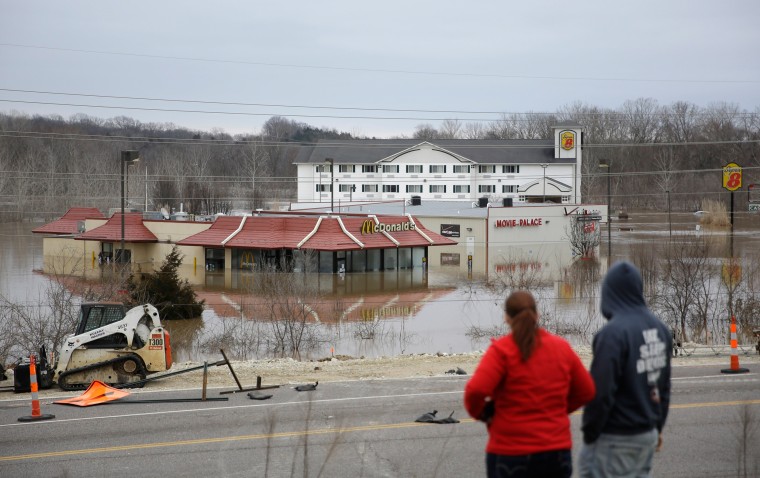 Meanwhile, the storm that battered the Midwest and Plains over the weekend was causing a mix of snow, sleet and freezing rain to the Northwest.
Parts of New England received between 4 and 6 inches of snow Tuesday, giving residents their first taste of winter after an unusually mild season.
"Weather is weather. Just deal with it, right?" Fernando Gonterman, who was waiting for a train from Boston's Harvard Square to his job at Massachusetts General Hospital, told the AP.
Without any snow, "it didn't feel like Vermont," added Chassidy Byrd, assistant manager at a gas station and convenience store in Plainfield, according to the news agency.
"The main result of this is that the ski resorts will be happy," Roth added.