Flooding was reported in Houston streets early Sunday after the Texas city was drenched in more than 9 inches of rain brought by the remnants of Hurricane Patricia.
The heavy rain was expected to spread through the Gulf Coast and through the lower Mississippi Valley on Sunday and into Monday, the Weather Channel reported.
The rain would continue to be heavy but won't be as "extreme" as the system moves eastward, according to Frank Giannasca, senior forecaster for the Weather Channel.
"What you've seen in Texas over the past couple days will be moving eastward, but the [rainfall] amounts will start to calm down tomorrow," he said.
At 5:54 a.m. Sunday, 9.38 inches of rain had fallen in Houston over the past 24 hours, the National Weather Service said. Heavy rains were expected in Louisiana, Mississippi, western Alabama and south eastern Arkansas, Giannasca said.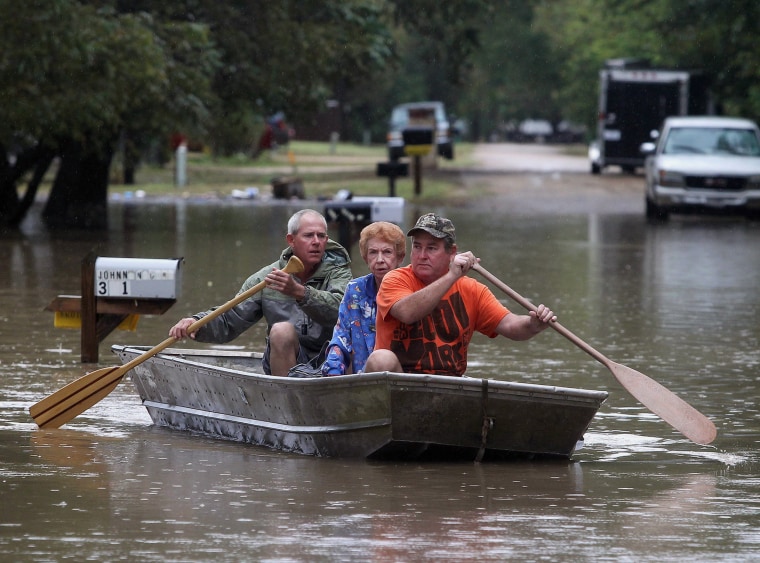 Officials in Houston warned residents to heed road closure barriers — something that didn't always happen during flooding over the Memorial Day weekend that was blamed for 30 deaths in Texas and Oklahoma.
"Everybody is on full alert," Harris County Judge Ed Emmett told reporters Saturday. "If there was any good to come out of Memorial Day, it's that this is a serious situation," he said.
The flash flood watch for parts of Houston would be lifted at 11:00 a.m., according to NBC affiliate KPRC.
Rain has been pounding parts of Texas since Thursday. In Corsicana, more than 20 inches of rain fell by Saturday, the National Weather Service said. A freight train carrying cement overturned on waterlogged tracks not far from the city, officials said; two crew members were rescued.
In San Antonio, a man was swept into a drainage ditch and remained missing Saturday, NBC affiliate WOAI reported. The search was called off due to high water and but would resume, fire officials told the station.
Cars were seen covered in floodwaters in Welsaco, in the far southern top of the state near the Mexican border. In the Waco area, there were around 30 water rescues involving around 40 people, the Texas Department of Transportation said.
"It should start to move out Sunday night, but East Texas is going to still be in the rain Sunday night, even Monday," Jon Rowe, senior meteorologist for The Weather Channel, told NBC News. "There will be some lingering rain showers even by Tuesday."