Hours before Hurricane Matthew came ashore in Haiti early Tuesday, flooding was already reported — a warning sign of what history tells us could be another devastating episode for the poorest country in the Western Hemisphere.
Matthew was a Category 4 hurricane, making it the most powerful Atlantic storm since 2007, stronger even than the three hurricanes — Gustav, Hanna and Ike — that killed more than 800 people and destroyed tens of thousands of homes in 2008.
And because it was moving at just 6 mph, for Haiti it will be the worst kind of uninvited guest — one that lingers for days, not hours.
"This is likely to be a humanitarian disaster," said Ari Sarsalari, a meteorologist for The Weather Channel. "I think very bad things are coming up here for Haiti over the next 24 to 36 hours."
Sarsalari predicted that flooding and mudslides would cause the most damage in Haiti, where much of the hilly countryside has been stripped of its trees by the destitute populace.
Residents use the wood to make charcoal, which is the main source of energy for about 90 percent of the population, the U.S. Agency for International Development says. As a result, 98 percent of Haiti's forestland has been obliterated over the decades.
"The problem with that is you end up with a lot of deforestation, and it makes the country especially susceptible to really bad landslides and mudslides," Sarsalari said. "I think that's going to be the worst part of this storm for them, as well."
The U.S. Agency for International Development said Monday night that it was sending a disaster response team to the central Caribbean to coordinate relief and supplies. It said it was sending $400,000 in initial assistance to Haiti and Jamaica to help humanitarian organizations provide critical relief.
Related: Hurricane Has Haiti, Jamaica Bracing for Potential Chaos
"It's going to be quite devastating," said Jessica Pearl, Haiti country director for Mercy Corps, an aid organization. "Haiti is very mountainous, and there's no system for channeling the water."
And much of the population lives in ramshackle housing — tens of thousands of them in bare tents — considered likely to collapse in any major storm.
President Jocelerme Privert urged residents Monday to "leave these houses to take refuge" in schools, churches or any of the 1,300 other shelters the country has opened — enough to house as many as 340,000 people, according to The Associated Press.
The country has also been under siege from a cholera epidemic that the United Nations says has killed at least 10,000 people over the last six years — an outbreak likely to be "exacerbated by the situation that populations will face after Hurricane Matthew," the U.N. Office for the Coordination of Humanitarian Affairs said Monday.
In a cruel twist of fate, the cholera epidemic began the same year as the devastating 2010 earthquake — which on its own killed more than 220,000 people, left 1.5 million others homeless and caused an estimated $14 billion in damage.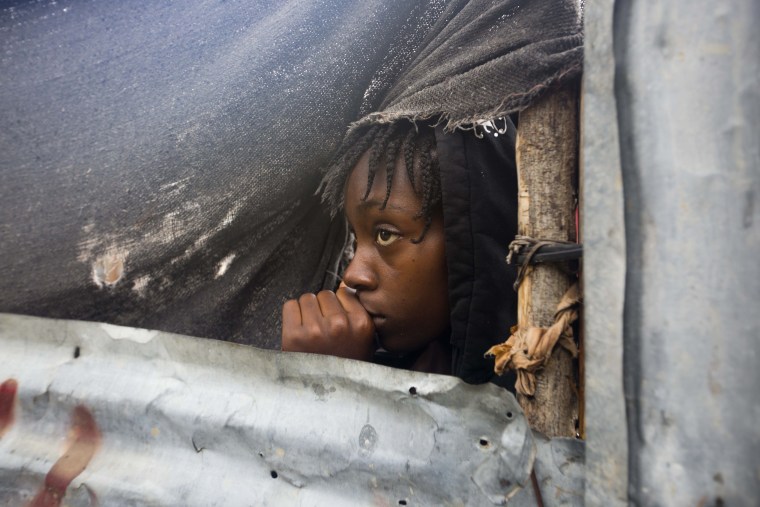 Matthew has already killed its first Haitian victim, a fisherman from Saint Jean de Sud whose body was found Sunday, said Moise Jean-Pierre, central coordinator of the Haiti Civil Protection Agency. The man with whom he was fishing was still missing.
The government closed the borders, canceled school across the country and began evacuating people from southern coastal areas. It also closed Port-Au-Prince's airport.
"This is a country that has a long history with tropical storms and hurricanes, and often it does not really end well," Sarsalari said.