Driving conditions across Colorado's highways remained treacherous early Thursday after several hundred motorists were left stranded in a dangerous spring snowstorm overnight.
Cars were left abandoned on highway shoulders and in ditches amid snowy conditions and winds of up to 50 mph that walloped Interstate 70 east of Denver late Wednesday.
A stretch of the interstate remained closed Thursday morning after the storm died down, and crews worked to clear the roads from accidents, the state transportation department said.
Kansas transportation officials also alerted drivers that I-70 westbound toward the border of Colorado was also shut down because of weather conditions and limited truck parking.
Around 200 people were stuck on I-70 in Colorado, and it was unclear how many vehicles were still stranded Thursday, according to state transportation department spokeswoman Amy Ford.
Some people had spent more than eight hours in their vehicles while others had abandoned their cars and headed to shelters, said Micki Trost, a public information officer for Colorado's emergency operations center.
The Colorado National Guard sent Humvees and troops to help drivers that became stranded on I-25 between Denver and Colorado Springs. The highway was later reopened in both directions.
Over a foot of snow fell at Denver International Airport on Wednesday and 24 inches was recorded in nearby Boulder as a bout of winter-like weather struck less than a week after the start of spring, the National Weather Service said.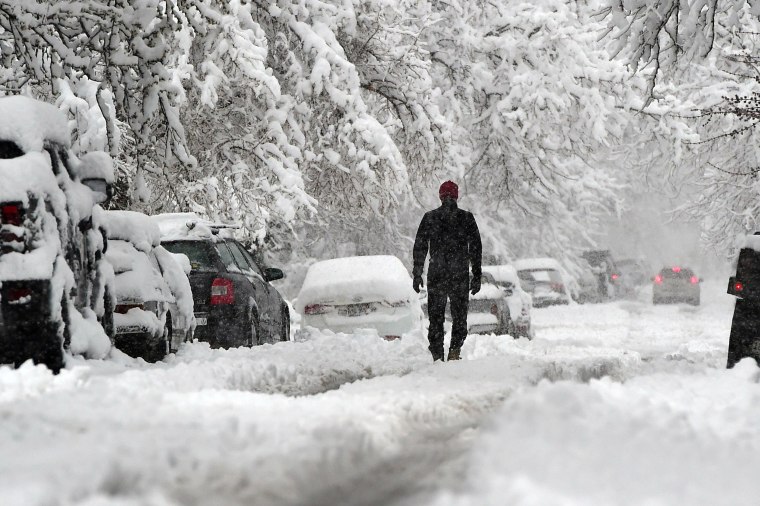 The 12.1 inches that fell at Denver International broke a one-day record. More than 140 flights were canceled Thursday as a result of the snowstorm, according to FlightAware.com, although the airport said it expected to resume normal operations in the morning.
Around 190,000 customers lost power in the state as the storm hit, Xcel Energy Colorado said, but by early Thursday power had been restored to all but around 26,500 customers. Workers were brought in from Nebraska and Texas and power was expected to be mostly restored to by late Thursday, the utility said.
Winter storm warnings were still in place from Nebraska to Wisconsin, and Green Bay was under a blizzard warning until 1 p.m. Thursday, the National Weather Service said. Up to a foot could fall on the city.
Farther east in New York, winter weather advisories were in place for a swath of the Lake Ontario shore to the Vermont border early Thursday.