A storm system that had been a hurricane when it roared ashore in Belize early Thursday has weakened to a tropical storm as it moves inland, but it still damaged cars and forced hundreds to seek shelter, officials said.
Tropical Storm Earl was bringing heavy rainfall as it moved over northwestern Guatemala and on to southeastern Mexico Thursday, the National Hurricane Center said, but winds had dropped to 40 mph from 80 mph a day before.
"It was a whole lot scarier than I thought," Philip Gray, a church member from Birmingham, Alabama, who was staying in Belize City told Reuters. "The wind was very, very strong, we saw the air conditioners on the roof coming apart ... so very dangerous."
There were no reports of deaths from the hurricane, which made landfall in Belize at around 2 a.m., but the National Emergency Management Organization said there was "major infrastructure and building damage" and many roads were blocked.
Hundreds of people were sheltered in Belize City and parts of Honduras overnight, local authorities said. The damage to Belize City was concentrated in impoverished areas, and residents were seen early in the day attempting repairs amid the flood waters. In Guatemala, a bridge collapsed in Melchor de Mencos near the Belize border.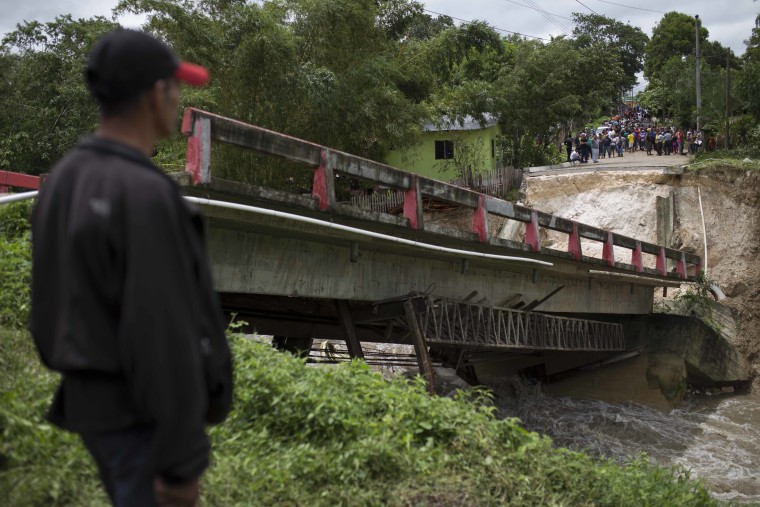 Belize gave the all clear at 9 a.m. The country's Philip Goldson International Airport in Belize City was shut down ahead of the hurricane, but would resume operations Thursday, the country's emergency management organization said.
The storm was over southeastern Mexico, about 40 miles southeast of Ciudad del Carmen, and was moving west at 10 mph as of 8 p.m. ET Thursday, the hurricane center said. A tropical storm warning was issued for Mexico's northern coast near the port city, and the storm is expected to weaken Saturday.
Although weakened, the tropical storm could still bring up to a foot of rain to parts of Belize, Guatemala, and southeastern Mexico through Friday, raising the possibility of life-threatening flash floods and mudslides, the hurricane center said.
The hurricane center warned that up to 18 inches of rain could fall in parts of Belize, northern Guatemala and the central part of the Mexican state of Chiapas.
The tropical storm, as a weaker tropical wave, was blamed for six deaths in the Dominican Republic as it approached Belize.
The storm on Sunday knocked down power lines, starting a fire that killed six passengers on a bus filled with people returning from the beach, The Weather Channel reported.