Hurricane Ida, which is expected to strike Louisiana as a life-threatening Category 4 storm with wind speeds of 140 mph, will be one of the strongest to hit the state since at least the 1850s, the governor told reporters Saturday.
Forecasters with the National Weather Service "are extremely confident in the current track and the intensity as forecasted for Hurricane Ida, and you don't really hear them speaking very often about that level of confidence," Gov. John Bel Edwards said during an afternoon briefing.
Hurricane Ida was upgraded Saturday to a Category 2 as it continues its path across the Gulf of Mexico toward coastal Louisiana. The storm already has wind speeds of 105 mph, according to the National Weather Service.
"We once again stress that if you are under evacuation order or can leave, PLEASE LEAVE. DEVASTATING conditions WILL happen," the agency tweeted.
The National Hurricane Center said earlier Saturday that Ida was expected to rapidly intensify as it moved across the Gulf. Landfall in Louisiana is expected on Sunday evening — 16 years to the day Hurricane Katrina devastated a large part of the Gulf Coast.
"Preparations to protect life and property should be rushed to completion today in the warning area along the northern Gulf Coast," the center said in its 5 p.m. Saturday update.
Ida is about 200 miles south-southeast of the mouth of the Mississippi River, the National Hurricane Center said Saturday night. It was headed northwest at 16 mph.
All Sunday flights have been canceled, New Orleans Airport said Saturday evening. Tens of thousands of motorists drove away from the region, clogging highways, including interstate 10.
NBC News received a report of an hours-long traffic jam on the 10's Horace Wilkinson Bridge, which spans the Mississippi River in Baton Rouge, as Louisiana residents fled for safer ground.
President Joe Biden Saturday night declared a state of emergency for Mississippi. It allows the Department of Homeland Security, the Federal Emergency Management Agency and other federal entities to coordinate disaster response and relief, and it frees up federal relief money for victims.
New Orleans could take a particularly bad hit. On Friday, Mayor LaToya Cantrell ordered mandatory evacuations for residents in low-lying areas outside of the city's levee system. She had also called for voluntary evacuations inside the levee system.
But as forecasters said Ida was intensifying, Cantrell urged those who have not already evacuated to get ready to hunker down.
"We do not want to have people on the road, and therefore in greater danger," the mayor said at a news conference Friday, according to The Times-Picayune.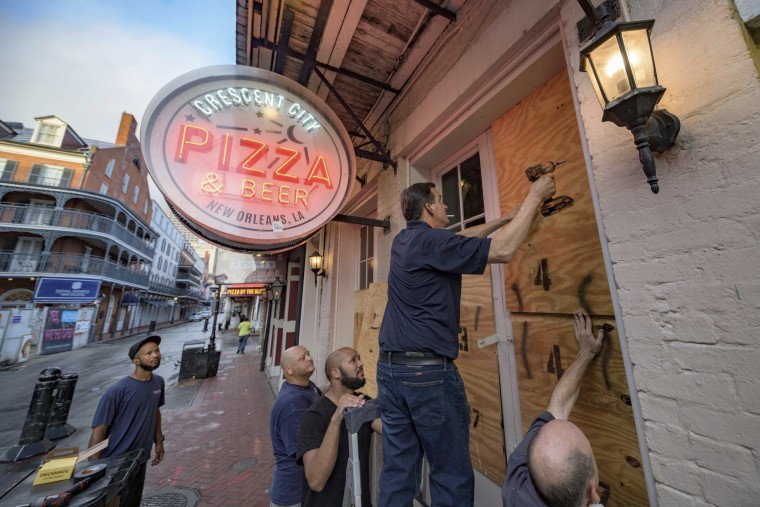 Cantrell said that people who live outside of the levees should get out as soon as possible and reiterated that those inside the levee system are safe.
Edwards said that Louisianians had until nightfall Saturday to prepare for Ida's arrival.
"We can also tell you your window of time is closing," he said. "It is rapidly closing. By the time you go to bed tonight, you need to be where you intend to ride this storm out and you need to be as prepared as you can be."
Weather will start to deteriorate quickly, the governor said. By 8 a.m. Sunday, tropical storm force winds are expected to move across the southern part of the state.
President Biden participated in a briefing Saturday at the White House with the Federal Emergency Management Agency to receive updates on the hurricane's track and strength.
Biden, noting the anniversary of Hurricane Katrina, warned the state of Louisiana: "Above all, I'm urging the people in the area to pay attention and be prepared."
He added that the administration has already pre-positioned food, water, generators and other supplies.
For those forced to shelter, Biden reminded those watching about the underlying Covid threat, as well: "Make sure you wear a mask, and try to keep some distance, because we're still facing a highly contagious delta variant as well."
A hurricane warning is in effect for Intracoastal City, Louisiana, to the mouth of the Pearl River as well as for the New Orleans metropolitan area.
The Mississippi/Alabama border to the Alabama/Florida border are under a tropical storm watch. In preparation for Ida's arrival, the governor of Mississippi declared a state of emergency.
Ida is expected to produce heavy rainfall later Sunday into Monday across the central Gulf Coast, resulting in significant flash and river flooding, the center said in a tweet.
Residents in St. Charles Parish, west of New Orleans, are under a mandatory evacuation. President Matthew Jewell said the parish's roughly 50,000 residents should leave no later than 5 p.m. Saturday. The parish said in a tweet that residents should pack enough clothing and essentials to last for at least one week.