Iota made landfall in Nicaragua late Monday as a powerful and "extremely dangerous" Category 4 hurricane, bringing with it catastrophic winds and life-threatening storm surge, forecasters said.
It weakened significantly overnight and as of 9 a.m. Tuesday was downgraded from hurricane to tropical storm with maximum winds of 75 mph.
Iota is forecast to weaken into a depression by Wednesday as it slowly moves west over Honduras and El Salvador, bringing 10-30 inches of rain to Honduras, Nicaragua, Guatemala and Belize and raising the risk of life-threatening flash flooding, landslides and mudslides in an area that was recently battered by another powerful storm.
Social media user Alejandro Rojas posted a video on Twitter showing driving rain and winds overnight in San Pedro Sula, Honduras.
The storm had maximum sustained winds of 155 mph when it made landfallabout 10:40 p.m. Monday on the northeastern Nicaraguan coast near the town of Haulover, about 15 miles south of where Category 4 Hurricane Eta hit just two weeks ago, the National Hurricane Center said.
While meteorologists earlier Monday hustled to put the rarity of Iota's strength for November into perspective after it became a Category 5, it became clear that an imminent humanitarian catastrophe was likely coming for Nicaragua and Honduras.
Those locations are still reeling after Hurricane Eta made landfall Nov. 3, causing loss of life and extreme destruction of property.
The effects expected from hurricane Iota won't be just life-threatening, but in many cases also unsurvivable for anyone without proper shelter.
Rainfall of up to 30 inches will result in deadly flash flooding, landslides, mudslides and river flooding.
Hurricane Iota's maximum sustained winds at landfall was 155 mph, and a Category 5 is for storms with 157 mph winds or greater.
Over the weekend, Iota exploded into a powerful hurricane when it became the 10th tropical cyclone this season to undergo rapid intensification. In just six hours, it strengthened by 40 mph. The definition of rapid intensification is an increase of 35 mph in 24 hours.
That is unprecedented for November. While "extraordinary," "ferocious" and "gut-wrenching" are all words that would be used for a Category 5 hitting anywhere, the fact that it is mid-November makes Iota's evolution unparalleled.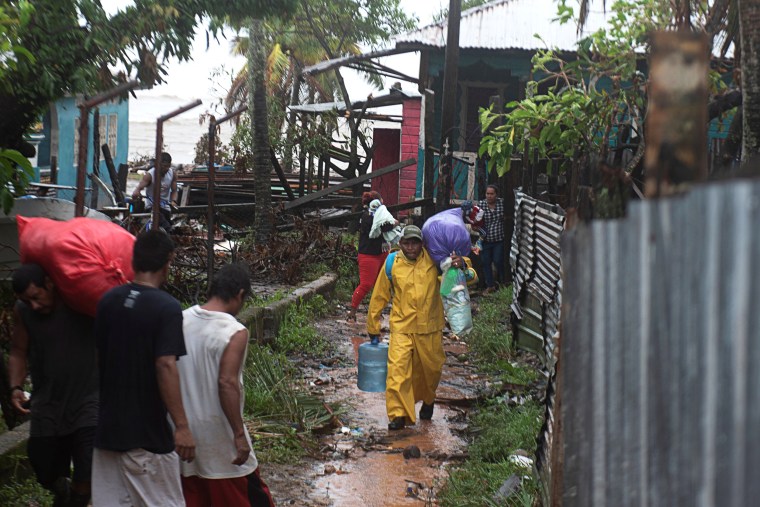 In fact, the second half of this record-shattering season has featured more strong hurricanes. According to Phil Klotzbach, a meteorologist at Colorado State University who studies hurricanes, "The first 24 named storms of the 2020 Atlantic hurricane season produced 2 major hurricanes (Laura and Teddy). The last 6 named storms have produced 4 major hurricanes (Delta, Epsilon, Eta and Iota)."
In other words, the worst of this season has occurred after August and September, which are considered the climatological peak months of the Atlantic hurricane season.
Then again, nothing about this season has been normal, with 30 named storms, which broke the previous record of 28 storms set in 2005.
Iota's reaching Category 5 status makes 2020 the fifth year in a row to have a Category 5 hurricane, another record.
Climate change can be credited with producing more rapidly intensifying hurricanes like Iota (and Laura, Sally and Eta) that strengthen right up to landfall. Warming waters over time will lead not only to stronger hurricanes, but also to ones that will last later into the season.