Joaquin strengthened into a Category 1 hurricane Wednesday. On that, the meteorologists agree.
But the precarious path that the storm will take in the coming days — belting the East Coast or straying out to sea — remains a point of contention.
The American forecast model predicts Joaquin will veer northwestward, ramming into Virginia, Maryland or North Carolina this weekend. The European forecast model suggests Joaquin will avoid the East Coast entirely. And the National Hurricane Center forecast offers somewhat of a compromise between the two.
Joaquin — the third hurricane of the 2015 Atlantic season — is packing sustained winds of 85 mph as it lurks about 190 miles east of the Bahamas, according to the National Weather Service. It's expected to produce up to two feet of rain over certain areas of the islands.
Regardless of whether the hurricane makes landfall in the U.S., which some forecasters believe could happen in the Mid-Atlantic region by Saturday night or Sunday, a huge swath of the East Coast is bracing for heavy rain and flooding this week.
"It could be a significant situation," said Brian Fortier, senior meteorologist at The Weather Channel. "Everyone along the Northeast coast, right up to New England, should keep a close eye on the forecasts."
A hurricane warning had been issued for Joaquin earlier Wednesday.
The National Weather Service said these warnings are typically alerted 36 hours before "conditions that make outside preparations difficult or dangerous," meaning that "preparations to protect life and property should be rushed to completion."
The storm is predicted to move southwest before swinging northwards, but that's where the agreement between meteorologists ends.
Some experts say the center of the storm will stay offshore; others predict it will make landfall, likely hitting North Carolina or Virginia this weekend.
"If there's anywhere in this country that could take a Category 1 hit, it would be eastern North Carolina," NBC News meteorologist Bill Karins said on MSNBC Wednesday morning.
If Joaquin does make landfall, the mid-Atlantic would face high winds — possibly as strong as 100 mph — and torrential rains.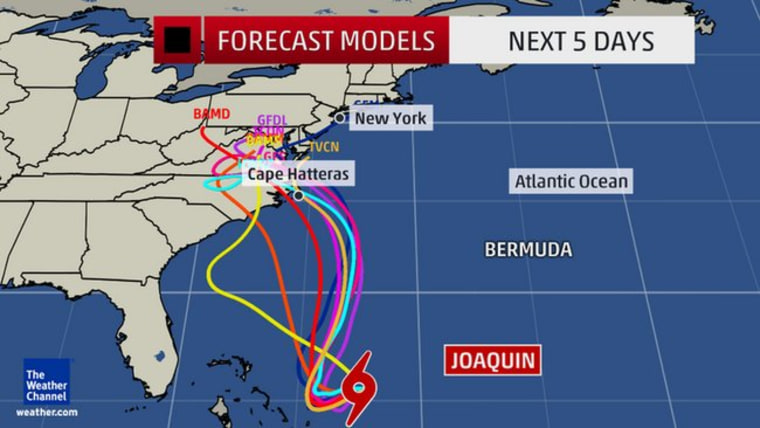 However, even if the hurricane does not make landfall, its resultant rains looked certain to drench most of the Eastern Seaboard through the latter week and weekend, according to The Weather Channel.
Before Joaquin potentially arrives on the scene, an area from Maine to North Carolina was set for a separate round of rainfall that had already started overnight Tuesday into Wednesday in some areas.
New York Gov. Andrew Cuomo warned residents to prepare for rain and potential flooding.
"Our state has seen the damage that extreme weather can cause time and time again — and I am urging New Yorkers take precautions for more heavy storms in the coming days," he said in a statement.
Public Service Electric and Gas Co. (PSE&G), New Jersey's largest utility, said it was closely monitoring the forecast.
"While it is too early to know with any certainty when and where Joaquin will make land — and the strength of the storm when it does — we take every storm with the potential for outages seriously," said PSE&G spokesman John Latka, adding that the utility was activating its emergency protocol and checking equipment.
White House officials said President Obama was briefed on preparations for Joaquin's possible landfall.
Hurricane warnings and watches were in effect Wednesday for the islands of the Bahamas, with the island of San Salvador expected to be hardest hit. Rainfall totals there could exceed two feet, reported The Weather Channel.
Portland, Maine, police tweeted on Wednesday that many streets had already been closed due to rain and flooding. Images on social media from Portland residents showed roads that were so flooded, water covered hoods of parked cars.
This system was the result of a complex cocktail of "moving parts," according to Fortier, including a cold front in the east and low pressure in the South that has already caused heavy rainfall there.
The area could expect widespread 3 inches of rain, with as much as 5 inches in localized areas, through Thursday, Fortier added.