Millions of people across Puerto Rico woke up Thursday to a grim new reality.
Hurricane Maria, the most powerful storm to hit the U.S. territory in almost a century, ravaged the island, demolishing homes and knocking out all electricity. It could take half a year to restore power to the nearly 3.5 million people who live there.
The eye of the storm moved offshore overnight, but the danger remained Thursday: Intense flooding was reported, particularly in San Juan, where many residential streets looked like rushing rivers.
The storm has been blamed for the deaths of 18 people, including two in Puerto Rico, but many fear that toll could climb as authorities were beginning to assess the extent of the damage and search for survivors.
San Juan Mayor Carmen Yulín Cruz said the devastation in the capital city was unlike any she had ever seen.
"The San Juan that we knew yesterday is no longer there," Cruz told MSNBC. "We're looking at 4 to 6 months without electricity."
Yennifer Álvarez Jaimes, Gov. Ricardo Rosselló's press secretary, said all power across the economically strained island had been knocked out.
The National Weather Service issued a flash flood warning for the entire island shortly after 12:30 a.m. ET Thursday. Residents were urged to move to higher ground if possible.
PHOTOS: Hurricane Maria Lashes Puerto Rico, Storm-Battered Caribbean
The storm, with its fierce winds and heavy rain, toppled trees, shattered windows, and ripped roofs and doors off homes. Widespread flooding blocked many highways and streets across the island Thursday, creating a maze that forced drivers to go against traffic.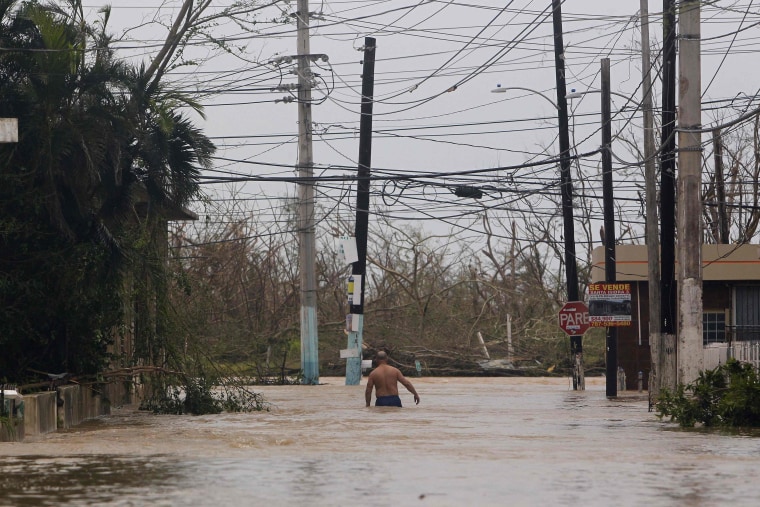 Gregorio Cortes 39, a doctor in Vistamar Marina, a community in Carolina, Puerto Rico, said several highways were impassible.
"This morning I wasn't able to get across several major highways here since there's flooding everywhere and fallen trees," he said by phone Thursday evening.
Cell phone communication was completely down from Thursday morning until around 4 p.m., he said, leaving Cortes unable to reach his parents and grandparents.
"It's a feeling of impotence that you have you want to do so much and you can do so little," he said.
Cortes said he traveled to their houses, and thankfully found his relatives safe and sound.
But while the trip usually took about ten or 15 minutes, this time the trip took between an hour and a half to an hour and 45 minutes, he said.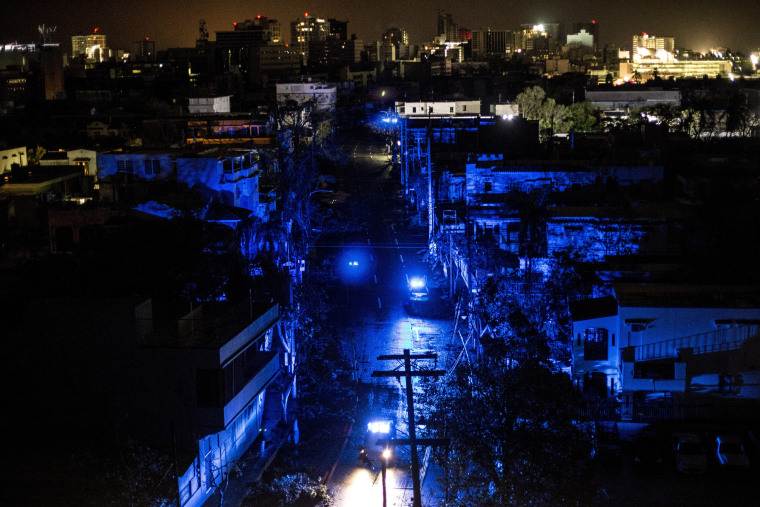 Cortes added that the had lived through several previous hurricanes on the island, but had never experienced one like this.
"I've been in Hugo, I've been in Georges and this was by far the worst," he said, referring to two previous major storms."
"I've never been in a war zone, but what you see in movies — it's like that," he added.
San Juan resident Heidi Roque, 21, told NBC News her home was left with shattered windows, damaged fences and broken doors.
She was worried about her grandmother, who lives alone in the town of Trujillo Alto, because she has no power or water. Roque's family hasn't heard from her since early Wednesday.
"I fear Puerto Rico won't be the same when this is over. Not after this storm," Roque said choking back tears. "This is the first time our family was faced with something so monstrous, we didn't know how to react," Roque said.
Outside an apartment building in San Juan, 40-year-old tourism company operator Adrian Pacheco recounted how he spent eight hours in a stairwell huddled with 100 other residents when the hurricane ripped the storm shutters off his building.
"Months and months and months and months are going to pass before we can recover from this," Felix Delgado, mayor of the northern coastal city of Catano, told The Associated Press.
President Donald Trump has approved a federal disaster declaration for Puerto Rico, the White House announced.
Hurricane Irma sideswiped Puerto Rico on Sept. 6, leaving more than 1 million people without power but causing no deaths or widespread damage like it did on nearby islands.
Maria, however, blew out windows at some hospitals and police stations, turned some streets into roaring rivers and destroyed hundreds of homes across the island. A storm surge of more than 4 feet was also reported.
Puerto Rico's electric grid was crumbling amid lack of maintenance and a dwindling staff even before Maria and Irma hit the island. The territory's infrastructure has gone neglected for years, and its power company defaulted on a debt-restructuring deal in July.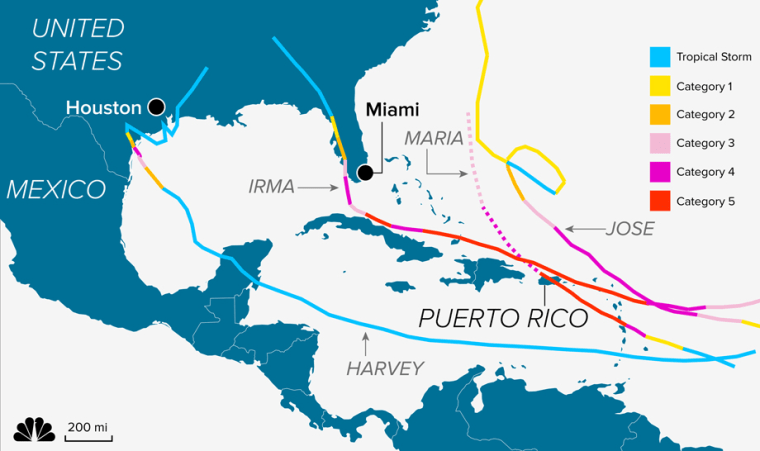 Rosselló imposed a 6 p.m.-to-6 a.m. curfew, citing flood warnings and the importance of keeping streets clear for repair and rescue teams.
Airports in San Juan, Aguadilla and Ponce were ordered closed until Friday at the earliest because of flooding and debris, authorities said.
Maria, the strongest storm to hit Puerto Rico since 1928, had maximum sustained winds of 155 mph when it made landfall as a Category 4 storm near the town of Yabucoa just after 6 a.m. ET on Wednesday, the National Hurricane Center said.
The storm weakened as it battered Puerto Rico, but strengthened to a Category 3 hurricane early Thursday.
At 11 a.m. ET, it was moving past northeastern Dominican Republic on its way to the Turks and Caicos.
With maximum sustained winds of near 115 mph, Maria was expected to move near the British overseas territory and the southeastern Bahamas Thursday night and into Friday.
The center warned that Maria could regain some strength in the next day or so.
Maria left a trail of "total destruction" in Dominica, where the prime minister said at least 15 people have died. Two more people lost their lives as the result of the storm, one in the French Caribbean territory of Guadeloupe and two in Puerto Rico.
Forecasters said it remained too early to know how close Maria will move to the U.S. mainland.