Hurricane Matthew, the most powerful Atlantic tropical storm in almost a decade, took aim for the Bahamas on Wednesday after it flooded streets, flattened homes and left a trail of destruction in Haiti.
Matthew, a powerful storm with sustained winds of 140 mph, made landfall in Haiti just after 7 a.m. (8 a.m. ET) Tuesday. With communications down across much of the island, it remained too early to accurately assess the damage Wednesday morning, but civil defense officials said many homes had been destroyed or damaged in the south.
Matthew brushed past the eastern tip of Cuba at about 8 p.m. ET, almost 53 years to the day after Hurricane Flora killed 2,000 Cubans on Oct. 3, 1963, the National Hurricane Center said. Landfall came at Juaco in a remote, sparsely populated part of the island, and preliminary reports indicated that the soaking rains and driving winds caused relatively little damage.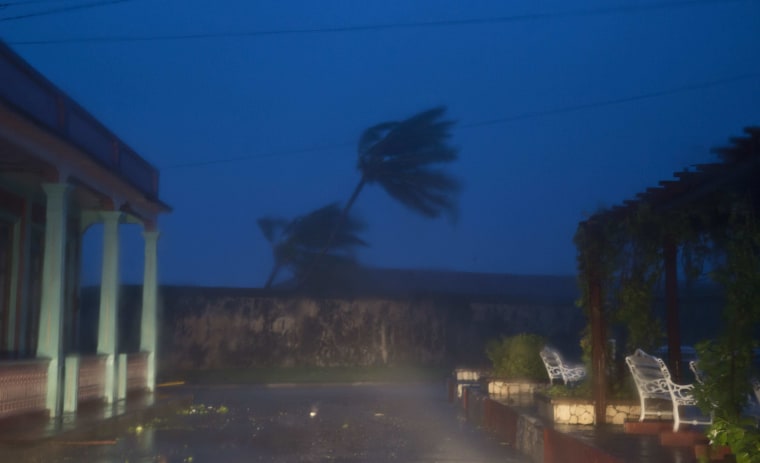 The Bahamas might not be so lucky when Matthew arrives sometime Wednesday night because of two factors that make it especially dangerous, according to weather experts.
Tropical storm systems typically diminish as they bump up against land, but Matthew "did not weaken even with its interaction with Hispaniola," the Caribbean island that Haiti shares with the Dominican Republic, said Kait Parker, a meteorologist for The Weather Channel.
Running into Cuba also did little to weaken Matthew, whose top sustained winds had dipped only to 125 mph by 2 a.m. — still a dangerous category 3 hurricane.
The other factor is that Matthew is simply "really, really slow," moving at only about 8 mph, said Ari Sarsalari, another meteorologist for The Weather Channel.
"All of Wednesday and Thursday, the Bahamas are going to be dealing with this storm," Sarsalari said late Tuesday night. "It's going to dump a tremendous amount of rain. You're going to have storm surge issues there, as well."
Matthew similarly lingered over Haiti — a staggering blow to the poorest nation in the Western Hemisphere — and officials feared that the country would have to contend with yet another devastating humanitarian disaster.
Related: Hurricane Matthew: Relief Groups Mobilize for Haiti After 'Catastrophic' Damage
A key bridge collapsed in the town of Petit-Goâve on the highway that links Haiti's hardest-hit southwestern peninsula region to the capital, Port-au-Prince. Several people were reportedly "swept away."
So far, Haiti's civil protection agency has reported just two deaths, one of them a fisherman who drowned in rough water churned up by the storm.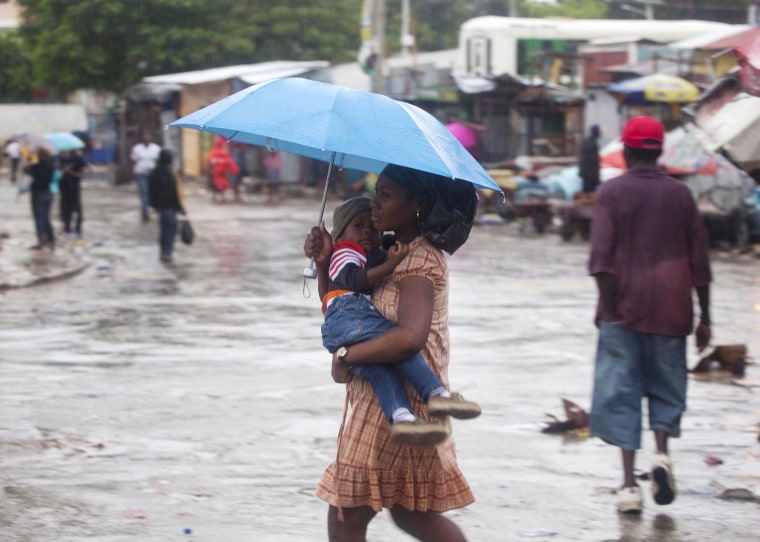 Six other deaths have also been blamed on Matthew: One man died in Colombia, four people were killed in the Dominican Republic, and a teenager was killed in St. Vincent and the Grenadines as the storm moved through the Caribbean.
But officials fear the death toll could rise, especially in and around the southern town of Les Cayes, which absorbed the first blow from Matthew and where hundreds were hunkering down in homes without electricity and roofs.
Kevin Roth, a meteorologist for The Weather Channel, warned that by the time that back end of Matthew clears the island, Matthew could swamp Haiti's low-lying areas with up to 20 inches of rain and dump as much as 40 inches in the mountains.
Photos: Hurricane Matthew Lashes Haiti, Dominican Republic
Government officials and aid workers had set up a number of shelters in the major cities and pleaded with residents to low-lying areas to use them, Chris Bessey, country representative at Catholic Relief Services in Port-au-Prince, told NBC News. But many, more fearful of looters than the storm, refused to leave their properties.
"They're hunkered down," Bessey added. "They're right in the middle of it."
Chantal Elie, a political analyst who huddled with her husband and two kids in their home, about 8 miles south of Port-au-Prince, said, "Trees are falling like crazy."
Elie said she ventured out of the house briefly to survey the damage, but the winds were too strong to stay outside for long.
"My daughter is very worried," she told NBC News. "She told me: 'Mom, I can't die right now, because I have to finish school. I'm too young.'"
Matthew is the most powerful Atlantic storm since 2007, and the National Hurricane Center forecast that it could make landfall as early as Friday along the southern Atlantic coast.
When hurricanes are particularly deadly or destructive, their names are retired. Meteorologists expect this to be the last hurricane named Matthew.
"Certainly, the way this one is going, even if it doesn't hit the U.S. directly ... I would say this is the last Matthew," said Roth of The Weather Channel.