Hurricane Matthew caused "record-breaking" flooding in North Carolina as the storm swept up the coast after lashing Florida, Georgia and South Carolina, leaving at least 11 people dead in all.
The weakened Category 1 hurricane had maximum sustained winds of 75 mph and was centered 50 miles east of Morehead City, North Carolina, as it moved northeast at 16 mph as of 2 a.m. Sunday, the National Hurricane Center said.
"This is a very, very dangerous storm," North Carolina Gov. Pat McCrory warned Saturday afternoon. Three deaths in the state have been blamed on Matthew.
The hurricane whipped Myrtle Beach, S.C., with 75 mph winds and surging water flooded Wilmington, N.C., and broke a water-level record set during Hurricane Hazel in 1954, the National Weather Service said.
Major flooding was reported in the cities of Raleigh and Fayetteville, More than 8 inches of rain fell in the Raleigh area, causing flooding in the city, and police said they were trying to keep up with weather-related calls.
In Cumberland County, which includes Fayetteville, first responders performed 77 water rescues, authorities said Saturday. One person was unaccounted for amid high water in the Fayetteville, and 15,000 people in the city were without power.
Dramatic video posted by the city of Fayetteville government showed a New York City urban search and rescue team saving three people trapped on top of a vehicle surrounded by floodwaters raging over a road.
Raleigh police in a statement Saturday urged people to stay home due to flooding. "The city is under water," the statement said according to NBC affiliate WRAL. "Every officer in the city is on a weather-related call. Officers can't respond to anything else at this time. Please, please, please stay home. It is unsafe to be out."
Twenty-five vehicles were stranded on a stretch of Interstate 95 Saturday after the highway in front and behind flooded near Wilson, the North Carolina Highway Patrol said.
The hurricane is blamed in 11 deaths in the U.S., which three deaths in North Carolina, three in Georgia and five in Florida, authorities said. The storm caused more than 800 deaths in the impoverished nation of Haiti as it moved across the Caribbean earlier in the week, Reuters reported.
A hurricane warning was in place from Little River inlet, S.C., right at the South Carolina-North Carolina border, up to Surf City, N.C., which is around 44 miles north of Wilmington. A hurricane watch extended all the way to Duck on the Outer Banks.
Parts of South Carolina were flooded and three dams were breached, officials said Saturday afternoon. More than 833,000 customers were without power due to the storm in the state, Gov. Nikki Haley said.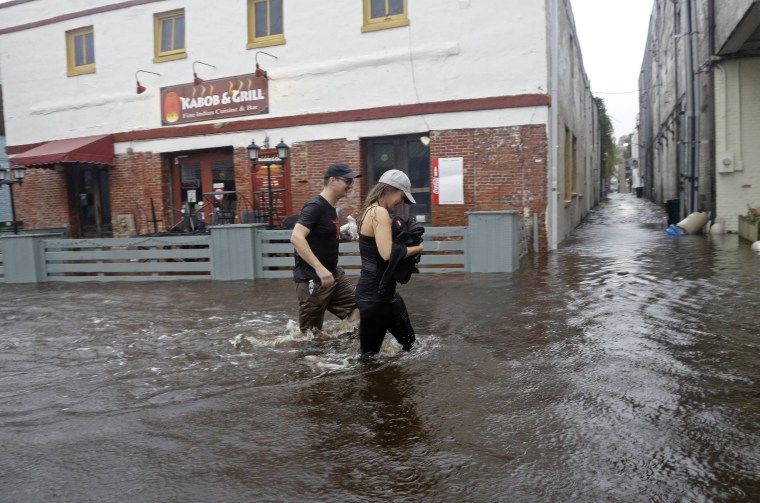 No deaths have been reported in South Carolina, but the true scope of the damage won't be known until Sunday, after the storm moves away from the state, she said.
"My hope and prayers always is that there's none, but I think as they're going through search and rescue, that's when we start to find things out," Haley said.
In North Carolina 457,525 customers were without power Saturday evening, more than 208,000 were without power in Georgia, and 673,019 were without power in Florida, authorities said.
In Florida, residents began to clean up. Roads in Jackson Beach, Florida, were littered with debris, including chunks from an historic pier dislodged by the storm, with some intersections clogged by up to a foot of standing water. Beachfront businesses suffered moderate damage.
"We rode out the storm. It wasn't this bad at our house, but here there's a lot of damage," Zowi Cuartas, 18, told Reuters as he watched bystanders pick up shattered signs near the beach.
Florida Gov. Rick Scott said more than 6,000 people stayed in shelters overnight, but he appeared relieved that the state had been spared from greater harm.
"We're all blessed that Matthew stayed off our coast," he said. He predicted electricity would be restored to most homes by Sunday evening.
The hurricane was forecast to continue moving northeast Sunday, but then take a turn east by Sunday night. But swells could continue to affect the coast in the Southeast through early next week, the hurricane center said.