A hurricane southeast of Jamaica strengthened to a "powerful" Category 5 storm late Friday, forecasters said, and watches were in place for that nation as well as the southeastern coast of Haiti.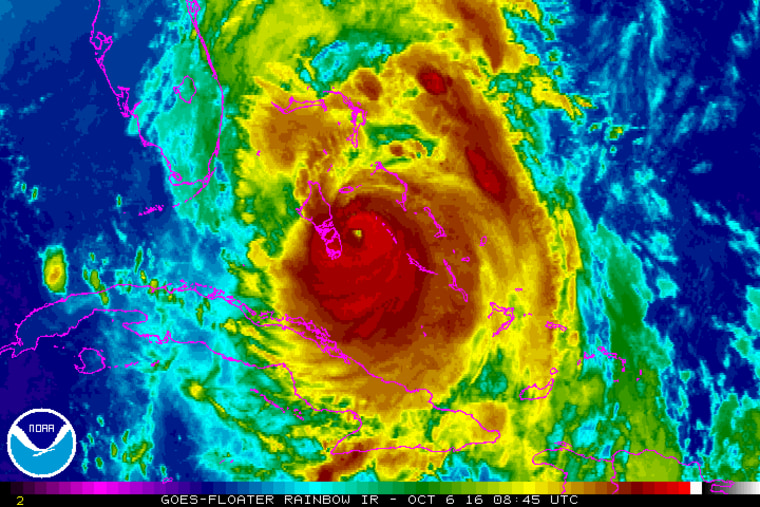 Hurricane Matthew is now the strongest hurricane in the Atlantic since Felix in 2007.
The storm had maximum sustained winds of 160 mph as it churned in the Caribbean Sea about 440 miles southeast of Kingston, the National Hurricane Center said at 11 p.m. ET Friday.
The storm is moving west at 7 mph, and is forecast to move across the central Caribbean Sea on Saturday, approaching Jamaica late Sunday, the hurricane center said.
Tropical storm conditions are expected to continue in portions of Colombia overnight and Hurricane conditions are possible in Jamaica by Monday, the center said.
Jamaica and south southwestern Haiti could get 10 to 15 inches of rain — with isolated areas getting possibly up to 25 inches — and that could cause flooding, the hurricane center added. The hurricane is expected to remain a powerful storm through Sunday.
Although Hurricane Matthew is forecast to turn toward Jamaica, the hurricane was about 80 miles north of Punta Gallinas, Colombia, and the tropical storm conditions are possible in parts of that country overnight, forecasters said.
In Haiti, which has been hard-hit by natural disasters in the past, officials said preparation efforts were focused in the south of the country.
"We will prepare with drinking water for the patients, with medication, with generators for electricity, available vehicles to go look for people at their homes," Yves Domercant, the head of the public hospital in the south, Les Cayes, told Reuters.
The hurricane could brush by southern Florida by Wednesday, according to a forecast track. The hurricane center warned that forecast tracks made five days in advance can contain errors of more than 230 miles, and "it is too soon to rule out possible hurricane impacts from Matthew in Florida."
The tropical storm killed a teenager in St. Vincent and the Grenadines Wednesday, the National Emergency Management Organisation said.