Haiti began cleaning up and counting its losses Wednesday after Hurricane Matthew killed at least 19 people there, six others elsewhere in the Caribbean and left a trail of destruction before pushing toward the Bahamas.
The damage from the most powerful Atlantic tropical storm in almost a decade was so bad that it forced Haiti's electoral council to postpone Sunday's presidential election.
The storm pummeled towns, farmland and resorts and toppled trees, power lines and at least one bridge — and it left tens of thousands of Haitians without power.
Related: Thousands of Americans Head Inland to Escape Hurricane Matthew
Civil defense officials said many homes had been destroyed or damaged, especially in the southwestern corner of the country. U.N. officials described Matthew as the worst humanitarian crisis to hit Haiti since the 2010 earthquake.
Fourteen of the deaths were in the town of Petit Goave, where a key bridge linking the city to the rest of the country collapsed, Mayor Jean Samson Limomgy told NBC News.
Haiti's civil protection agency confirmed five other storm-related deaths Wednesday, one of them that of a fisherman who drowned in rough water in Saint Jean du Sud, in the southern part of the country.
Other deaths include four in the Dominican Republic, a man in Colombia and a teenager in the island chain of St. Vincent and the Grenadines — making a total of 25 across the Caribbean.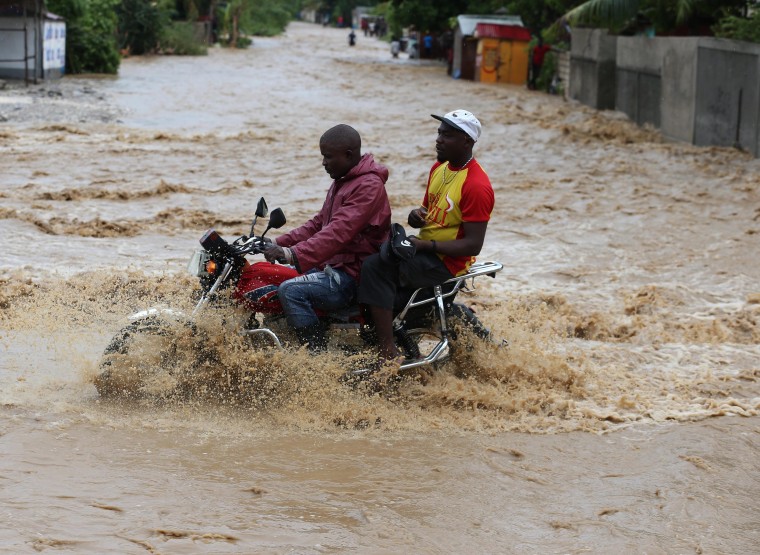 Officials fear that the death toll could rise, especially in and around the southern Haitian town of Les Cayes, which absorbed the first blow from Matthew and where hundreds rode out the storm in homes without electricity and — in many cases — roofs.
NBC News meteorologist Sherri Pugh said the latest data from the National Hurricane Center indicated that Matthew will strengthen over the Bahamas and could return to category 4 wind speeds. Nassau looks to be very close to the center of Matthew on Thursday morning, with devastating effects in the event of a landfall.
The National Hurricane Center said Matthew is likely to produce "devastating impacts" from storm surge, extreme winds and heavy rain in the Bahamas.
The path of the storm:
Wednesday night: Increasing hurricane conditions into Nassau and central/northern Bahamas.
Thursday morning: Some strengthening, with the worst conditions occurring in Nassau.
Thursday afternoon and evening: Matthew will be over the northern Bahamas, with some rain reaching southern Florida.
Friday morning: Highest impacts near Melbourne, Fla., with hurricane conditions and possible landfall.
Friday afternoon and evening: Central coastal Florida experiencing hurricane conditions through the day.
Saturday morning: Depending on the position, coastal South Carolina (around Charleston) or Savannah, Ga., could have strong wind and rain.
Saturday afternoon and evening: Matthew could be moving eastward, with Myrtle Beach, S.C., feeling lesser impacts.
Evacuations were already underway in South Carolina and Florida, where states of emergencies were declared earlier this week.
Related: Thousands of Americans Head Inland to Escape Hurricane Matthew
Matthew brushed past the eastern tip of Cuba at about 8 p.m. ET Tuesday, almost 53 years to the day after Hurricane Flora killed 2,000 Cubans, the NHC reported.
While the storm knocked down dozens of homes in Baracoa — a city near the eastern tip of Cuba — preliminary reports indicated that the soaking rains and driving winds caused relatively little damage, and there were no immediate reports of deaths or injuries.
Before the storm hit, many residents who lived close to the water went farther inland. Cuban officials said about 35,000 residents either were moved to higher ground with their families or were placed in shelters run by the state.
Matthew was classified as a category 3 hurricane Wednesday morning as it moved back out over the ocean toward the Bahamas at about 12 mph, with maximum sustained winds near 115 mph.
But "the recent weakening is likely to be short-lived, as Matthew as expected to intensify later tonight and Thursday," the National Hurricane Center said 8 p.m. ET, and it's expected to remain at category 3 or stronger as it moves through the Bahamas.
"The expectation is it will grow back into a category 4 hurricane during the overnight hours," said Kevin Roth, a meteorologist for The Weather Channel.
Matthew was set to move through the central Bahamas overnight Wednesday, bringing 8 to 12 inches of rain, with up to 15 inches in isolated areas.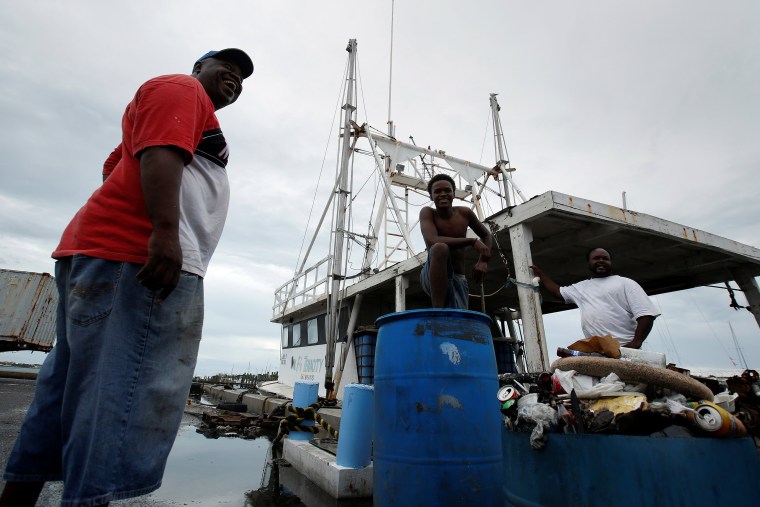 The U.S. Agency for International Development said Wednesday that it would be giving $1.5 million in assistance to the Caribbean. Of that, $1 million will be food aid, and the rest — $500,000 — will be for non-food items, like shelter, blankets, and water purification equipment.
R. David Harden, the agency's assistant administrator for humanitarian assistance, said his team of about two dozen disaster experts were making an initial assessment in Haiti, noting that communications are down in most of the affected areas.
"Once the storm has fully passed, we'll be able to do a better assessment on mudslides, road conditions and the state of vulnerable people," Harden said. He added that USAID was prepared to deploy more relief supplies if necessary.
Related: Relief Groups Mobilize for Haiti After 'Catastrophic' Damage
The State Department's special coordinator for Haiti, Kenneth Merten, the deputy assistant secretary of state for Western Hemisphere Affairs, said, "Flooding and mudslides are still potential dangers in Haiti."