Hurricane Michael strengthened to a Category 4 storm early Wednesday as it barreled toward Florida's northern Gulf Coast, threatening catastrophic storm surge, torrential rain and heavy winds.
"This storm can kill you," Gov. Rick Scott warned on Tuesday.
"If there is an evacuation order go to safety," he said, adding that Hurricane Michael is forecast to be the most destructive storm to hit the Florida Panhandle in decades.
The storm is expected to move across the northeastern Gulf of Mexico through Wednesday morning before making landfall in the Panhandle later in the day, according to the National Hurricane Center.
The center said in a 5 a.m. advisory that Michael's top sustained winds had risen to 140 mph and that some additional strengthening is possible before Michael wallops the area with "life-threatening" storm surge, heavy rainfall and likely tornadoes.
Hurricane-force winds will extend 45 miles from the center of the storm, the center said. The hurricane center called Michael "extremely dangerous."
"Some hurricane force winds are going to go well-inland," said FEMA official Jeff Byard, adding that Florida's power structure will likely take a greater hit than the Carolinas did during Hurricane Florence.
Scott on Tuesday morning urged residents in the path of the storm to evacuate, saying the effects of the storm would start well before landfall.
"Hurricane Michael is a monstrous storm. The forecast keeps getting more dangerous," he said.
Scott said he was most worried about the forecasted "absolutely deadly" 8 to 12 feet of storm surge expected, even in areas not on the coast. The National Hurricane Center warned that the area stretching from Tyndall Air Force Base Florida to Keaton Beach could see up to 13 feet of storm surge.
"Water will come miles inshore and could easily be over the roofs of houses," Scott said.
"You cannot hide from storm surge so get prepared and get out if an evacuation is ordered," he said. "Remember, we can rebuild your house, but we cannot rebuild your life."
He said 2,500 National Guardsmen are prepared to help.
After making landfall Wednesday, the eye of the hurricane is expected to move northeast across southeastern United States overnight and into Thursday before moving off the mid-Atlantic coast on Friday.
Because tropical storm- and hurricane-force winds, as well as other effects, extend far from the center of the storm, time is running out to prepare, forecasters warned.
"Everything needs to be complete today," National Hurricane Center Director Ken Graham said in a briefing posted to Facebook Tuesday evening. "You need to be in your safe place, because this thing is on the way. It's a very dangerous situation."
Some people in and outside of mandatory evacuation zones in Florida said they planned to stay and ride out the hurricane. Teri Vega, 53, her husband and her 12-year-old daughter said they will stay in Panama City Beach despite the order.
"We have a fairly new house," Vega told NBC News before Michael strengthened to a Category 4 storm.
"It was built really well. We put the hurricane shutters up. We have tubs of water in each of the bathrooms so that we can still flush. We have a generator. We have a gas grill. Tons of canned food, water, Gatorade."
Missy Theiss, 54, of Panama City, said she lives just outside a mandatory evacuation zone, and planned to stay because they have five animals — two cats and two small dogs, as well as her son's pit bull.
"Nobody is going to let a pit bull into a shelter," Thiess said in a phone interview before Michael was upgraded. "We've got five animals here. I'm not leaving them. Point blank. I'm not leaving them." Thiess said the family is prepared with water, food and a generator.
On Monday, Scott requested that President Donald Trump declare a pre-landfall emergency for the state, and declared a state of emergency in 35 counties. Trump signed the state of emergency Tuesday.
Government offices will close in those counties, and while Tuesday was the deadline for Floridians to register to vote, residents will be allowed to register on the day those offices reopen, according to a statement from the secretary of state. The Florida Democratic Party filed a lawsuit Tuesday saying that the one-day extension was insufficient and confusing.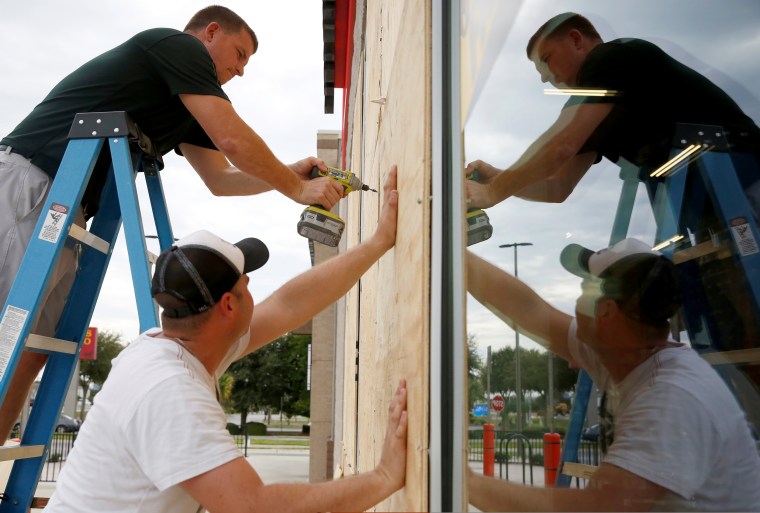 By Friday, the Florida Panhandle and Big Bend, southeast Alabama and southwest and central Georgia could all see 4 to 8 inches of rain, with some areas getting a foot, the National Hurricane Center said.
"This rainfall could lead to life threatening flash floods," the center warned.
Areas with a combined population of more than 3.7 million were under hurricane warnings, and areas with a population of more than 8.4 million were under tropical storm warnings Tuesday afternoon, according to the National Weather Service.
The threat of tornadoes would also increase Wednesday over parts of the Florida Panhandle, the northern Florida peninsula and southern Georgia and southern South Carolina the National Hurricane Center said.
Destin-Fort Walton Beach Airport on the Florida Gulf Coast, Tallahassee International Airport, Pensacola International Airport and Panama City Airport said they would either close Wednesday or commercial flights would be canceled or suspended.
The rest of Georgia, the Carolinas and southern Virginia should expect 3 to 6 inches of rain through Friday, with some areas getting as much as 8 inches.
The Carolinas are only beginning to recover from Hurricane Florence, which left dozens dead and a trail of devastation last month.
North Carolina Gov. Roy Cooper on Tuesday warned that while Hurricane Michael is not expected to be as devastating as Florence, it could bring tropical-storm-force winds and between 2 to 5 inches of rain in some parts. The wind will be strong enough to rip tarps off homes damaged in Florence, he said. Most of the at least 49 deaths blamed on Florence or its aftermath occurred in North Carolina.
"I know people are fatigued from Florence. But don't let this storm catch you with your guard down," Cooper said.