Hermine may no longer be a hurricane but that doesn't mean the storm isn't still packing a wallop.
"This storm is not done yet," said Ari Sarsalari, a meteorologist for The Weather Channel. "It's going to get worse over the next couple of days."
Now officially a "post-tropical cyclone," Hermine — the first hurricane to strike Florida in 11 years — was on the back end of a long, slow journey up the East Coast. And by Monday morning, it's expected to have recovered to hurricane strength, the National Hurricane Center said.
Tropical storm watches and warnings blanketed the Eastern seaboard from Jacksonville, N.C., all the way north to Portsmouth, N.H.
Related: Hermine Thrashes Carolina Coasts as Storm Barrels North
All New York City and Long Island beaches, along with Rehoboth Beach, Del. — will be closed Sunday, potentially spoiling the Labor Day holiday weekend for tens of thousands of vacationers.
At 8 a.m. ET, Hermine about 295 miles east-southeast of Ocean City, Md., still carrying maximum sustained winds of 65 mph, the National Hurricane Center said. It's expected to pick up strength as it moves north, and the hurricane center warned of dangerous storm surges from Virginia to New Jersey — just in time for Labor Day.
The Coast Guard was searching for two missing males who fell into the water while fishing on rocks near Wading River, New York, at about 3:30pm Saturday. Another male fell into the water, the Coast Guard said, but was able to grab hold of a rock and raise the alarm.
The Hyannis Yacht Club in Massachusetts ordered all boats on its docks out of the water Saturday, New England Cable News reported. It had dismantled all of the docks to make sure no one stayed behind.
Ahead of the nasty weather, a Bruce Springsteen concert scheduled for Saturday in Virginia Beach, Va., was rescheduled for Monday.
But because an area of high pressure over Canada is blocking the system, Hermine could still be churning off the coast as late as Thursday, Sarsalari said.
Photos: Dangerous Storm Pounds the East Coast
The storm is expected to remain offshore, but "it's just going to sit here, spin counterclockwise and produce a ton of wind that's going to blow pretty much directly on shore," Sarsalari said.
Sarsalari reassured New Jersey residents that Hermine is "not quite like Sandy," which battered the state's coast in 2012. But "this is going to be a pretty significant storm," he said. "It's still going to have very significant impacts," like coastal flooding and beach erosion.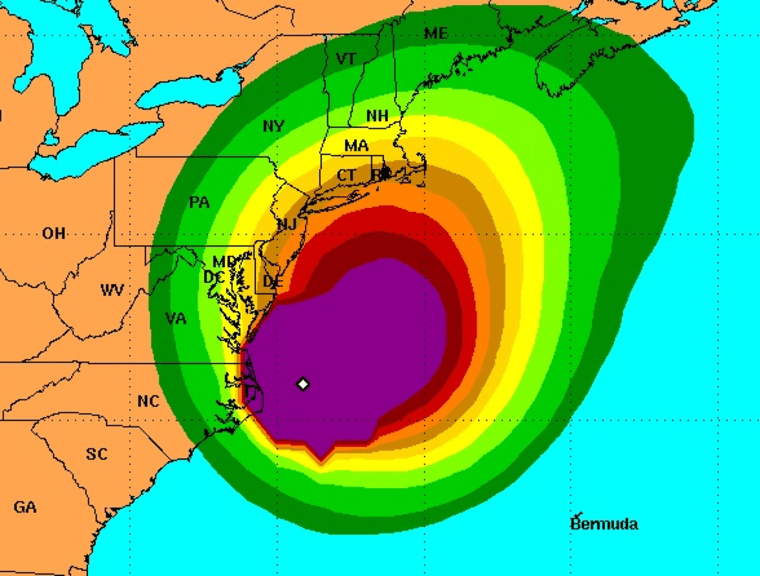 Govs. Terry McAuliffe of Virginia, Pat McCrory of North Carolina, Larry Hogan of Maryland and Chris Christie of New Jersey all declared states of emergency.
Residents were busy filling sandbags Saturday in Seaside Heights, N.J., where, Mayor Anthony Vaz said, "we've been preparing since Wednesday when we were notified of the possibility."
Amtrak canceled and altered services on the East Coast — Northeast Regional trains from Newport News, Va., to Boston were being stopped at Richmond, Va., while the Palmetto line between New York City and Savannah, Ga., was being stopped at Washington, D.C.
Rhode Island Fast Ferry canceled service between Quonset Point and Martha's Vineyard until Tuesday.
"Labor Day weekend is one of the busiest days of the year for us," Ben Miller, the service's operations manager, told NBC station WJAR of Providence. "And it really does sting in terms of lost revenue and lost business."
But "there's really nothing you can do about the weather," he said. "Over the years, we've learned that. So you just kind of have to roll with the punches."
Vacationers were out in force Saturday at Nantasket and other Massachusetts beaches, hoping to get in one last hurrah before Hermine arrives with life-threatening rip currents.
"We did hear the surf is going to get bigger and bigger," Cliff Edwards, who traveled with his daughter from their home in Quincy to Nantasket Beach in Hull, told NBC station WHDH of Boston.
"If there are rips, she won't be in the water, that's for sure," Edwards said.
But Jeff Monroe and his family were racing to make the seven-hour drive home from Ocean City, Md., after having seen what Hermine did to Florida.
"It's crazy," Monroe said. "We have little kids, four little kids, so we just wanted to keep them safe."The deadly storm first made landfall as a Category 1 hurricane just east of St. Marks, Fla., early Friday, knocking out power to hundreds of thousands across the state amid thrashing winds and up to nearly 2 feet of rain in some areas.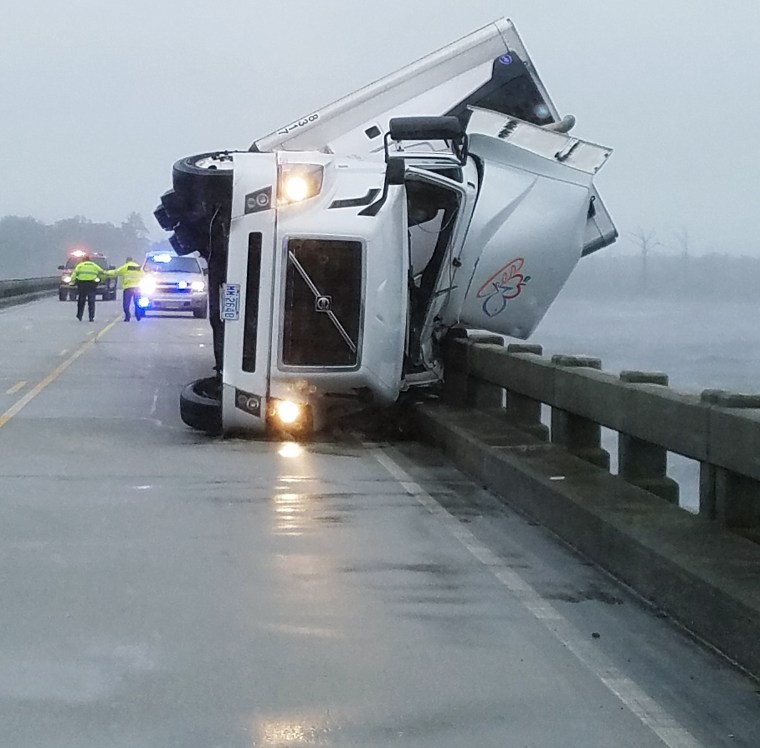 A man died when his tractor-trailer overturned Saturday morning amid strong winds on a bridge near Dare County, N.C., the Tyrrell County Sheriff's Office said. Authorities said all bridges in Dare would be closed until the winds died down.
At Wrightsville Beach, N.C., where red flag warnings were in effect because of dangerous wind-fueled rip currents, lifeguards rescued about a dozen people by late Saturday afternoon, rescue Capt. Jeremy Owens told NBC station WECT of Wilmington.
Related: Hurricane Insurance 101: What Homeowners and Renters Should Know?
Justin Snyder of Kershaw, S.C., was regretting his decision to visit Myrtle Beach on Saturday.
"I was shivering cold," Snyder told NBC station WMBF. "The rain [was] pretty much everywhere — puddles deep as my ankles, just muggy and horrible."
Hermine was the first hurricane to hit Florida in more than a decade, and Gov. Rick Scott declared an emergency in 51 counties battered by high winds and heavy rain Friday.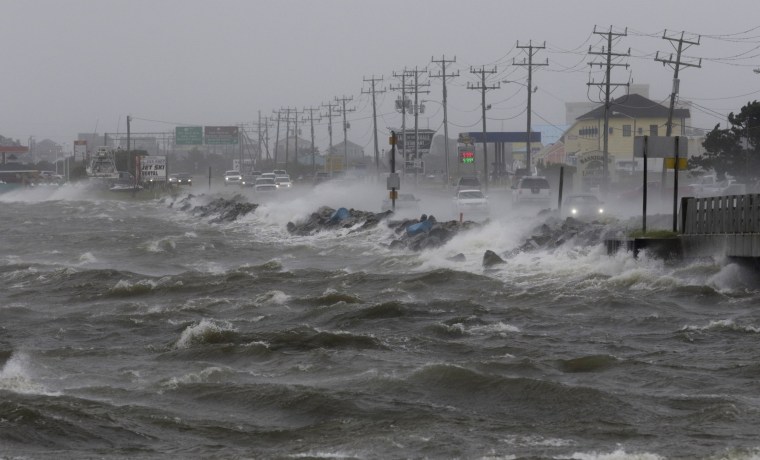 A homeless man in Marion County, in the northern part of the state, died when a tree was ripped from the ground by high winds and fell on him, Scott said.
The strong winds left many neighborhoods with a huge mess of trees and other vegetation to clean up. And that doesn't include what could still plummet from damaged trees and power lines in the days ahead, NBC station WBBH of Fort Myers reported.
Photos: Florida Surveys Damage After Hermine
"How long is that going to take [for that] to fall down on my car when I drive under it?" Suzanne Toepher of Lee County asked about a dangling tree limb.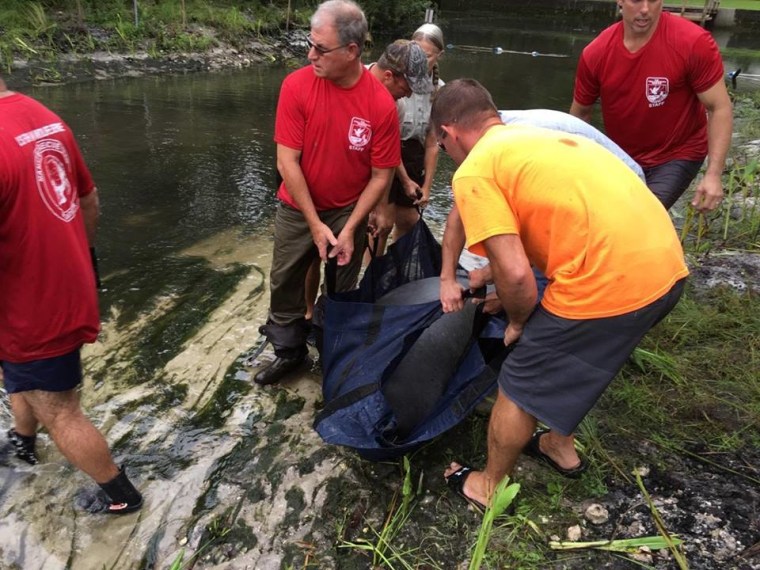 A neighbor, Fran Nieves, said, "I've had several friends who have had their car windows smashed because those have landed on them."
At Crystal River National Wildlife Refuge in Citrus County, volunteers celebrated the successful rescue of a manatee and her calf that stranded themselves after the high water receded.
The rescue proved successful, and the manatees swam safely swam away.
But in Panama City Beach, the cancellations of the Gulf Coast Jam and two other weekend music festivals put a major damper on tourism.
"People that were coming down here, now they don't want to come, so now we're stuck in a situation where they want a refund on their rooms because Gulf Coast Jam's not going on," Neel Bennett, owner of Seahaven Beach Resorts, told NBC station WJHG.
"It definitely puts the hotel owner in a quandary," he said.