Heavy rains that brought a flood threat to North and Central Texas are expected to spread into South Texas over the weekend, as a stalled cold front causing the downpours is reinforced by remnants of Hurricane Patricia, which struck Mexico Friday evening.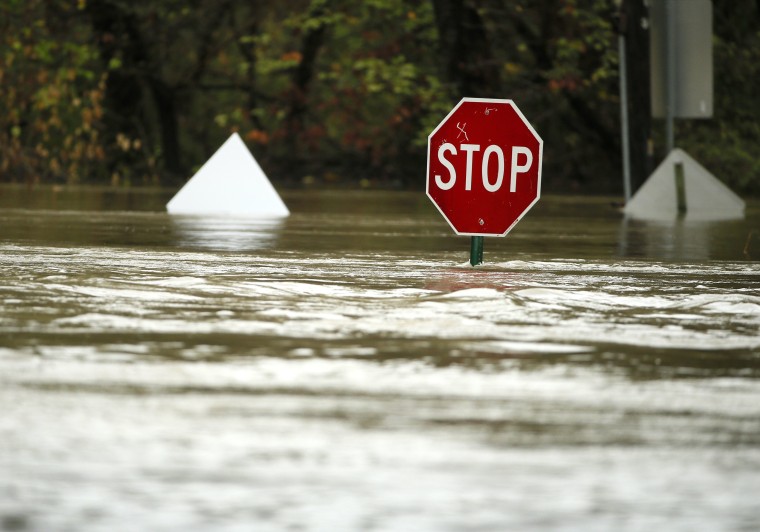 Much of the Texas heartland was under a flash flood watch early Saturday as the National Weather Service expected the Austin-San Antonio area to receive up to a foot of rain while already inundated sections of North Texas were expected to experience up to 7 more inches of rain.
More than 13 inches of rain fell in Corsicana, south of Dallas, from midnight Friday through early Saturday, the National Weather Service said.
Cars were reported stranded in downtown Corsicana and Interstate 45 was closed because of flooding, officials said. NBC Dallas-Fort Worth reported that the closure resulted in a 12-mile backup.
"We're telling anybody who manages to get off the highway and into Corsicana to find a parking lot and spend the night in their car. Nobody needs to be out there in the rain at night," Navarro County Judge H.M. Davenport told The Associated Press.
"It's one of those things where all the ingredients come together," Lamont Bain, a meteorologist in the National Weather Service's Fort Worth office, said.
Over 10 million people in the south-central U.S. face potential flash flooding as a slow-moving storm dumps heavy rain through the weekend.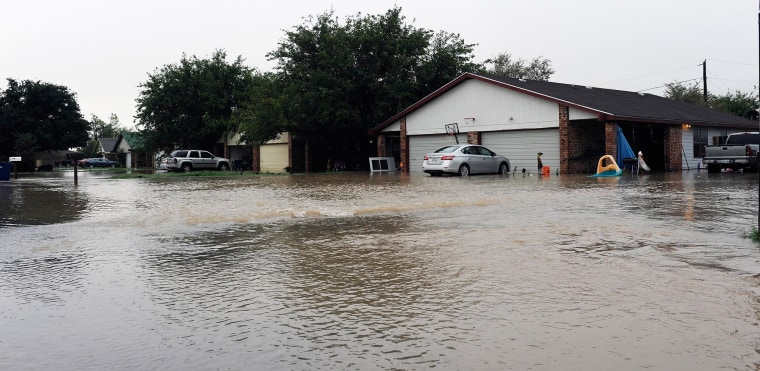 Up to a foot of rain could hit Galveston County by Sunday afternoon, and officials on Friday considered a voluntary evacuation of Bolivar Peninsula but will reevaluate the situation Saturday.
More than 7 inches of rain fell parts on Bosque County southwest of Fort-Worth, since the rain began on Thursday, the NWS said Friday evening. Grapevine in Tarrant County got nearly 8 inches over 36 hours, according to the weather service.
Most of central and southeastern Texas were under flood watches Friday night.
"Heaviest rains are expected late (Friday) through Saturday night with the heavy rain threat expected to shift east on Sunday," the National Weather Service said.
More than 262 flights at Dallas-Fort Worth International Airport were cancelled by 6 p.m. local time (7 p.m. ET, NBC Dallas-Fort Worth reported.
Storms pounded western Texas on Thursday night, causing floods that lifted mobile homes off their foundations in Rankin, about 300 miles northwest of Austin, and causing numerous road accidents in Abilene and Odessa.