Two people were killed as Tropical Storm Michael moved across Florida and Georgia early Thursday, hours after it made landfall as a Category 4 hurricane, the strongest to hit the Florida Panhandle in recorded history.
"The nation has watched as this storm has devastated the Panhandle," Florida Gov. Rick Scott said on Wednesday evening, but he promised: "Hurricane Michael cannot break Florida."
A man was killed when a tree fell on a residence in Greensboro, Florida, Sgt. Anglie Hightower, a spokeswoman for the Gadsden County Sheriff's Office, told NBC News.
And an 11-year-old girl was killed near Lake Seminole, Georgia, when a metal carport used for boats was picked up by wind, crashed through the roof of the house she was in and struck her in the head, said Travis Brooks, director of emergency management for Seminole County.
The girl's grandfather was also in the house but wasn't injured, Brooks said. He added that the emergency call came in on Wednesday afternoon, but responders weren't able to get to the home until early Wednesday morning because "the roads were so messed up."
Michael weakened to a tropical storm after midnight, but it remained dangerous almost 11 hours after it crossed land as a Category 4 hurricane near Mexico Beach, Florida, about 20 miles southeast of Panama City, at around 1:30 p.m. ET with maximum sustained winds of 155 mph.
At 5 a.m. ET, the storm was about 30 miles west of Augusta, Georgia, with life-threatening storm surge and damaging winds of 50 mph, the National Weather Service said. Hurricane and storm surgewarnings for the Gulf Coast of Florida were canceled early Thursday, but remained in effect for parts of Georgia and the Carolinas.
---
The latest on the storm:
Michael weakened to a tropical storm, with top sustained winds of 50 mph, and hurricane warnings for the Florida Gulf Coast were canceled.
An unidentified man was killed when a tree fell on a home in Gadsden County, Florida.
An 11-year-old child was killed by a metal carport in Seminole County, Georgia.
More than 340,000 customers in Florida and 343,000 in Georgia were without power. More than 125,000 were without power in Alabama and the Carolinas.
---
Michael Graham, director of the National Hurricane Center in Miami, called Michael a "history-making, very devastating storm and one that we're never going to forget."
The weather service said the core of Michael moved across southwestern and central Georgia overnight. It's expected to head northeastward through the Carolinas and into Virginia Thursday before turning off into the mid-Atlantic coast by early Friday. Up to nine inches of rain was expected to hit isolated areas in North Carolina and Virginia, which could cause life-threatening flash floods.
"We've got a little ways to go with this system," Graham said on MSNBC. "We're telling people this isn't over with."
Michael was one of the worst storms the Panhandle had ever faced even before it made landfall. As the eye moved over the area, the National Weather Service warned people not to go outside in the "relative calm" because winds would pick up swiftly.
"The historical record, going back to 1851, finds no Category 4 hurricane ever hitting the Florida Panhandle," Dennis Feltgen, a meteorologist for the National Hurricane Center, wrote in a Facebook post Wednesday.
Storm surge could be most catastrophic on the Florida coast, at nine to 14 feet. "The water will come miles inshore and can easily rise over the roofs of houses," Scott said, adding that even two feet of storm surge could be deadly.
Lisa Dawn Parker, 51, decided to stay behind in Panama City Beach with her boyfriend. They watched from a sixth-floor apartment as winds tore the roof off of a beach resort.
"The resort next to us is completely demolished," Parker said. "The windows are blown out. The whole front of it's gone."
"We didn't think it was going to be worse than Ivan," a scared Parker said, referring to the 2004 hurricane that killed more than 50 people across the Southeast. "We don't know why we stayed."
More than 375,000 residents in dozens of Florida counties were under evacuation orders Wednesday, but Brock Long, administrator of the Federal Emergency Management Agency, said some residents didn't have time to flee.
"If you failed to heed a warning for any reason, your goal should be to elevate as high as you can and get into a facility that you think can withstand the winds at this point and hope for the best," Long said. "Those who stick around to experience storm surge don't typically live to tell about it, unfortunately."
At least 10 military bases, home to about 700,000 service members and their families, are in the region, the Defense Department said. The Pentagon said it had readied thousands of forces, including high-water vehicles and helicopters, to come to residents' aid if needed.
Tyndall Air Force Base, near Panama City, said it took a direct hit and had sustained extensive damage.
The base, which ordered a mandatory evacuation on Monday and evacuated its jets on Tuesday, said in a statement that the condition of its runway couldn't be determined.
"Base officials do not have an estimate at this time for when it will be safe to return," authorities said.
Brad Kieserman, vice president of disaster operations for Red Cross, said about 6,000 people were already in shelters in five states, about 5,000 of them in Florida.
Kieserman told reporters that he wouldn't be surprised more than 20,000 people were in shelters by Thursday or Friday.
"It's bad," Franklin County Sheriff A.J. "Tony" Smith said in an interview as he surveyed damage in Apalachicola. "If you've been around town, you've seen all the trees that are down, all the roads that are blocked downtown the flooding," Smith said. "For us, this is catastrophic."
A Weather Channel crew even tried to leave its base in Apalachicola but couldn't because storm conditions made it impossible to drive, meteorologist Mike Bettes said on Twitter.
The Bay County Sheriff's Office issued a shelter-in-place order early Wednesday, and the county's Department of Emergency Services said officers could no longer respond to calls.
The National Weather Service in Tallahassee, about 20 miles inland, said: "It's about too late to find shelters with #Michael moving in right now. The best thing to do is find shelter in your own place away from any windows."
Officials also shut down the Hathaway Bridge, which connects Panama City and Panama City Beach and is a main route in and out of the cities.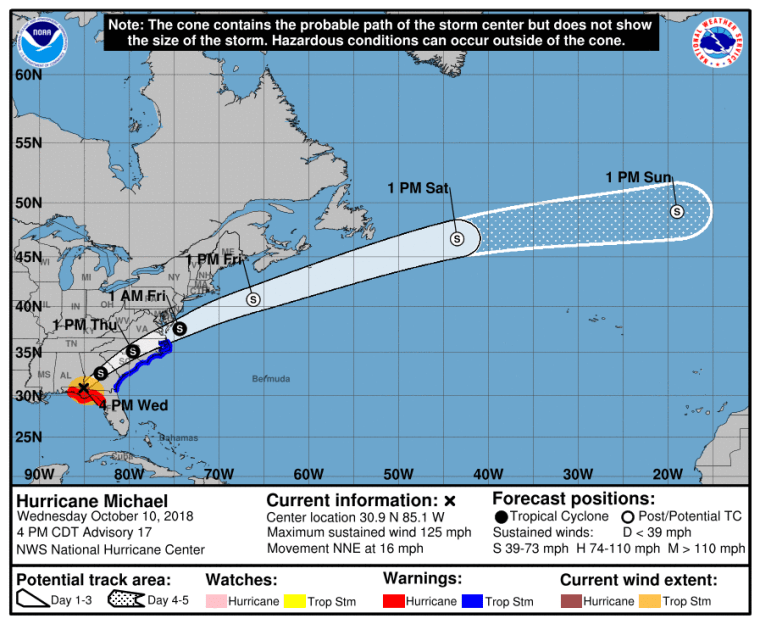 Torrential rains, destructive winds and possible tornadoes will also extend well inland, forecasters said, and parts of Georgia, Alabama, Mississippi and the Carolinas will likely be hard-hit. Georgia Gov. Nathan Deal declared a state of emergency for 108 counties.
In North Carolina, Gov. Roy Cooper issued a state of emergency ahead of Michael. Tropical storm warnings and storm surge watches were issued for parts of the coast, according to the National Oceanic and Atmospheric Administration. The state was pummeled last month by the deadly Hurricane Florence.
Peter Macias, a spokesman for the Red Cross, said about 4,000 people entered nearly 70 evacuation centers across the Florida Panhandle and Alabama overnight.
On Tuesday, President Donald Trump signed the emergency declaration requested by Scott for 35 Florida counties. Scott said Wednesday morning that he had updated the president on the storm and that Trump had offered any necessary resources "as we prepare to respond to this massive and catastrophic storm."
Government offices were closed in those 35 counties. While Tuesday was the deadline for Floridians to register to vote, residents will be allowed to register on the day those offices reopen, the Florida secretary of state's office said in a statement. The state Democratic Party filed a lawsuit Tuesday saying that the one-day extension was insufficient and confusing.