Louisiana's governor declared a state of emergency on Wednesday after tornadoes sliced through the New Orleans area Tuesday night, lifting homes off their foundations, leaving thousands without power and killing at least one person.
The emergency declaration covers St. Bernard, Orleans, Jefferson and St. Tammany parishes, areas that saw significant damage from the system. Connor Lambert, 25, of Arabi died in the storm, according to the St. Bernard Parish Sheriff's Office.
"Unfortunately, our people have become all too familiar with rebuilding after tragedy and loss, but it is never easy," Gov. John Bel Edwards said in a statement.
The National Weather Service confirmed two tornadoes in the region.
One touched down in the Lower 9th Ward and New Orleans East shortly before 8 p.m. Tuesday evening as an EF-3, Mayor LaToya Cantrell said at a Wednesday afternoon news conference. EF-3 tornadoes typically have wind speeds between 136 and 165 mph.
No injuries, casualties or significant damage were reported in Orleans Parish, Cantrell said, adding, "we're very grateful for that."
A second tornado landed in Lacombe as an EF-1 with winds up to 90 mph, the weather service reported.
More than 6,000 customers were without power as of 1:30 p.m., according to PowerOutage.us.
The storm system hit Louisiana one day after more than a dozen tornadoes touched down in parts of Texas, killing one person. It continued to shift eastward, with heavy rainfall possible Wednesday across the Southeast and the mid-Atlantic, according to the weather service.
Urgent tornado warnings were issued for New Orleans around 7:20 p.m. Tuesday, and video from the NBC affiliate WDSU showed a dark funnel cloud moving through the area.
The storm system is the latest blow to a region still reeling from Hurricane Ida last August and Hurricane Katrina nearly 17 years ago.
The community of Arabi, in St. Bernard Parish just east of New Orleans' Lower 9th Ward, was hit hard, officials said.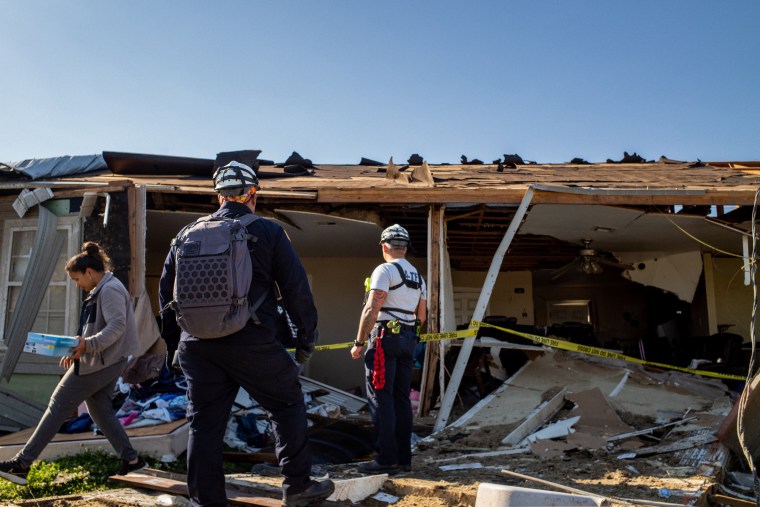 "There's widespread damage," St. Bernard Parish Sheriff James Pohlmann said Tuesday night.
In an appearance Wednesday morning on NBC's "TODAY" show, St. Bernard Parish President Guy McInnis said seven people showed up to the hospital with minor injuries. 
"When you see the path of this tornado, that is an absolute miracle," he said. 
McInnis noted that tornadoes aren't common in the region.
"We're used to hurricanes. We're just recovering from Ida and Zeta and we're still recovering from Katrina," McInnis said. "You know, we see houses that were lifted off their foundations and sitting in the middle of the street … but the spirit of our people, the resilience of our citizens will shine through today like we always do."
St. Bernard Parish officials asked the public to stay away from tornado affected areas in Arabi, warning of "dangerous conditions" due to downed power lines and poles, natural gas leaks and unsafe debris. There are road closures on St. Bernard Highway due to the tornado damage. 
All schools in the parish were open Wednesday except for Arabi Elementary. 
The state's fire marshal office said that teams from the New Orleans and the Baton Rouge areas had been dispatched to affected areas to conduct search and rescue operations.
A man at a grocery store in Arabi told WDSU in a phone interview that the store is OK but that neighbors lost homes.
"The houses are completely destroyed," he said. "It's like something out of a movie."
The weather service said it sent survey teams Wednesday to Arabi and the Lower 9th Ward, as well as to the Gretna and to the Lacombe areas on the north side of Lake Pontchartrain. Final assessments about the storms could take days.
The weather service issued a warning at 7:22 p.m. Tuesday for New Orleans to "find an interior closet, room or hallway and take cover!"
It said a large tornado was on the ground headed toward New Orleans East and that damage had been reported in Gretna, on the western bank of the Mississippi River across from New Orleans.
Officials in neighboring Jefferson Parish said shortly after the storm that there had been no major damage or injuries reported.
More than 14,000 people were without power in St. Bernard, Orleans and Jefferson parishes in the immediate aftermath of the storm, according to Entergy. That number had dropped to about 7,500 late Tuesday night. As of early Wednesday, the number of customers still in the dark stood at 3,426.
By late Tuesday, tornado watches for Louisiana had expired, but watches continued for parts of southern Mississippi and southern and central Alabama.
In Hinds County, Mississippi, storms tore down trees and power lines, emergency management officials said, and the weather prompted Mississippi State University in Starkville to switch to remote classes.
In western Alabama, there was damage to the roofs of several homes in the area of Toxey after storms moved through Tuesday, according to the weather service and Choctaw County emergency management officials.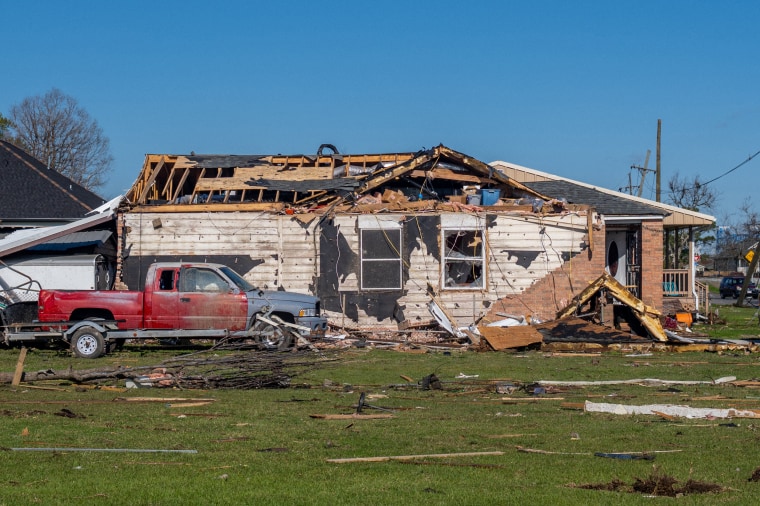 In Hale County, around 20 homes were damaged but there were no injuries after a possible tornado there, Russell Weeden, the local emergency management director, told the NBC affiliate WVTM of Birmingham. There were no injuries reported.
On Monday in Texas, a woman died after a tornado struck her home in Sherwood Shores, about 90 miles north of Dallas, the Grayson County Office of Emergency Management said. The weather service confirmed Tuesday that it was an EF-2 tornado.
More than a dozen people were injured in Monday's tornadoes and severe weather, officials said.
Eighteen tornadoes have been confirmed in Texas so far. Eleven of those were in north and central Texas, including the deadly one in Sherwood Shores which had 130 mph winds, the weather service said. The strongest, an EF-3 packing 150 mph winds, was confirmed in Jacksboro. Another five were confirmed in eastern and southeastern Texas.
Texas Gov. Greg Abbott issued a disaster declaration for 16 counties in his state impacted by the severe weather.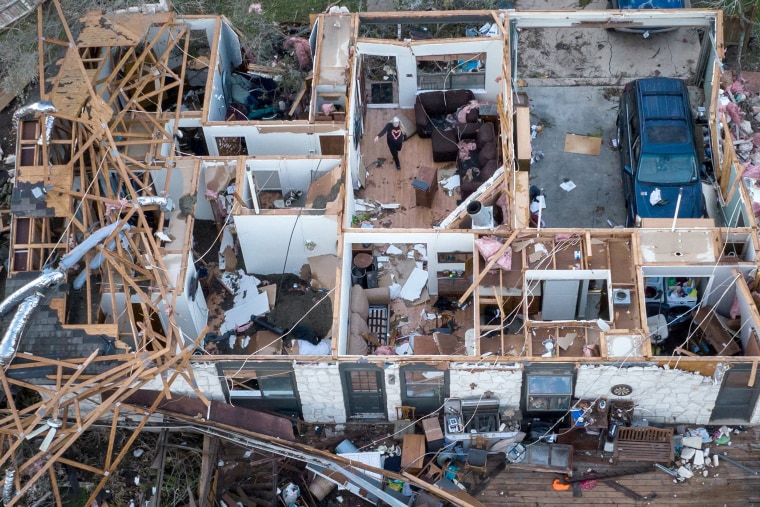 The weather service in Norman, Oklahoma, said officials believe the most intense damage in the state from Monday's storm was at the EF-2 level near Buncombe.
"Talking to local officials, we don't believe there is any other damage to go higher than EF2 anywhere else," the weather service wrote.
Wednesday marks the third day in a row of severe storms in the U.S., but respite will come by the evening as the system moves east and eventually off the Atlantic coast. 
Overall, there have been 59 tornado reports so far this week. 
Currently, 31 million people are under the risk for severe storms across two areas.
Severe storms are rolling in the area of northern Florida, Georgia and the Carolinas on Wednesday morning and tornado warnings are in effect. Parts of southern Michigan, northern Indiana and Ohio are also at risk of severe storms. Isolated tornadoes are possible.